I was bearish on U.S. natural gas prices even before the unseasonably warm winter of 2011-12 sent already depressed Henry Hub prices spiraling to record lows. In my article, Natural Gas: It Pays To Stay Liquid, I explained how rising production from prolific U.S. shale gas plays ensured that supply would continue to outstrip demand.
This supply overhang worsened dramatically in late 2011 and early 2012. Consumption of natural gas usually peaks during the winter, when residential and commercial heating demand experiences its seasonal upsurge. Heating demand is the primary reason that the volume of natural gas in storage tends to rise from April to mid-November and fall from mid-November to the end of March.
A heating degree day (HDD) is a way to measure how much heat is required to bring a building to a comfortable temperature. To calculate HDDs, you subtract the average temperature each day from a base value of 65 degrees Fahrenheit. In other words, if the average temperature on a certain day were 40 degrees, that day would be worth 25 heating degree days (65 minus 40). The more HDDs, the colder the weather and the higher heating demand.
Between December 2011 and February 2012, the U.S. experienced 13 percent to 18 percent fewer heating degree days than usual. HDDs were about 36 percent below average in March 2012, the warmest March on record.
Investors should remember that weather events are transitory and unpredictable; the cold winters of 2009-10 and 2010-11, for example, stimulated demand for natural gas.
Although the extraordinarily warm winter exacerbated the weakness in natural gas prices, excess production remains the biggest challenge.
The rapid development of unconventional oil and gas fields such as the Haynesville Shale in Louisiana, the Eagle Ford Shale in Texas, and the Marcellus Shale in Appalachia, has led to a surge in U.S. natural gas production after years of declining output.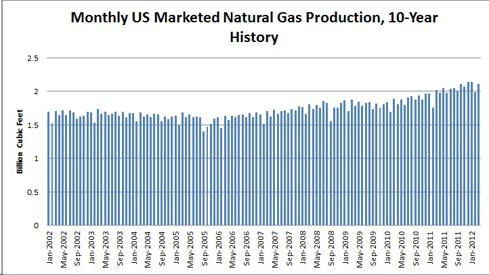 Source: Energy Information Administration
Chesapeake Energy Corp (NYSE: CHK) and a number of leading US gas producers have announced plans to reduce drilling activity targeting natural gas.
Chevron Corp (NYSE: CVX) hasn't shut-in any wells in dry-gas plays but has made a concerted effort to minimize activity in these regions, though its output in the Marcellus Shale will likely increase because of drilling obligations that it inherited from its acquisition of Atlas Energy. The company's first-quarter US gas production declined by 10 percent from a year ago.
ConocoPhillips (NYSE: COP), which earlier this year announced plans to curtail natural gas output in the US, stated that production of the fuel decline by 18,000 barrels of oil equivalent per day in the first quarter. Management indicated that the firm continues to shut-in about 9,000 barrels of oil equivalent per day of production and will contemplate additional measures to limit production in dry-gas plays.
EnCana Corp [TSX: ECA], (NYSE: ECA), one of North America's leading producers of natural gas, is on track to reduce its gross production capacity by about 600 million cubic feet per day in 2012, primarily through reduced capital investment and shut-ins or volume curtailments.
The number of rigs actively drilling for natural gas in the U.S. has tumbled from more than 900 units in December 2012 to only 588 rigs. In fact, the gas-directed rig count is lower today than at the height of the 2008-09 financial crisis.
With natural gas fetching about $2.40 on the U.S. spot market, producers face a profitability crunch in even the lowest-cost fields. The Energy Information Administration (EIA) once again lowered its price outlook for domestic natural gas in its Short-Term Energy Outlook, May 2012, suggesting that little relief is in sight. The EIA now expects the fuel to fetch an average of $2.45 per million British thermal units (mmBtu) in 2012, down from $2.51 per mmBtu in April and $3.17 in March.
In response to these headwinds, producers have scaled back drilling activity in gas-focused basins and shifted rigs to liquids-rich basins. This great migration has been most pronounced in Louisiana's Haynesville Shale, where the horizontal rig count has plummeted by 58 percent over the past nine months.
Producers have even reduced activity in parts of the Marcellus Shale, a prolific basin that's widely considered to offer the best economics of the gas-rich unconventional plays. Talisman Energy (NYSE: TLM), for example, announced plans to cut capital expenditures to $200 million and run only one rig in the area. At the end of 2011, the company had 10 rigs drilling in the Marcellus Shale.
Quarterly conference calls in the contract drilling space corroborated the great migration from dry-gas plays to shale fields that are rich in crude oil and natural gas liquids (NGL). Mark Siegel, chairman of Patterson-UTI Energy (NSDQ: PTEN), acknowledged the slowdown in activity in the Northeast:
In the current natural gas pricing environment, our customers in the Northeast seemed to be delaying well completions, which accentuated the problems arising from the oversupply of equipment in this market. The lower utilization, combined with some pricing erosion in the Northeast, negatively impacted our margins.
Meanwhile, the company's CEO Douglas Wall noted that work in the Marcellus had become "far more spotty" and told analysts, "We do expect to see frack [hydraulic fracturing] crews leave this market for oilier pastures over the course of the next few quarters."
Although the number of horizontal drilling rigs in the Pennsylvania portion of the Marcellus Shale has held fairly steady in recent quarters, county-level statistics indicate that the rig count has declined significantly in dry-gas regions such as Bradford County and Tioga County. Meanwhile, permitting and drilling activity has accelerated in liquids-rich counties.
Although operators continue to shift drilling activity from gas-focused basins to liquids-rich shale plays, the associated gas extracted these plays should ensure that the supply overhang persists. In the first quarter of 2012, natural gas output increased by 8.7 percent from the first three months of 2011. At the same time, elevated inventories suggest that U.S. natural gas production could overwhelm storage capacity in early fall, an outcome that would send prices tumbling.
But natural gas isn't the only energy commodity whose price took a hit from the no-show winter of 2011-12: The unseasonably warm weather also upset the supply-demand balance in the market for domestic steam coal, the varietal burned in power plants to generate electricity.
According to the EIA, U.S. electric power plants consumed 928.6 million short tons of coal in 2011, a decline of 46.5 million short tons (4.8 percent) from the prior year. The EIA currently projects that the U.S. electric power industry's coal consumption will tumble by 14.3 percent in 2012, to 796 million short tons, according to EIA's Short-Term Energy Outlook for May 2012. The electric power industry accounted for about 92 percent of domestic coal demand.
This graph of the U.S. electric power industry's actual and projected monthly coal consumption reflects reduced demand during the 2011-12 winter that never was, coal-to-natural gas switching and the lingering effect of elevated coal inventories.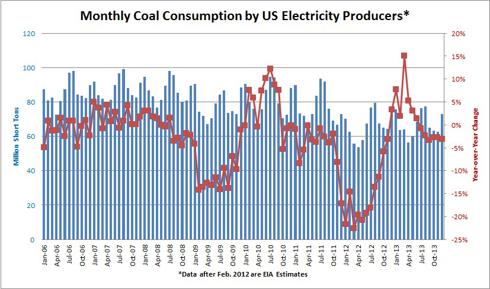 Source: Energy Information Administration
With the price of natural gas plumbing record lows and offering superior economics to coal, utility stocks with the flexibility to take coal-fired capacity offline and ramp up gas-fired plants have eagerly made the switch, driving coal's monthly share of U.S. generation to 34 percent in March 2012.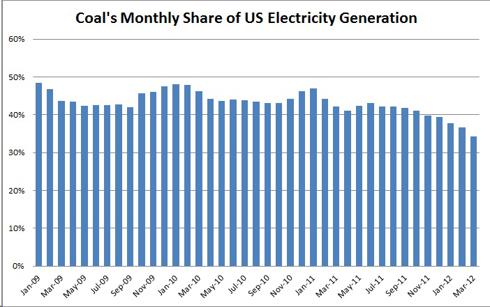 Source: Energy Information Administration
Meanwhile, the U.S. electric power industry consumed 7.6 billion cubic feet of natural gas in 2011, up 2.9 percent from year-ago levels. Fuel switching is expected to accelerate in 2012, with current EIA estimates calling for U.S. electricity producers to burn almost 25.2 billion cubic feet of natural gas in 2012-an annual increase of 20.9 percent. In March 2012, natural gas accounted for 29.4 percent of U.S. power generation.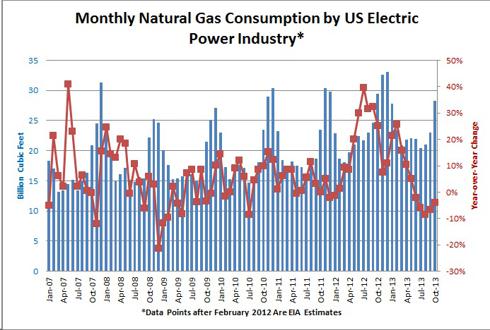 Source: Energy Information Administration
Although depressed natural gas prices catalyzed fuel switching among electric utilities, the foundation for this move was laid when the industry restructured during the 1990s. At the time, independent power producers built up their fleets of natural gas-fired facilities because of shorter construction times and less capital investment. This momentum continued into the first decade of the new millennium, as gas-burning power plants accounted for about 87 percent of the roughly 272 gigawatts (GW) of generation capacity built during this period.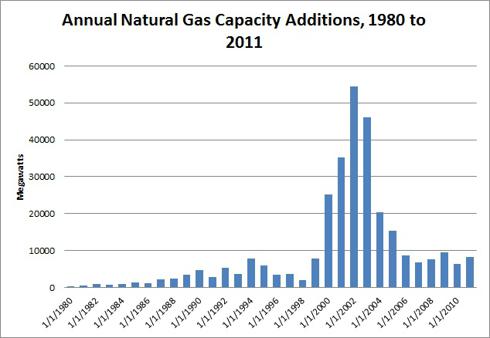 Source: Energy Information Administration
At the end of 2011, gas-fired power plants accounted for about 39 percent of the nation's capacity to generate electricity. Lower natural gas prices have prompted electric utilities to ramp up the capacity utilization rate at these facilities while reducing the fuel burn at coal-fired facilities. In the past, these combined-cycle power plants had run at a utilization rate of 40 percent to 50 percent; today, fuel switching has increased utilization rates to between 70 percent and 80 percent.
In 2009 competition between coal and natural gas first began to heat up in the Southeast, as the price of natural gas (and other commodities) plummeted during the Great Recession and credit crunch. The rising cost associated with producing coal in Central Appalachia and the expense of shipping the fuel from Appalachia to the Southeast made these coal-fired plants more susceptible to competition from natural gas.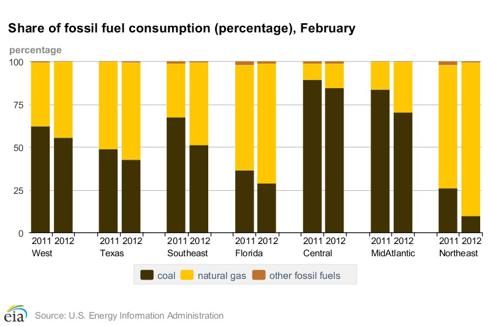 Source: Energy Information Administration
Although coal ceded share in all but one power market and natural gas use increased in every region in February 2012, this transition was most pronounced in the Southeast, where coal consumption plummeted by 29 percent on a year-over-year basis.
With Southeast utilities scheduled to build 23 new natural gas-fired plants -17 of which will be in Florida, or North Carolina - the potential for fuel switching in these states will increase dramatically. Over the next five years, electric companies in the region will shutter 37 older coal-fired power plants. These facilities will be supplied by several pipelines in construction that will transport natural gas from the Marcellus Shale to the Southeast. (See Let's Make a Deal: Marcellus Shale Edition.)
This fuel switching has weighed heavily on coal producers' earnings, especially those with elevated production costs or outsized exposure to Central Appalachia, a region where compliance costs have increased and incremental production growth is hard to come by because of depleted seams. At current prices, producing coal in this region is uneconomic for many operators. This graph tracks the market value of Central Appalachian coal relative to the average production costs of key producers in the region.
To worsen matters, reduced heating demand during the 2011-12 winter has elevated many utilities' coal inventories, prompting some power companies to sell excess supplies in the spot market (further depressing prices) or push to delay contracted deliveries-a common theme during producers' first-quarter conference calls.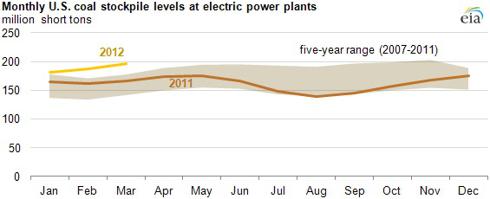 Source: Energy Information Administration
These headwinds have weighed on shares of U.S.-focused coal stocks, with the Bloomberg U.S. Coal Index giving up 45.9 percent over the past six months.
But investors shouldn't assume that the recent bout of fuel-switching marks the end of king coal. For one, two consecutive colder-than-average winters in 2009-10 and 2010-11 helped eliminate the utilities' supply overhang in the wake of the financial crisis and Great Recession.
Meanwhile, even if natural gas production maxes out domestic storage capacity in early fall and the price of the fuel plummets, those prices aren't sustainable over the long haul; natural gas prices eventually will rise to levels that make thermal coal more attractive to electric utilities. At that point, fuel switching will reverse course.
Central Appalachian coal becomes more competitive in the Southeast when natural gas exceeds $3.50 per mmBtu to $4.00 per mmBtu, while utilities have an economic incentive to revert to coal from the Powder River Basin when natural gas tops $3.00 per mmBtu.
A number of coal producers and utilities have also indicated that there's little additional capacity for fuel switching in the near term.
In the meantime, changes are underfoot in the coal industry. The recent wave of fuel switching should accelerate a trend that I've covered for several years in my investment weekly e-letter, The Energy Letter: Consolidation and declining output in Central Appalachia, a region that's been best by rising production and compliance costs. The coal mining industry's latest challenge should prompt marginal producers to close their doors or sell out.
During conference calls to discuss first-quarter earnings, management teams from Alpha Natural Resources (NYSE: ANR) and Peabody Energy Corp (NYSE: BTU) both forecast that U.S. steam coal production could decline by at least 100 million short tons to balance supply and demand. More recently, Xinergy [TSX: XRG] (OTC: XRGYF.PK), a Canada-based coal producer that operates primarily in Central Appalachia), estimated that mining firms would need to cut output by about 150 million short tons.
Leading producers have announced substantial production cuts in an attempt to rebalance the supply-demand equation. Peabody Energy, for example, reduced its 2012 output guidance by 10 million tons, to between 185 and 195 million tons, while Alpha Natural Resources slashed a total of 11 million tons of steam coal from the midpoint of its 2012 production guidance. The industry will more than likely need to make additional cuts to rebalance the supply-demand equation.
Expect names with high production costs and significant volumes of coal that haven't been sold under contract to suffer the most.
Disclosure: I am long BTU.