Market Recap: The market did not continue its follow through from the previous day. We had expected at least some follow through for this market, but weaker data coupled with continued concerns over the European situation caused weakness. Retail sales came in at the expected -0.2%, but the real concern was the -0.4% drop in retail sales ex auto that was expected to come in flat. Europe weakened on the day as well, which caused some early issues for the market. The market is lacking any real catalyst at this point, and that issue is going to continue to exist for the markets moving forward. We continue to believe a neutral approach is important.
The market is still holding pretty strong technical levels, and without a serious negative headline, we should hold onto those levels. The market, though, may continue its weak streak into Greek elections on Sunday. We do have some important data out tomorrow to watch.
Two Trades
Two trades we are watching right now are a bull put spread in Monster Beverage (NASDAQ:MNST) as well as pair trade with long in Charter Communications (NASDAQ:CHTR) and short in Commercial Metals (NYSE:CMC). The bull put spread in MNST is looking interesting for Jul21 expiration. We like the 70/67.50 spread. MNST continues to show great growth and upside. It has not dropped its 20-day MA since the beginning of the year, and that MA is at 72 right now. We believe the 70 line will hold through Jul21, and the position can be added to on weakness. We also like pairing CHTR with CMC. CHTR is looking very strong right now with great earnings coming at the beginning of May. We like the telecom sector during the current market weakness. Materials should be shorted right now, and CMC has a strong catalyst for downside with a recent Goldman Sachs downgrade that should provide downside. Look for a sell-off here on more market weakness.
Trade #1: MNST, Jul21, 70/67.50 Bull Put Spread
Trade #2: CHTR Long and CMC Short
(click charts to enlarge)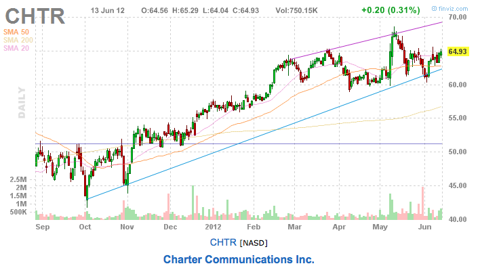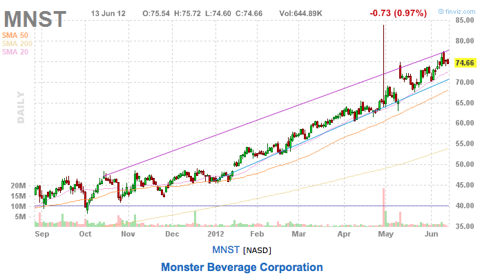 Tomorrow's Outlook
We do get a healthy dose of data tomorrow that can provide this market with some "real" movement. The initial jobless claims should be looked at for some definite movement as well as CPI. Further, we get some key overseas data that will potentially be even more important. We get China's FDI and Japanese Industrial Production. From Europe, we are going to get the Swiss National Bank Rate Decision, ECB's monthly report, and eurozone CPI. The ECB report should be pretty important in order to see if it is leaning toward any new decisions. We get reports from Smithfield Foods (NYSE:SFD), Kroger (NYSE:KR), and Pier 1 (NYSE:PIR) for some interesting earnings to watch as well. Gold is becoming interesting as a safe haven play again, and oil has held the crucial $80 line well. A bull put spread on United States Oil (NYSEARCA:USO) and SPDR Gold Shares (NYSEARCA:GLD) right now might be an interesting way to play both.
Oxen Group Moves
We had a solid day in the market as we were able to close out longs in Edwards Lifescience (NYSE:EW) for 3% gain and JP Morgan (NYSE:JPM) for 2% gain from Short-Term Equity. We had to take a loss, however, on our Ultra Proshares Financial (NYSEARCA:FAS) reverse iron condor as it has not broken out of the 70-80 range. We added long on CHTR and bull put spread in MNST.
We have the following positions. In our Short-Term Equity Portfolio we are long CHTR, Apple (NASDAQ:AAPL), Sanderson Farms (NASDAQ:SAFM), Bed Bath & Beyond (NASDAQ:BBBY). We are short SPDR S&P (NYSEARCA:SPY), Tyson Foods (NYSE:TSN), Molson Coors (NYSE:TAP). In our Options Portfolio, we are long AutoZone (NYSE:AZO), Comcast (NASDAQ:CMCSA), Monster Beverage . We are short Aflac (NYSE:AFL), Priceline.com (PCLN), Sina (NASDAQ:SINA), and General Dynamics (NYSE:GD). We have a reverse iron condor on Apple . In our Earnings Alpha portfolio, we are long Marriott (NYSE:MAR), Bed Bath and Beyond , Dow Chemical (DOW), Discover (NYSE:DFS), Western Digital (NYSE:WDC) and Dollar General (NYSE:DG). We are short CarMax (NYSE:KMX), Adobe (NASDAQ:ADBE) and Walgreen (WAG). We have a reverse iron condor in Verifone (NYSE:PAY) and reverse iron butterfly in Joy Global (NYSE:JOY) and Deckers Outdoor (NASDAQ:DECK).
Chart courtesy of finviz.com.
Disclosure:
I am long CHTR.