When everybody is expecting an event on Wall Street, the likelihood is it won't happen. This summer, Wall Street is preparing for a European meltdown. There are rumors that PIMCO, JP Morgan (NYSE:JPM) and other financial companies are not allowing summer vacations so they can prepare for a major economic collapse. I'm not saying Europe won't melt down, I just don't think it will happen until later in the year or in 2013. In the meantime, there could be a buying opportunity in the U.S. banks.
Bank of America (NYSE:BAC) is trading at just half its tangible book value. The shares remain dirt cheap if you trust their balance sheet. Investors' fears of another meltdown in Europe will take down the likes of BAC, JPM, Wells Fargo (NYSE:WFC) and Citigroup (NYSE:C) as it did in 2008. However, banks are much more capitalized and can survive any recession the U.S. might enter in the next 2-3 years.
After the close today, Charles Gifford, a BAC director announced he has bought 482,794 shares at $7.36. This $3.5M purchase is significant for Charles, considering he had owned fewer than 100,000 shares. This size of insider buying makes me feel as if management thinks BAC is truly cheap now and can't resist any longer.
Bank of America is down 25% from its 2012 high and this looks like a decent time to buy the stock. The fears of Spain, Greece and JPM's $2B trading loss have driven the shares lower since March. With so much negativity surrounding the banks and the market, this represents a great trading opportunity in BAC.
Shares trade at just 12.7x 2012 earnings and 7.8x 2013 earnings. With BAC trading at these cheap levels, you will make money if a global crisis doesn't occur this summer. Shares will head higher this summer as Europeans watch the London Olympics and World Cup. BAC could return to $9-10 as the rest of the U.S. banks rally in the next 3 months as the world takes a vacation from the European crisis.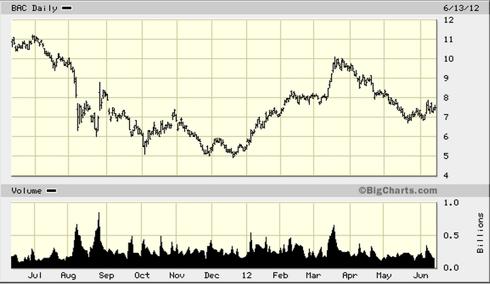 Disclosure: I have no positions in any stocks mentioned, and no plans to initiate any positions within the next 72 hours.