It is too late to invest in Berkshire Hathaway (NYSE:BRK.A) (NYSE:BRK.B) and expect the same results as the past 30 years. But is there anything in the stock universe that resembles the next Berkshire? The closest company that I could find is Loews Corporatio (LTR).
First, the similarities.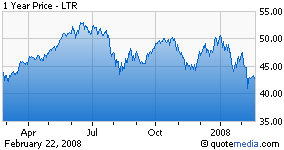 Both BRK and LTR are centered around their insurance operations - BRK with General RE, Geico, etc. and Loews with its roughly 90% stake in CNA Financial Corporation (NYSE:CNA). Why is this important? Basically, the insurance operations allow these companies to collect premiums and wisely invest the proceeds before claims are paid out. Second, both management teams seem to be master allocators of capital.
With BRK, the track record speaks for itself. With LTR, the company has investments in many cash generating businesses that fly under the radar of Wall Street. These businesses include a wholly owned hotel business and a wholly owned natural gas business, and majority ownerships of a pipeline (Boardwalk) and offshore driller (Diamond Offshore). In addition, the company owns a cigarette business with has a tracking stock named Carolina Group. Loews plans to spin-out this business as some point in 2008.
A final similarity between the two companies is that management has huge ownership positions and as a result have been shareholder focused.
Now, the differences.
Warren Buffett has a tendency to buy entire companies and let management run those companies. Loews also lets different managements run the various businesses; however, Loews doesn't always own 100% of these businesses. In some ways, it makes the company more difficult to value and results in the holding company (LTR) trading at a discount to the sum of its parts.
Other more subtle differences between BRK and LTR is that LTR pays a small dividend and has historically split it's stock (the last one being a 3 for 1 split in May 2006). BRK is famous for both not paying a dividend (Mr. Buffett would rather invest the money) or splitting the stock (note the $100,000+ share price). For LTR to reach BRK status, it is my opinion that they would need to dramatically expand their insurance operations. They could easily buy some other mid-tier insurance companies - Allegheny (NYSE:Y), Markel (NYSE:MKL) and Endurance Specialty (NYSE:ENH) all have good management teams and would look great under the LTR umbrella.
Needless to say, with the financial markets in distress, LTR's management will soon put its excess capital to work. Although I find it unlikely that they would buy another insurance company, it will be interesting to see their next move.
Disclosure: I am long LTR and continue to buy more shares at these levels.