Dividend growth investors require results. Investors, in terms of bottom line results, want actual dividends and capital appreciation. The past does not dictate the future. The past does, however, predicate a certain degree of accountability. I am a devout dividend reinvestment advocate. The companies must warrant continued investment. I believe in monitoring the actual stock results based upon an assumption of reinvested dividends.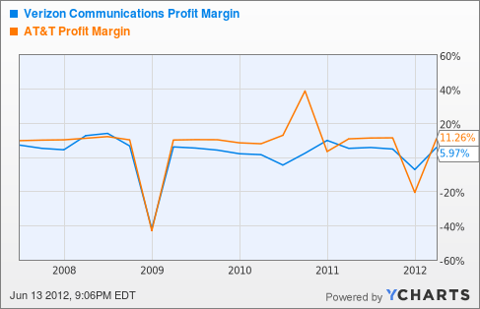 VZ Profit Margin data by YCharts
Verizon Communications Inc. (NYSE:VZ)
Longrundata.com allowed me the use of the below dividend reinvestment calculations.

Verizon Communications is a global provider of communications. The company provides wireless communications, entertainment products and services to consumers, businesses and governmental agencies. The company has a presence in 150 countries.
Returns
Verizon provided an annualized rate of return, after dividends were reinvested, of 6.82% over the past 5 years. The annual returns warrant a retired investor return.
Wireless subscriptions are increasing with Apple (NASDAQ:AAPL) and Google (NASDAQ:GOOG) going head to hear in the emerging communication markets. Verizon is the middleman to connect the communication device to the internet. Potential returns appear to be directly connected to technological advancements.
AT&T, Inc. (NYSE:T)

AT&T is a global leader in communications via land lines, wireless, and entertainment. Due to the growth of new markets, AT&T has been able to expand into the tablet market and smart phone market. The Apple iPad, Google Android markets, and new product offerings will continue to add revenues for AT&T for the foreseeable future.
Returns
AT&T provided an annualized rate of return, after dividends were reinvested, of 2.49% over the past 5 years.
AT&T has succeeded in surpassing Verizon's first quarter profit margin. AT&T had a 11.26% profit margin versus its competitor Verizon's 5.97% profit margin.
One does need to consider if AT&T, selling at 52 week highs, warrants its current valuation when the 2.49% total return was obtained for the prior 5 years.
General Electric Company (NYSE:GE)

General Electric is an U.S. industrial conglomerate. The focus has been on reducing the role of the financial unit's involvement. The past 5 years have been difficult in a tough financial market along iwth the absence of Jack Welch. I wait for Mr. Immelt to step up, accept responsibility for shareholder (i.e., "owners") losses; and move on. I have not seen these actions to believe accountability is complete.
Returns
General Electric provided an annualized rate of return, after dividends were reinvested, of -10.56% over the past 5 years. This is a painful return for an international conglomerate. If the company has taken steps to improve their returns, then perhaps it is worthy of investment consideration.
Southern Company (NYSE:SO)

Southern Company proves what is a common known fact. In terms of deflationary times, an utility entity will provide solid returns when dividends are reinvested. Southern Company did not disappoint at all. They delivered a terrific 9.81% annual return with dividends reinvested.
Returns
Southern Company provided investors an annualized rate of return, after dividends were reinvested, of 9.81% over the past 5 years. If deflation continues, utilities should continue to excel. As incomes decrease, housing prices decrease in value, then the common investor seeks a recession proof investment. Southern Company has proven to be a first class winner in the utility sector.
Annaly Capital Management, Inc. (NYSE:NLY)

Annaly Capital has proven the old Kentucky Derby phrase true as blue. There is a horse for a course. Annaly Capital is capitalizing on being in the right place at the right time.
Today, June 13th, the 10 year Treasury Bond traded at 1.63%. Deflation is in effect. The European currency is in full bloom. Greeks are withdrawing money by the wheelbarrow. When a currency loses its value due to a drop from the Euro, or a perceived danger to a drop from the Euro, then danger is in full effect. Foreign investors are seeking safety for their home turf currency.
Returns
Annaly Capital provided an annualized rate of return, after dividends were reinvested, of 16.64% over the past 5 years. This is a great return due to the mortgage real estate investment trusts excelling over the past 5 years.
Action
Nobody said investing would be easy. Companies change and results can vary widely between competitors. Dividend growth investors require growing dividends and the need to reinvest dividends on an ongoing basis. The dividend compounding makes a tremendous difference in the overall outcome of a stock's performance.
The key issues are 1) prune your dividend growth stock strategy when facts change; 2) focus upon factual real returns to your portfolio; and 3) think for yourself and ignore cookie cutter approaches.
You aren't a cookie cutter "consumer" and deserve the attention that an individual deserves.
Disclosure: I have no positions in any stocks mentioned, and no plans to initiate any positions within the next 72 hours.