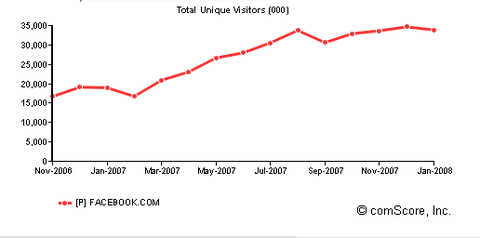 The number of people who visit Facebook has been leveling off over the past few months in the U.S., and even dipped by about 800,000 individuals in January. According to the latest stats from comScore, Facebook attracted 33.9 million unique visitors in January, 2008, down 2 percent from 34.7 million in December, 2007. Maybe all that friend spam has something to do with the decline. Will the Facebook fatigue get worse, or is this just a temporary dip?
Worldwide, Facebook is still doing fine. It grew 3 percent in January over December, attracting 100.7 million unique visitors.
MySpace (NASDAQ:NWS) had 109.3 million visitors worldwide, up 2 percent month-over-month. And in the U.S., it was slightly down as well from 68.9 million visitors in December, 2007 to 68.6 million in January, 2008. Despite its larger size, though, MySpace lost fewer visitors in the U.S. than Facebook did.