SiRF Technology, a manufacturer of semiconductors for GPS devices, reported revenue $600,000 less than expected -- and the market took the stock out to the woodshed and shot it. And shot it again and again.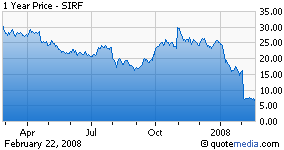 SIRF reported earnings of 28 cents a share on revenues of $100.4 million versus the consensus estimate of 32 cents a share on revenues of $101 million (see conference call transcript).
In other words, the company reported an EPS 13% less than expected, and the market capitalization was reduced by almost 60%. Seems a little over zealous to me.
With SIRF closing at $6.67 on Friday, it seems the selling was a bit overdone when you consider that the company has $2.30 a share in cash and cash equivalents. (as per the filing of the december quarter showing $139.4 million cash and cash equivalents and 60.7 million shares out). AND no debt.
Sure, there are the concerns (real and imagined) that the economy is weakening, the company may experience a decline in market share, there could be pricing pressures, competition and the company's stated cautionary outlook in the near term. But, even with the new estimates of 55 cents a share in earnings for 2008 and 77 cents a share for 2009, SIRF looks severely undervalued.
The updated revenue expectations for 2008 of $378.5 million and for 2009 of $440.2 million still does not justify the free fall in price. The updated estimated revenue growth for SIRF is now 16% (2009 over 2008) and earnings growth is 40% (2009 vs. 2008). SIRF trades at less than 9 times estimated 2008 earnings of 55 cents a share (after adjusting for the $2.30 a share in net cash) and at 6.5 times estimated earnings of 77 cents a share for 2009.
Using a Price (minus net cash) to Sales Ratio, SIRF is now valued at 0.81 times estimated 2008 revenue of $378.5 million for 2008 and at 0.70 times estimated revenues of $440.2 million for 2009.
With projected earnings growth of 40%, a Price to Sales Ratio of 1.5-2.0 could be supported easily--translating into a price of $5.00-$7.00.
Now you just have to wait until the disappointed investors exit and the new opportunists start to put their capital to work. GPS devices are a growth industry and SIRF is a major supplier for the necessar semiconductors. SIRF is a BUY--but average in over the next week or so.
Disclosure: Author has a long position in SIRF