In December 2004, Sprint (NYSE:S) announced the acquisition of Nextel for $35 billion. At that time, Sprint had less than $8 million in intangible assets listed on the balance sheet. Intangible assets are currently nearly $60 billion or nearly 2/3 of total assets for the company. Of that, $31 billion is goodwill. This week Sprint will announce 2007 financials results, and the headlines will be dominated by the recognition of goodwill impairment – which may approach the entire $31 billion.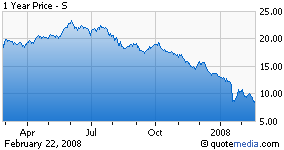 To value this entity going forward, one must combine and interpret the information available in disclosures to define the failed "synergies" of the business combination.
First, the income statement. Combining the separate revenues of Sprint and Nextel for 2004 results in revenue of $40 billion. Indications are that revenues for 2007 will be near that number, and that income from operations will be negative. The factors affecting operations are not easily defined, but these factors are definitely prevalent. Sprint is losing both customers and market share to their competition. Customer satisfaction and customer service quality is the poorest in their industry. Multiple class action suits have been filed by customers on issues such as incorrect and over-billing, improper and deceiving methods of extending contractual terms, and improper representation of services provided. The singular issue is this – what is the rate of customer defections? Estimates are that Sprint lost 700,000 customers in the 4th quarter of 2007, or 2% of the customer base. The question that remains, because of the contract expirations – what percentage of customers intend to change carriers at the termination of their contracts?
Cash may become a pressing issue in 2008. The company shows $34 billion in long term debt as of September 2007. A small indication of cash pressures are several recent news stories of customers receiving incorrect bills, and being turned into collections before receiving a corrected bill. Credit policies such as this indicate a clear focus on prioritizing cash collections above resolving customer issues. One could argue this presents some desperation on short term financial issues to the detriment of what should be the long term focus of this entity – customer satisfaction and retention, combined with the addition of customers.
The company did provide cash from operations nearing $10 billion over the last 4 quarters, a clear indicator the company has the liquidity to support debt in the near term. The January announcements of store closings and significant employee reductions indicate Q1 2008 extraordinary item charges and that the company has shifted to a very defensive position – and focused on basic operational issues, and not growth.
Sprint will now be linked in eternity to AOL (NYSE:TWX), both from a perspective of the two largest goodwill impairment write-downs, and the lack of the proposed synergies to materialize from business combinations. Before paying unrealistic premiums on assets because of expected synergies, boards should take care to recognize the errors in the proposed valuations of Sprint/Nextel and AOL/Time Warner, and contrast these against the only true synergies of the last half century – John, Paul, George and Ringo forming the Beatles; and Andy, Barney, Opie, Aunt Bea and Mayberry.
Disclosure: Author has a short position in S