Last week, World Wrestling Entertainment (NYSE:WWE) announced earnings for its fourth quarter 2007, beating analysts' estimates by $17.6 million and sending the stock up 10% in intraday trading. Since hitting a 52 week low of $13.35 last year, the stock has vacillated between $14 and $16 a share with no momentum in either direction. With a recession looming and consumer spending slowing, it is interesting to note that the source of WWE's recent growth was in consumer products and domestic live events. If we are in a period where discretionary spending is being cut, how could WWE have achieved such growth domestically in the last quarter?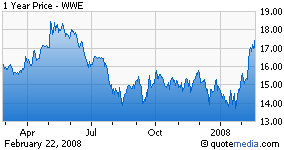 The answer lies in the company's business model. Following the tragedies of last summer (see "World Wrestling Entertainment: Is The Worst Over?") and the subsequent negative media coverage (CNN's "Death Grip, Inside Pro Wrestling Special"), WWE was forced to make big decisions regarding its pay-per-views, consumer products, and international expansion.
The first of these changes was a major overhaul of the pay-per-view system. In the past, WWE had relied on two shows per month based on the two separate TV show rosters that competed. At $39.95 a pop, these shows would overlap during the course of the month thus "cannibalizing" the sales of the other pay-per-view. In order to remedy this, WWE decided to combine the rosters/shows into one large monthly pay-per-view. This decision had an immediate impact on pay-per-view buys with the amount of buys for the super show outnumbering the buys of the two separate shows combined.
In light of the toy recalls over the summer and in the fall, WWE came under intense scrutiny for the safety of its toys and action figures. This scrutiny could not have been a better thing for WWE, for it not only proved that WWE toys were safe, but also that almost every other company and toy brand seemed to be implicated with the recalls. Following these investigations, WWE publicized the fact that their toys were safe and therefore used the negative press to their advantage. WWE has since signed a new master toy license with Mattel Inc. (NASDAQ:MAT) to take effect in 2010 as a replacement for their current toy manufacturer Jakks Pacific.
Last year, WWE began a major international growth push by conducting more live events in countries in Europe, South America, and Asia. This new international strategy was outlined by the establishment of new offices in London, Tokyo, Sao Paulo, and Sydney; all areas where WWE felt it needed to expand. The arrival into these markets coincided with new local TV deals to carry weekly WWE shows to millions more fans. Even if revenues from domestic consumer products fall due to recession, WWE has established strong brand loyalty in emerging markets which could carry them to successive quarters of unprecedented growth.
Last week's earnings announcement is proof that World Wrestling Entertainment is not going anywhere for awhile. Since hitting a rut last summer, WWE has re-evaluated its strategy and wisely used its free cash to expand internationally instead of gambling in Hollywood on feature films, such as The Condemned. With expanding consumer product sales and strong international expansion, a stock such as WWE with a dividend yield of 8.10% will be hard to ignore in the upcoming months. With that being said, the next few quarters will be the true test of whether or not WWE is recession proof.
Disclosure: Author has a long position in WWE