While in Las Vegas this week, I was fortunate to spend time with several USAF officers attending an acquisition conference. They reinforced my opinion that the military is in need a large system makeover and equipment rehabilitation program from military boots to space weapons able to protect our vital communication links in space that China, etc. seems intent to disrupt if in their interests.
Regardless of the election results this November, the new President will have to protect and defend our vital interests domestically and abroad. With technology pressing ahead at a startling pace worldwide, we no longer have the luxury of delaying procurement or shelving new counter-measures to counter adversary threats.
Thus, my premise is that aerospace and defense companies will prosper, and that their stock values will rise even during challenging economic times, inflation or deflation, in Iraq or out of Iraq. Although I believe that careful stock analysis will produce winners to beat the index, for most investors the index itself is a good way to play the theme.The iShares Dow Jones U.S Aerospace and Defense Index Fund (BATS:ITA) is as good an index as you will find.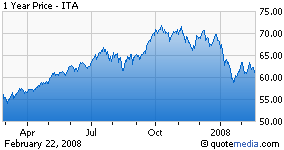 ITA trades at $60.94 per share. The expense ratio is a low .48%. Average share volume is about 41,000 shares.Over a one year period, the ETF has gained about 13% in market value while the category market value has fallen approximately 8.5%. That said, ITA has fallen from a high of $73.00 per share in December to its current price. This represents a very nice buying opportunity.
I like - really like - the top holdings of ITA. They are United Technologies (NYSE:UTX), Boeing (NYSE:BA), Lockheed Martin (NYSE:LMT), Raytheon (NYSE:RTN), General Dynamics (NYSE:GD), Northrup Grumman (NYSE:NOC), Precision Castparts (NYSE:PCP), L-3 Communications (NYSE:LLL). Textron (NYSE:TXT), and Rockwell Collins (NYSE:COL). The top ten holdings represent approximately 62% of the portfolio.
What is significant about ITA and the index that it tracks is the spread between Aerospace (59%), Defense (41%) and cash (.19%). Defense is vital but Aerospace is where the action is at for the future. Aerospace is not just an Air Force project. The Army, in fact, is in charge of the ground-based anti-missile system while the Navy has the sea-based responsibility for aerospace projects. All have different needs and thus somewhat different research/development and procurement costs. Even Homeland Security has a stake in aerospace programs for border control and tracking purposes, on land and sea.
True, we could elect a reincarnation of Neville Chamberlain willing to believe that adversaries will agree to tranquility by signing a document that will ensure "peace in our time". I don't think any of the presidential candidates are that naive, although pandering to their base may make it seem so. Presidents tend to mature quickly to the realities of the world upon taking the oath of office. Aero Defense and Defense companies of the iShares Dow Jones U.S. Aerospace and Defense Index Fund will be prepared to assist our military perform in a world-class manner. This is great for our country and great for shareholders.
Full Disclosure: The author does not hold ITA in his portfolio.