Shares of Zynga (NASDAQ:ZNGA) could not benefit from the upbeat mood on U.S. equity markets. Shares fell another 10% Wednesday, closing below the $5 mark for the first time since the company went public last year. Wednesday's decline can be directly attributed to an analyst report from Cowen & Co.
Internet correction
The public offering of Facebook (NASDAQ:FB), which turned into a total disaster, resulted in weakness in share prices of many other internet and gaming companies. Electronic Arts (NASDAQ:EA) has lost 38% of its market value year to date. While a correction in general markets and in internet companies in specific are to blame for the correction in Zynga's shares, there are more specific reasons causing shares to fall. After peaking at $16 per share early in March, shares have lost an incredible 70%.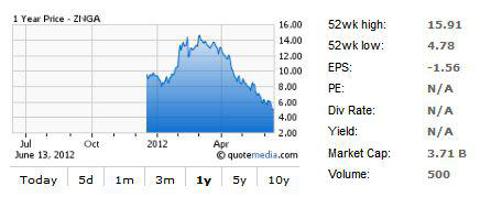 A couple of triggers:
Acquisition of OMGPOP
On March the 21st, Zynga announced that it acquired social game developer OMGPOP, makers of the popular game "Draw Something". The company will continue to focus on development of fun and creative social games. While Zynga did not release the financial terms of the deal, it is widely rumored that Zynga paid $180 million for the company, on the very specific day when the number of unique visitors for the game topped.
More share sales
Two days later, on the 23rd of March, selling shareholders of Zynga offered another 43 million share for a total consideration of $591 million. Pincus and private equity firm Union Square Ventures were among the selling shareholders. Initially shares would be offered for $13.75 per share, but no less than five days later, the secondary offering price was revised downwards to $12 per share. Confusion among shareholders regarding the timing and expiration of the insider lock-up period might have added to the uncertainty as well.
Close ties to Facebook
Shares of Facebook have fallen 28% from their initial public offering price of $38 amidst general worries about growth, the websites popularity and the company's struggles to monetize its mobile user base. Analysts at R.W. Baird estimate that Zynga generated 88% of its first quarter revenues from Facebook. In the beginning of March, the company launched its own gaming platform to reduce its dependence on the social networking website. Zynga's most popular games being "Words with Friends", "CastleVille", "Zynga Poker", "Hidden Chronicles" and "CityVille" are prominently placed on the website.
Today's analyst report
Analysts at Cowen & Co released a research report Wednesday indicating that the total number of daily active users of Zynga's games fell by 8.2% in May. This was the second "significant" drop in the number of active users according to analysts. Interest in Facebook-based games might furthermore have reached an "inflection" point.
What's next?
After a 70% correction in just three months, shares in Zynga are valued at merely $3.7 billion. The company holds about $1.1 billion in cash and equivalents which values the operating assets of the firm at around $2.6 billion. To put it into perspective, in 2011 the firm generated annual revenues of $1.15 billion. Despite some bad news, shares do offer some value for the speculative investors in the long-term.
Disclosure: I have no positions in any stocks mentioned, and no plans to initiate any positions within the next 72 hours.