Shares of SulphCo (NYSEMKT:SUF) have been the target of short sellers since a January 2006 article in Barron's brought to light some unfavorable dealings of the firm's then CEO and founder. Since January 2007, however, things have changed dramatically and the shares may be worth a look on the long side. With over 10 million shares sold short, a recent contract win, a thinly held float, and relatively low trading volume, shares of SUF could be poised for a substantial move higher in the coming weeks or months.
There are three key items about which the Street seems to be confused:
1) The company's technology
2) The company's management team
3) The company's business model and cash flow needs
Technology: Sonocracking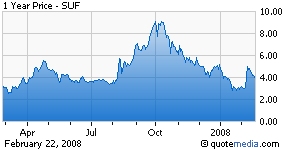 The company's technology is called "sonocracking." Simply put, sonocracking represents a series of patents around applying the use of sonochemistry to petroleum-based liquids. Sonochemistry is a very well-studied field and relates to the application of sonic waves (sound waves) to achieve certain chemical reactivity in fluids. SulphCo has patented the use of these sound waves in oil-based products and their technology has been proven (and verified by independent third parties) to remove certain undesirable chemicals found in oil.
By removing these undesirable chemicals, the process serves to improve the value of the remaining oil. Oil is judged (and valued) based upon its chemical properties….with lower concentrations of these undesirable chemicals (Sulphur, acid, etc), the more desirable chemicals will therefore be in higher concentrations, and the value of the barrel will thus be enhanced. Testing was performed by an independent third party - SGS - and then economically verified by NexIdea. Initial test results (when oil was trading near $60 per barrel) indicated an economic uplift value of roughly $3.20-$3.50 per barrel and successful reduction in these unwanted chemicals.
The company's technology has not been without setbacks however. Under the original CEO, Rudolph Gunnerman, the key part of the system through which the electricity (and thus sound waves) flowed (called the probe), failed at an unacceptably high rate. However, new management (discussed below) remedied this problem and recently signed a licensing deal with Sonomechanics to provide additional assistance and licensing rights to well-proven probe designs. SulphCo has indicated in various filings and press releases that their new probes are no longer failing, and that they are achieving substantial improvements in the oils they test. In this instance, the term "improvement" relates to reduction in the undesirable chemicals, and thus an improvement in the value of the remaining oil.
Proving the recent success and durability of the process, SulphCo announced on Monday, February 11, 2008 an agreement with Pt. Isis Megah in Indonesia for 30,000 barrels per day of processing capacity. Although shares of SUF rose quickly following the announcement, short-sellers quickly jumped on the release and tried to dismiss its validity. A quick Google search reveals Isis Megah's validity and material presence in the oil markets of the Far East.
Management: Prior Issues Resolved
Several short stories rely upon the storied and unflattering history of the company's founder and former CEO, Rudolph Gunnerman. Under Mr. Gunnerman's leadership, the company's business did not achieve some of its stated objectives. The Barron's article in January 2006 focused on some of these issues.
The Board of Directors recognized the need for change, and, on January 15th, 2007, dismissed Mr. Gunnerman and appointed Dr. Larry Ryan, PhD as the new CEO. Shortly thereafter, Mr. Michael Heffner, a former BP Executive (and former member of SUF's board) REJOINED the company's board of directors, and Mr. Brian Savino was named President of SulphCo. On May 21, 2007, Mr. Stanley Farmer was named CFO. On February 8, 2008, Mr. M. Clay Chambers (61) was named Chief Operating Officer.
Although the current management team of SulphCo is entirely new, and each member has extensive experience relevant to helping to grow SulphCo, investors remain focused on the issues which plagued the FORMER management team. Adding further concern, the former CEO (Gunnerman) entered into a 10b5-1 trading program on December 10, 2007 and has sold approximately 15,000 to 30,000 shares per day since that time (a total of nearly 400,000 shares so far). Investors pulling up a list of insider transactions (without realizing that Mr. Gunnerman is no longer a manager of the firm) are therefore often concerned. However, reading the company's filings and press releases reveals that Mr. Gunnerman is no longer affiliated with managing the firm whatsoever.
Business Model: Cash Usage Unlikely to be an Issue
SulphCo's business model involves SUF placing a SonoCracking unit (at SUF's cost/expense) at a customer site in exchange for a share in the economic "uplift" achieved on that customer's oil.
Example:
Current selling price for customer's oil: $60 per barrel
Anticipated selling price for customer's oil after being treated: $64 per barrel
Uplift: $4
Cost to uplift: $0.30
Net Uplift: $3.70
Split to SUF: 50%
Revenue to SUF: $1.85
X 30,000 barrels per day = $55,500 in revenue per day
X 300 days per year of operation = $16,650,000 in revenue per year
Skeptics have pointed out that refineries don't like to tweak their systems for fear of systemically damaging their processes. Additionally, skeptics have pointed out that oil producers don't like to treat oil in their wells for fear that such treatments may disrupt the remaining oil supplies.
Although the refinery arguments aren't entirely correct, SUF's target market is neither refiners NOR oil producers who are looking for a solution to be placed IN THEIR WELLS. Rather, SUF's technology is ideal for oil producers looking for a surface solution, for blenders looking for a blending solution (to meet a pipeline spec), and for distributors. The recent agreement signed with Pt. Isis Megah should, when viewed appropriately, lend some credibility to managements' actions and focus.
Further, short sellers have focused on the company's dwindling cash supplies. Prior to the transaction with Isis Megah, the company had cash reserves sufficient to last through August 2008. The company has a current shelf registration on file with the SEC, which has added to investor fears of being additionally diluted. Although the company's future fundraising needs remain unknown, management did comment in the Feb 11 release that "the net processing fees are entirely consistent with revenue projections we disclosed in our business model." For reference, in an 8k dated 11/29/2007 (see the text here), the company highlighted the economics of its business model, saying, "the break-even level for SulphCo is only 30 thousand barrels-per day of installed capacity." Putting these two statements together, one can infer that the Isis Megah transaction may bring the company to break-even, thus relieving the cash constraints.
With over 10 million shares sold short, a thinly held float, and relatively small trading volume, shares of SUF could see a meaningful rise if investors begin to focus on the facts and less on the incorrect rumors and misinformation which seem to dominate trading in this stock today.
Disclosure: Author has a long position in SUF