Rewind back to the tail-end of 2011. Christmas shoppers were hustling through stores to get the latest and greatest products, many of them created by Apple (NASDAQ:AAPL). While consumers were buying Apple's products, investors were scooping up the stock because of its incredible growth potential.
However, most money managers missed the true reason that would cause Apple to soar more than 50% in the first part of 2012.
Apple was trading like a value stock.
The same conditions are present today, and I'm going to show you one way to use them to yield a 17% return on Apple in only four months.
How It Works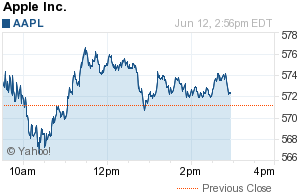 Many income investors miss Apple because they classify it only as a growth stock. But Apple's new dividend -- a result of soliciting investors' opinions -- has changed the game, and it now permits funds with a minimum-dividend requirement to invest in the stock.
In short:
Small dividend + many new investors = large future gains.
This play is for two types of investors. First, it is for the income-oriented investor who hopes to generate cash in the account. Next, it is for the growth investor who hopes to add additional return to the account.
Here's how it works. Investors would purchase Apple shares at the current price and would simultaneously sell the October 2012, 650 strike covered call. The call yields around $16.50 at the time of this writing, and Apple trades above the $572 mark.
Investors would also collect at least one dividend payment. Apple is expected to issue its first-ever dividend in Q4 of its fiscal year, which runs from July 1 through September. With an October expiration option it is unlikely that investors would receive the second dividend payment, even though Apple has not declared its payment date. So this model anticipates only the first dividend.
Assumptions:
Entry price of $572.00
One dividend payment, yielding $2.65 per share
Call option premium of $16.35
| | | | | | |
| --- | --- | --- | --- | --- | --- |
| Final Price | Appreciation | Dividend | Call Premium | Total Return | Percent |
| 650 | 78 | 2.65 | 16.35 | 97 | 16.90% |
| 640 | 68 | 2.65 | 16.35 | 87 | 15.16% |
| 630 | 58 | 2.65 | 16.35 | 77 | 13.41% |
| 620 | 48 | 2.65 | 16.35 | 67 | 11.67% |
| 610 | 38 | 2.65 | 16.35 | 57 | 9.93% |
| 600 | 28 | 2.65 | 16.35 | 47 | 8.19% |
| 590 | 18 | 2.65 | 16.35 | 37 | 6.45% |
| 580 | 8 | 2.65 | 16.35 | 27 | 4.70% |
| 570 | -2 | 2.65 | 16.35 | 17 | 2.96% |
| 560 | -12 | 2.65 | 16.35 | 7 | 1.22% |
| 550 | -22 | 2.65 | 16.35 | -3 | -0.52% |
| 540 | -32 | 2.65 | 16.35 | -13 | -2.26% |
| 530 | -42 | 2.65 | 16.35 | -23 | -4.01% |
| 520 | -52 | 2.65 | 16.35 | -33 | -5.75% |
| 510 | -62 | 2.65 | 16.35 | -43 | -7.49% |
| 500 | -72 | 2.65 | 16.35 | -53 | -9.23% |
If the market begins another ascent, Apple would likely lead the charge and could very likely challenge its previous high of $644, bringing investors nearly 17% by the October 19 expiration.
More importantly, however, Apple has support just below the $555 mark, still within the bounds of profitability. There are two major reasons that I believe that Apple will stay above this support line, and they both deal with Apple's strong current position relative to the rest of the playing field.
Continuing Rapid Growth
Apple had distinct advantages over its competition. In the computer market, where Microsoft (NASDAQ:MSFT) and Dell (NASDAQ:DELL) both have strong holds (and where Microsoft is a very compelling buy), Apple stole the high-end market and has slowly been prying away market share.
Note the company's historic extreme growth relative to the market: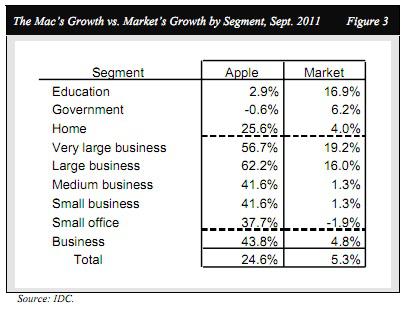 This trend is continuing. Apple sold 4 million Macs in Q1 2012, representing 7% annual growth and beating IDC's estimated growth of 2%. In the same quarter Apple sold 35.1 million iPhones, compared to 16.1 million one year earlier, taking valuable market share away from Nokia (NYSE:NOK) and the floundering Research in Motion (RIMM).
In the tablet space, Apple grew 151%, selling 11.8 million iPads compared to 4.7 million one year earlier.
Users love their Macs because they are intuitive, chic, and wildly popular. I expect more homes and businesses to begin shifting from PCs to Macs as time progresses.
To me these well-known numbers are very important. There is downside risk to this play if Apple shares are hit hard as a result of drastically slowing sales growth. However, these numbers suggest that Apple's price will remain stable in the near-term as the company continues to grab up space in its various markets.
Competitive Advantages
In the tablet space, Apple has a strong competitive advantage-market share. One-quarter of all tablets on the market are iPads. Not all of these users are die-hard Mac fans, but now they have reason to traipse through the Apple stores, giving the tech-savvy Apple store workers an opportunity to cross-sell.
The strategy is brilliant. Even if Apple had only breakeven margins on their tablets (their profit margins sit near 50%), the product would be worth creating simply because of the cross-sell opportunity.
Another brilliant but little-known strategy is Apple's steep employee discount. Apple workers can purchase some items for up to 25% off, but starting this month they can get $500 off of a new Mac and $250 off of an iPad.
Also, Apple employees earn a discount of 15% for friends and family. This strategy lets the Apple employees serve as brand evangelists and sell Apple products to their friends and families.
To me these numbers are incredibly important. The biggest risk to Apple's share price-besides a large market correction or major macro events-is flat or small growth in its revenues or product lines. These discounts (marketing tactics) suggest that users will purchase new Apple products for themselves and their families, continuing Apple's significant growth.
Apple also steals the spotlight from Google (NASDAQ:GOOG) and Amazon (NASDAQ:AMZN) with its excellent app store. While Amazon recently gave Google a strong slap with its new features, Apple is still the dominant player and competitors must find a way to improve.
I asked DJ Chung, founder of app development company Bluekey LLC, about Apple's competitive advantage. Chung praises Apple's app store because it reaches so many people, and because the submission process encourages higher-quality content than other app stores.
Moreover, Chung says "Apple also provides great developer tools and resources which they keep updating and innovating," allowing iOS developers to create the latest and greatest apps, such as Bluekey's best-known business app SimpleMileLog.
Because Apple's product is so strong, it is able to command a 30% slice of all revenues. And while most developers would typically balk at this high amount, iOS developers are happy to pay up in exchange for the best tools-which, unlike competitors, are free-and the most addicted audience.
To give some perspective, in its four years of existence, Apple's more than 600,000 apps have been downloaded more than 25 billion times as of this past March. And with current revenues of $1.9 billion from the iTunes store, which comprises music and apps, the company shows no signs of slowing.
To me this signals that Apple's business will definitely be stable through October 19, 2012.
For Value, Growth, and Income
For many investors, Apple can now be a one-stop-shop investment. The company is valued well, its earnings are growing rapidly, and the company now offers a dividend.
Combining Apple's new dividend with a recently-declined price and a smart options play can allow astute investors to capture a strong return in the short run with a minimal amount of risk from Apple's business lines.
Disclosure: I have no positions in any stocks mentioned, and no plans to initiate any positions within the next 72 hours.