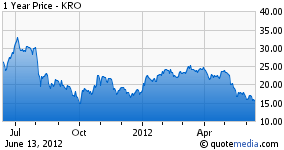 The market has taken out energy & material stocks to the woodshed over the last two months. This has created myriad long term bargains in these sectors for patient investors. Some stocks have fallen over 30% over the last couple of months despite rising earnings estimates and now sell for extremely low valuations that are enticing insiders to step up and gobble up their own shares. One such stock is Kronos Worldwide (NYSE:KRO).
Seven reasons to pick up KRO at just over $15 a share:
Insiders have picked up over 1mm net new shares in the company since the first of the year.
The stock yields 3.7% and has a debt to market capitalization ratio of under 30%.
The stock is selling near the bottom of its five year valuation range based on P/B, P/E, P/S and P/CF.
The company has crushed earnings estimates the last two quarters and consensus earnings estimates have risen nicely over the past two months despite the stock's swoon over that time period (down over 30%).
The stock sells for just over 5 times forward earnings, a huge discount to its five year average (16.3). It also more than tripled operating cash flow from FY2009 to FY2011.
The stock has a five year projected PEG of under 1 (.78) and the company should increase revenues over 25% in FY2012 and over 10% in FY2011.
Only three analysts cover the stock. They have price targets that range between $22 and $36 a share on KRO.
Disclosure: I am long KRO.