After more than five years of mostly critical commentary of Take-Two (NASDAQ:TTWO), I submit: Just when you think things couldn't get more bizarre, Electronic Arts (ERTS) says that last Tuesday it offered to buy legally and financially hobbled Take-Two for $26 a share, a 64% premium over the price that day.
The offer came after Take-Two privately rejected an earlier $25 a share bid; Take-Two never disclosed either bid to shareholders, until formally issuing a press release Sunday announcing that it had rejected the bid.
Electronic Arts' most recent bid may explain a 10% bounce in Take-Two's stock last week on unusually heavy volume, as rumors floated in various circles about the perennial takeover target.
The most intriguing part of the story, however, is that Electronic Arts is essentially saying it wants to buy a company that, on its own, would appear to have a bleak future.
According to the letter Electronic Arts sent to Take-Two:
Despite steps taken since March 2007, Take-Two remains dependent on a limited number of titles, and has limited capital resources. In addition, Take-Two faces ongoing financial, legal and operating issues and a very intense competitive environment. Given these factors, we believe it will be increasingly difficult for Take-Two to create sustainable shareholder value and that Take-Two remains exposed to considerable risk of value loss.
Take-Two, in its rejection, said it believes that Electronic Arts is "attempting to take advantage" of its upcoming (and long-delayed) release of Grand Theft Auto IV.
But Electronic Arts said:
Once GTA IV ships, Take-Two will again be dependent on less-popular titles and face increasing challenges to compete with larger and better-capitalized competitors.
Electronic Arts said that the offer was subject to an agreement by Take-Two to start negotiations by last Friday, but that the proposal remains open.
The deal is also subject to due-diligence, which is what shareholders banking on a deal should keep in mind considering the various (and current) government investigations of Take-Two.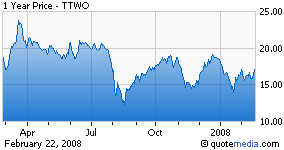 A bigger question: Why would Electronic Arts pay so much for a company that it goes out of its way to say is in such dire straits? CFO Warrren Jenson says Take-Two is a "subscale" company that would benefit being part of Electronic Arts. He says says the two companies have been in communication, on and off, for the past year. He further said he separates the company from the assets, and believes there are some "diamonds" among the assets. He also said his company believes that, based on public filings, the offer reflects Take-Two's unknown liabilities.
If you take Take-Two at its word, it rejected two offers in recent weeks from Electronic Arts because it believes EA was being "opportunistic" in trying to do the deal before the expected April 29 release of Take-Two's Grand Theft Auto IV.
Instead, Take-Two says it will agree to start talks a day later, on April 30.
Now for another twist on the tale, not mentioned in its rejection press release:
According to an 8-K filing with the SEC, on February 14 (coincidentally the day before rejecting EA's first offer, which had been made on February 6) Take-Two proposed several changes to its management deal with ZelnickMedia, whose top execs run Take-Two.
They include:
Boosting ZelnickMedia's monthly pay to $208,333 from $62,500 per month.
Boosting the annual bonus to $2.5 million from $750,000.
A grant of 600,000 shares of restricted stock that will vest over three years unless the company is acquired, in which case they'll vest immediately.
This is where it gets good, and I'm somewhat paraphrasing from the filings:
The shares won't vest immediately if, prior to the company's annual meeting, which is expected to be before April 1, the Company received a bona fide indication of interest in, or offer to enter into, a business combination (which it did); the offer specifies, with some degree of particularity, the material terms (which it may have) and (my favorite) the offer's existence hasn't been publicly disclosed or confirmed by either company before Take-Two's annual meeting. (Oops, definitely happened.)
That's right: Take-Two received a rich and serious offer from a substantial company. It didn't disclose the offer, and hoped to keep it secret until at least after the annual meeting, when investors might have challenged the compensation package and attempts by the company to block the deal. Then, in a public filing, Take-Two in effect threatened EA not to make the offer public by giving ZelnickMedia a chance to enrich itself, at the expense of shareholders, by granting restricted stock that will vest immediately if EA made the deal public.
Exercising my right as a columnist, who writes commentary, and who (by way of full disclosure) has been critical of Take-Two for at least five years: That's beyond absurd. Makes you wonder which shareholders the company puts first.