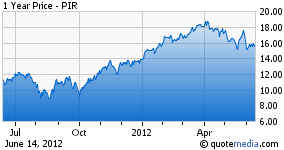 Full disclosure first. I own no Pier 1 (NYSE:PIR) stock. I stopped going to Pier 1 stores when my own home got filled with furniture and I started throwing stuff out. But the daughter of a close friend has made her career there, presently running a store near Houston, so I have what you may call a rooting interest in the company.
They had a good quarter. Profits were up 26% and they raised guidance.
Investors seem to consider it a one-off. The stock is hovering at about $15.80, a price you could have gotten in January, and well off the $18.80 it was bringing in April. Even the new four cent dividend excites no interest.
Jefferies & Co., has initiated coverage with a "buy," with a price target of $20, saying the company hopes to increase sales/square foot by 25% over a year ago and has big plans for the Internet.
The best news is the question of "one-off." Can Pier 1 replicate this quarter? Looks like it can, because the whole space is improving. Bed, Bath & Beyond (NASDAQ:BBBY) is doing OK, too, having picked up distributor Linen Holdings LLC for cash.
Despite all the good news, PIR can be had for 10.3 times earnings. That's less than the present price of rival Kirkland (NASDAQ:KIRK), which recently guided lower but still has a PE north of 12.
The PIR results seem to indicate a slow growth in consumer confidence, which could be bullish for the whole market. Even if you don't play the stock, keep an eye on it, because it could tell you where the economy is going later this year.
Disclosure: I have no positions in any stocks mentioned, and no plans to initiate any positions within the next 72 hours.