Interesting passage in Tom Lauricella's "Abreast of the Market" column in this morning's WSJ:
Despite those tight ranges, it hasn't felt like the market was going sideways. Since the lows of Jan. 22, both the Dow and the S&P 500 have had only one day with an up or down move of less than 1% and, in fact, only one other day all year with a sub-1% move. In contrast, there were only four days with swings greater than 1% by this time last year.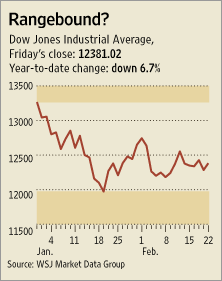 These aren't historic levels of observed volatility, but they're volatile enough to introduce all sorts of behavioral demons for most investors--even professionals.
One more point on this: Check the adjacent image. Does the year-to-date space between the shaded areas really represent a particularly tight range? Last week was clearly tighter...but we wouldn't want to leap to a new market diagnosis on the basis of one week's trading.
And while we're on the topic of timing, we have a couple items from late January still lurking around here that deserve a hearing.
First, back on January 23rd, the Journal's Ian Salisbury wrote up inverse ETFs. Contrarians will suspect that this sort of media treatment could signal a semi-durable bottom (if not a furious rally higher).
The next day, Karen Richardson and Gregory Zuckerman noted that share buybacks may have peaked...at the top. Here's the key excerpt (emphasis added in bold).
In past market stumbles, investors could count on one thing to help stabilize the situation: a round of share buybacks.

This time around, there are even higher hopes for such repurchases, given that the stock-market rout has made prices cheaper and falling interest rates make it less expensive to borrow money to buy stocks.

But most companies aren't biting. Many bought back shares in recent years when they were much more expensive, leaving them with less ability and leeway with their investors to jump back in now.

"Companies are realizing that you can't fight the market with buybacks," said Howard Silverblatt, a Standard & Poor's senior analyst who tracks buybacks for the Standard & Poor's 500-stock index. "It's like using your fist to hit a brick wall. You just keep hitting and hitting, and it just doesn't move."

Investment bankers say executives are wary of committing to big, new share repurchases, in part because there is so much confusion about the outlook for the global economy both in the near term and long term.
So it isn't just humble individual investors who demonstrate dubious timing. In fact, it can't be. It's big money that moves asset prices, and tops and bottoms form when the big money exhausts itself and reverses.
Sources
Tom Lauricella, "Lately, Stocks Going Nowhere, Fast," Wall Street Journal, February 25, 2008
Ian Salisbury, "Hedging Your Bets? Check Bearish ETFs," Wall Street Journal, January 23, 2008
Karen Richardson and Gregory Zuckerman, "Where Have Buybacks Gone?" Wall Street Journal, January 24, 2008