Stocks in the home health care sector are down greater than 50% on average from their summer 2011 peak. Since then, there have been peaks and troughs that have sent these stocks up and down 30% within a short period of time. The sector has gone through a senate finance committee investigation and subsequent report, a 2%-4% rate cut for 2012 and the expectation that rate cuts in this industry should be expected as par for the course for the foreseeable future.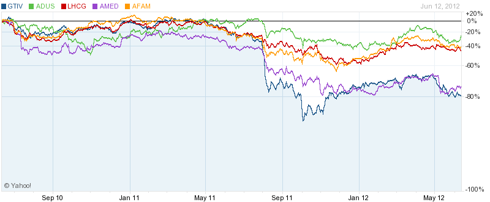 With that being said, most of the home health companies were able to manage the rate cuts in the first full quarter with a decline in reimbursement. Although earnings were down across the board, cost cutting measures mitigated what otherwise could have been disastrous results. For the most part, cost cutting to date has included closing unprofitable branches, reducing layers of management and administration and streamlining operations. Despite management teams being able to maintain significant earnings, and some companies growing organic admissions, investors are still skeptical on the space, as can be seen in the valuations.
| | |
| --- | --- |
| Company | EV/EBITDA (Est. 2012) |
| Almost Family (NASDAQ:AFAM) | 4.9x |
| Addus Homecare (NASDAQ:ADUS) | 6.8x |
| Amedisys (NASDAQ:AMED) | 4.5x |
| LHC Group (NASDAQ:LHCG) | 5.0x |
| Gentiva (NASDAQ:GTIV) | 5.5x |
(Based on Internal Estimates)
Investor skepticism is warranted. It is difficult to look past the significance of rate cuts expected in coming years. However, whenever a sector is trading at trough valuations (the space typically trades between 5.0x-7.0x EBITDA), investors should take notice.
Addressing reimbursement first, most institutional investors are pricing in approximately 2% per year declines in reimbursement through 2015 as a result of home health being a part of numerous bills in an effort to reduce health spend. Gentiva laid out its expectation for reimbursement at a Jefferies conference earlier this month, as illustrated below.
| | |
| --- | --- |
| | Reimbursement Change 2013 |
| Market Basket | 2%-2.5% |
| Case Mix Creep Carryover | -1.3% |
| Adjustments | -1.0% |
| Sequestration | -2.0% |
While a 2%-3% decline in reimbursement each year over the next few years might seem like a reasonable estimate given the experience the sector has had over the past 18 months, it is also worth taking a look at what could change this trajectory. Turning to another slide Gentiva uses in most of its presentations, home health is the least expensive way to deliver quality care.
| | |
| --- | --- |
| | Per Day Medicare Payment |
| Hospital | $1,479 |
| Skilled Nursing | $303 |
| Hospice | $135 |
| Home Health | $50 |
Since Home Health has been under fire the past 24 months, it has made a more significant effort to speak with lawmakers and decision makers before they make decisions on where reimbursement should be. This primarily involves turning the discussion around from across the board cuts to finding out how to cut out the abuses of the current payment system, which causes the health system billions of dollars each year. Additionally, if more of the eligible Medicare population moves to receiving care in the home, expenses to the system would decline dramatically. In a recent report, MedPac (Medicare Payment Advisory Commission) pointed out that in 2010 the Medicare margin for home health providers was 19.4%. Following rate cuts,MedPac estimates a margin below 14% for 2012. The average operating income for public home health companies has dropped greater than 30% from 2010 to what is expected this year. This is significant because many small and non-profit providers of home health across the country have been forced to shutter due to lower reimbursement. In previous recommendations, one of the primary goals was to bring margins down, which has been accomplished. It is likely that decision makers on reimbursement will want to see what the effects of lower reimbursement have been and will continue to be on the sector before making any additional significant cuts.
One of the reasons that law makers have felt somewhat comfortable in reducing reimbursement is because of the overwhelmingly positive demographics health service providers face in coming years. From 2010-2020, the number of people in the population 65 and older is anticipated to increase from 40.2 million people to 55 million. This is more than 3% per year growth in the patient population. Over the long term, for those companies that can restructure their operations to deal with the current reimbursement environment, the 3% growth in patients should help to offset reimbursement cuts. In addition, however, management teams will have to be strategic about where they operate and be smart about gaining share. For that reason, investors should be keenly focused on organic admissions as an important measure of which home health company to invest in.
| | |
| --- | --- |
| Company | Q1:2012 Home Health Organic Admissions |
| Almost Family | 1.0% |
| Addus Homecare | -9.2% |
| Amedisys | -1.0% |
| LHC Group | 5.6% |
| Gentiva | 1.0% |
Different factors affected the providers differently. As can be seen in the table above, 3 of the 5 companies were +/-1.0%. Excluding closures at GTIV and ADUS, results would have been better.
Addressing the cost side of the equation, as mentioned previously, the industry has addressed most of the low hanging fruit. However, one thing companies (to my knowledge) have not yet addressed is employee pay. While management teams have been able to hold back pay increases as a result of meager economic growth and core inflation, companies have not yet talked about reducing pay. Management teams have also communicated that they are not interested in doing so. However, if Medicare continues to cut rates, we think this is an area where management could cut if it has to. Also, while companies have made significant cuts over the past 2 quarters in response to rate cuts, we think its entirely possible that the full effects of cost cutting have not shown up in results to date. This would leave room for results to improve as the year moves forward.
Another factor worth pointing out is that home health care is well insulated from the volatility in the economy. In fact, earnings in the industry rose on average from 2008-2009. Additionally, all of the companies mentioned are in businesses other than home health, however, home health make up the majority of their revenues. Almost Family and Addus manage personal community service businesses, Gentiva and Amedisys operate hospice care and LHCG is in long term care. As was seen earlier in the article, hospice is also a cost effective treatment option for Medicare patients. Community and personal services are often provided for disabled patients. LHC's long term care business provides facility based long term care. For all of these companies, having an additional source of revenue has served them well through a volatile reimbursement environment in home health.
Currently, investors are pricing in a pessimistic scenario. If reimbursement stabilizes and lawmakers begin to realize the value inherent in home health, the sector could prove a good spot for part of an investors portfolio. As I always caution with small capitalization stocks, positions should be small and bought on a dollar cost averaging basis. There is particular volatility in home health stocks associated around reimbursement decisions and different healthcare bills.