BP is one of the biggest companies in the oil and gas sector. After the 2010 oil spill in the Gulf of Mexico that brought down the stock below subprime crisis levels, the company has never been the same again. Two years after the tragic event BP is now the most attractive company in the oil and gas sector.
In terms of the stock price its major competitors (Exxon Mobil (NYSE:XOM) and Chevron (NYSE:CVX)) are trading near 3 year highs while BP still trades 35% below the levels it was before the disaster.
Looking at the company's balance sheet we observe it has a debt ratio of 62% and a capital structure composed by two-thirds in long term assets, which is in line with the sector. Moreover, its book value per share of $35.48 gives some comfort to investors.
BP's income statement presents an 7.21% operating margin which is very good for a mature sector, but even more impressive is the PER (price to earnings ratio) of 4.80, way below the CVX's PER of 7.55 or XOM's PER of 9.8.
The viewer must remember that the world has a dependence on oil, meaning this sector will be around for a long time and even if BP's profits fall the actual PER would be 9.6 (better than XOM).
This article has a focus on the short term and the intention is to alert the viewer that a swing trade is preferable to buy BP instead of other oil and gas companies like XOM or CVX. Notice that BP is cheaper not only in terms of fundamentals like PER and distance between its market cap and book value, but the company can also benefit more in terms of stock price from a rebound in oil prices and the British pound sterling (GBP), like what happened on October 2011 when the stock rose 36%.
But be aware because if this market correction intensifies the stock price will me more sensitive to oil prices and the British currency.
A quick analysis of the charts presented below show us that WTI Crude Oil (CL1) made a support above $81 a barrel after a 23.50% decline since the beginning of the recent fall, which probably represents an absence of sellers making it easier for an upside reaction with the 50 day moving average at $96 as a target. The GBP recently presented a fall of 10 figures against the USD (US dollar) from 1.63 to 1.53 representing a depreciation of 6.34%. It has already recovered to 1.55 but this kind of movement was too quick for a liquid currency like this, a reason why it probably recovered some more and met the 200 day moving average at 1.5759.
The charts relating BP are for viewers to have a notion of the stock movement in recent years.
In short, this is a good stock to go long on a market rally and even better than its competitors.
BP US EQUITY

Total Debt *

180.586

Total Assets *

293.068

Debt Ratio *

62%

Better

Worst

Net Income *

25.700

- 3.719

Mkt Cap *

123.324

123.324

PER

4,80

- 33,16

Margins

EBITDA *

10,17%

Gross *

16,50%

Operating *

7,21%

Last Price **

38,90

52 Week High **

48,34

52 Week Low **

33,62

Volume (average 30 days) **

6.922.317

Analysts Recommendation

Buys

64,29%

Sells

0,00%

Holds

35,71%

* Source: Bloomberg

** Values at 12-06-2012 18:11 (GMT)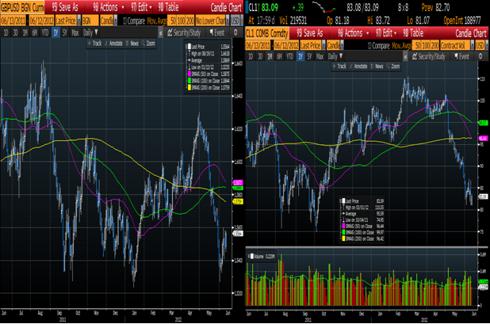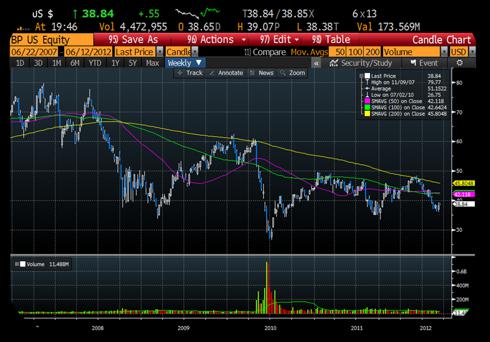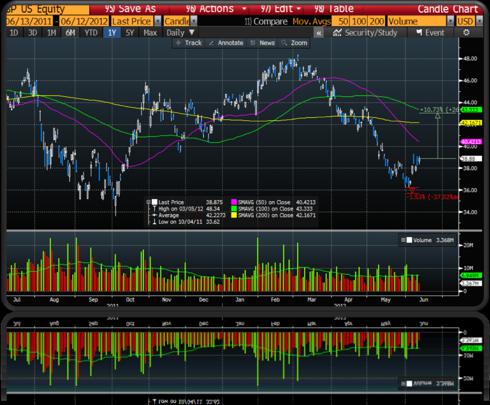 Disclosure: I am long BP.