The first stock that could be a good short right now is Amazon.com Inc (NASDAQ:AMZN) which is currently trading at $214.50. When looking at the chart you can see the large gap from last quarter's earnings and the white line showing an uptrend the stock has been in since the start of the year. Amazon could pull back down to that trend line and fill that gap bring the stock down under $200 per share. Over the past 3 months Amazon has outperformed the market, up over 17% verse the S&P 500 that is down 5.1%. Amazon also trades at a rich valuation, with a forward P/E greater then 80, and a PEG ratio of over 5.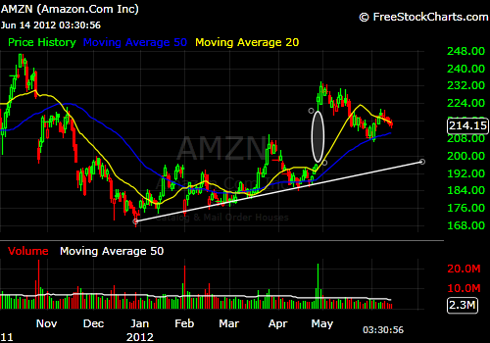 One possible choice is to short Amazon outright. The other option I would consider is to short the stock, and then write the October 200 put, collecting $13.55. If held to expiration, this trade would make $13.55 if Amazon does not move at all; it could make a maximum of $28.05, and would start losing money if Amazon goes above $228.05. The diagram below shows possible profits at expiration of this trade.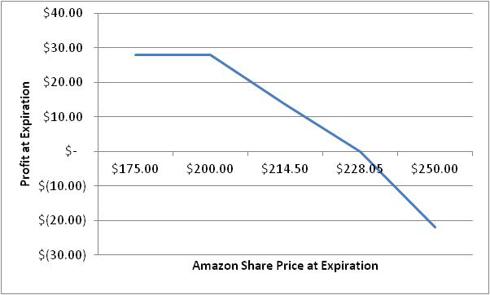 The second candidate to consider shorting right now is AOL Inc. (NYSE:AOL), the stock is up 51% over the past quarter. The stock has a similar chart to Amazon, with an uptrend in place and a large gap that has yet to be filled. The company trades at 30 times forward earnings, and has a PEG ratio of 4.4. AOL shareholders today re-elected the current board members, despite an attempt from Starboard Value to replace 3 members of the board to shake up the company and unlock value.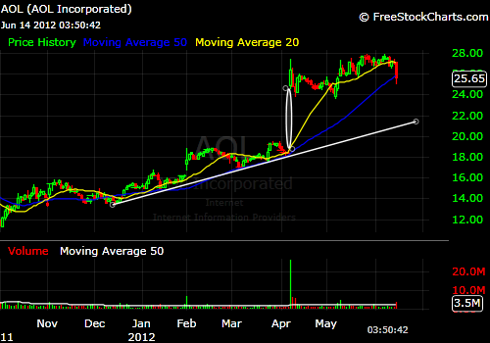 The 25-20 October put spread can be bought for $1.70, buying the 25 strike put for $2.35 then selling the 20 strike put for $0.65. This trade could make a maximum of $3.30, or almost 100%, if AOL trades down to $20 by expiration. To start making money AOL would have to trade below $23.30. The diagram below represents the possible profits at expiration.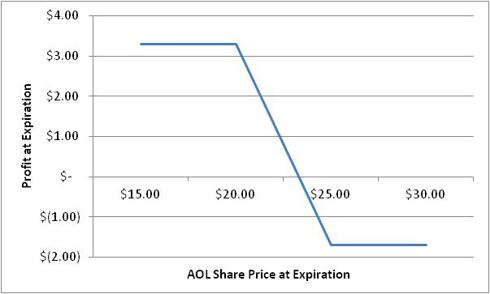 The finial short idea is Royal Gold, Inc (NASDAQ:RGLD), which has seen gains of 22.4% over the past quarter. The chart shows a stock that has run it to strong resistance around $80 per share over the past year. And on 4 prior steep upturns in the stock have lend to 4 declines. Analysts are not overly bullish on the stock with a mean price target of $84.88, and average rating of hold. The company is trading at 33.8 times forward earnings and has a PEG ratio of 4.5.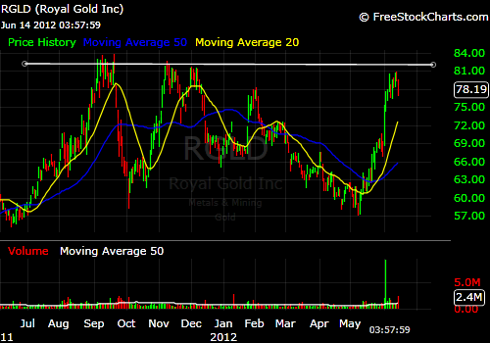 I would consider the buying one October 75 put for $5.70, then selling two Oct 65 collecting a total of $4.50, then buying an Oct 60 put for $1.50. So in total this trade would cost $2.70 to put on and could make a maximum of $7.30 or 170%. The diagram below represents the profit at expiration for this trade.
Data sourced from: Yahoo!Finance, and Finviz.com. Chart from: Freestockcharts.com.
Disclosure: I have no positions in any stocks mentioned, and no plans to initiate any positions within the next 72 hours.