88% of the U.S coal demand comes from utilities. Due to the decline in natural gas prices, powerhouses are switching from coal to natural gas. Environmental concerns regarding mining and usage of coal, record high inventory levels and falling steel demand have resulted in a steep decline in coal prices.
Many coal stocks, including the Coal ETF (NYSEARCA:KOL), are trading near their 52-week lows. However, investors have ignored the potential of export growth, the Chinese demand and clean coal technologies.
Recommendation:
We recommend investors to buy coal stocks that are more exposed to Metallurgical coal, are focusing on clean coal technologies or can benefit from the growing coal demand in China via more exports. We are recommending investors to buy Alpha Natural resources (ANR), Peabody Energy (NYSE:BTU), Consol Energy (NYSE:CNX) and Arch Coal (NYSE:ACI).
Investors can use the respective 52- week lows as stop loss levels. The 52-week low levels for our recommended longs are as follows:
BTU: $22.18, ACI: $5.62, ANR: $8.1, CNX: $26.46
Industry Overview:
Few factors that have led to decline in coal demand and prices are as follows:
Natural gas prices have fallen more than its substitute, thermal coal. As a result, coal-to-gas switching trend continues. Even those utilities that were burning cheaper Powder River basin coal have started switching significantly.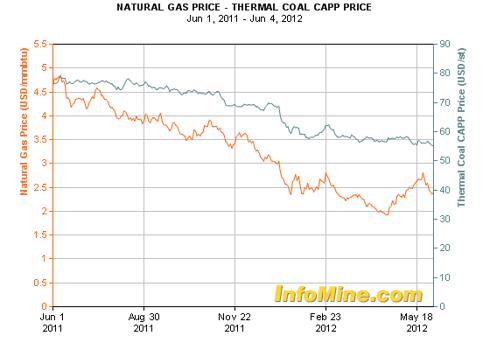 The average monthly electricity generation of coal is declining constantly, along with a reduction in its share of total generation to 34%, the lowest level since January 1973.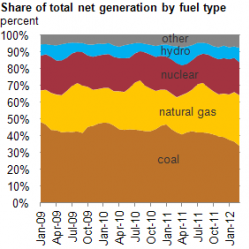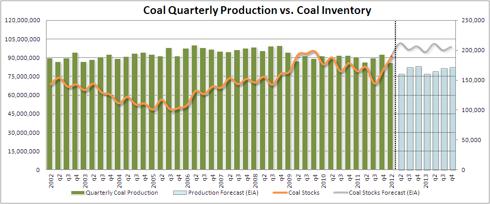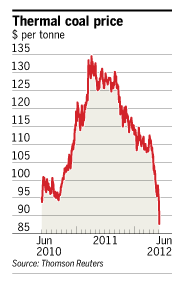 However, coal market is expected to improve in the future as a result of the following factors: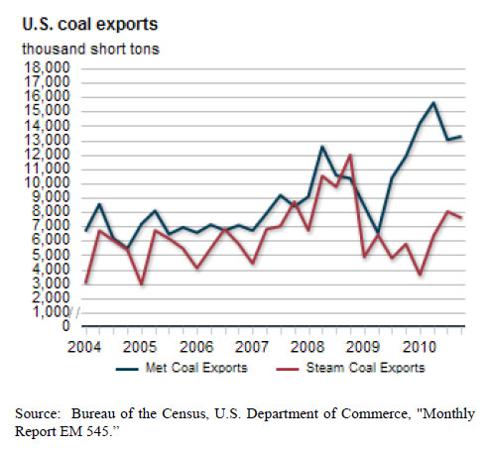 Major Companies
Comp Sheet
| | | | | |
| --- | --- | --- | --- | --- |
| | ANR | BTU | CNX | ACI |
| EV/EBITDA (NYSE:TTM) | 4.82 | 5.51 | 6.13 | 5.68 |
| PEG ratio (5-year expected) | NA | 0.89 | 1.18 | NA |
| Forward P/E (1 year) | N/A | 6.48 | 11.34 | 293 |
| Stock price performance (YTD) | -62.76% | -36.07% | -30.41% | -61.22% |
Alpha Natural Resources
Alpha Natural Resources' operating losses, exposure to high-cost CAPP region, and increased leverage after Massey Energy acquisition caused its stock to fall by 80% in last 52 weeks. However, we believe that its current stock price fully reflects the weak outlook. We are optimistic about its future growth prospects because of its increased exposure to met coal and continued production cuts. Its cheap valuation makes it an attractive buy.
Coal-to-gas switching and reduction in coal prices resulted in a second straight quarterly loss for ANR. For 1Q2012, it reported a per-share loss of 13c as compared to 41c of profit last year. However, Alpha's significant reserve base, diverse product mix, and strong liquidity position gives it an advantage over its competitors.
ANR acquired Massey Energy Co. in 2011, which enabled it to control the second-largest coal reserve base in the US and become a global leader in metallurgical coal supply. Its exposure to metallurgical coal has significantly increased. Yet, given weak US thermal markets and potential met coal upside, ANR is expected to perform well in the future.
The acquisition has delivered synergies and reduced employee turnover. However, ANR has to pay $209 million in civil and criminal penalties this year, for Massey Energy's role in a mine explosion in 2011 that killed 29 workers. Furthermore, the conversion of some of its convertible notes is due in 2015 which can have an adverse impact on its liquidity position.
Recently, ANR has announced that it will stop mining at four of its mines in Kentucky because of uneconomic production. It intends to cut production further and double exports of coal used to generate electricity. ANR is trying to reduce its coal production in the high-cost CAAP region to improve its profitability.
ANR's EV/EBITDA r of 4.8x is the lowest in the industry.
Peabody Energy Corp.
Peabody Energy is the most diverse US coal producer, with its Australian asset base giving it a competitive advantage over its peers. Despite its premium valuation, its lucrative future growth prospects, strong liquidity position, and diversified operations can result in stock outperforming its peers.
Peabody Energy Corp. is the world's largest private sector coal mining company and is a global leader in clean coal solutions. It considers Australia, the world's largest coal exporting nation, to be a premier location for coalmine development and investment. It has won full control of Macarthur Coal last year and acquired one of the major Australian coal producers, Excel Coal, in 2006.
Meanwhile, BTU is actively trading in all major Australian coal regions, which gives it new market insights and enables it to bring continuous improvement in its operations. In 2011, its Australian mining segment accounted for 46% of its EBITDA.
BTU's liquidity position is very strong with a cash of $952.4 billion. Recently, Fitch has affirmed its credit rating at BB+ as it feels that the rating outlook is stable.
Currently, it is trying to sell its Wilkie Creek mine in Australia. There has been very strong interest expressed by LG international and some Japanese companies regarding its purchase. A possible sale in the near future is likely to drive its share price higher.
BTU's premium valuations still do not make it the most expensive stock among its peers. Its EV/EBITDA ratio of 5.5x trails that of ACI and CNX. Moreover, its PEG ratio of 0.9x is lower than CNX's 1.2x.
Consol Energy
Consol Energy derives its economic moat from its diversified product mix, strong liquidity position, and high EBITDA margins due to its favorable cost structure.
Consol Energy is a producer of both coal and natural gas. Despite coal-to-gas switching trend in the industry, its diverse product mix enabled it to suffer the least and outperformed its peers.
The company feels that it is well positioned to capture the potential up cycle in the coal market as its inventory levels only grew modestly and its lower cost mines remained well-capitalized.
The reopening of low-cost, high-value Buchanan mine is expected to improve things in the future. Meanwhile, natural gas is a significant and growing contributor to Consol's performance as volumes increase due to declining prices.
CNX's liquidity position is impressive, and it has no significant maturities in the upcoming years. It has one of the lowest production cost structures in the industry allowing it to main relatively high EBITDA margins.
Arch Coal Inc
ACI is currently one of the worst performers in its industry. As a result, it has lost two-thirds of its market capitalization and is currently trading at a 64% discount to its book value. However, cheap valuations and attractive growth prospects lead us to recommend a buy position.
ACI reported a net loss and negative free cash flow in 1Q2012, as a result of weak macroeconomic trends and weakening US thermal markets. Recently, both Moody's and Fitch have cut their credit ratings on Arch Coal due to its weak demand for domestic steam coal and increased leverage as a result of its acquisition of International Coal Group (NYSE:ICG) last year. The company is trying to cut costs aggressively. Recently, 500 jobs in the Appalachian region have been cut, and the quarterly dividend has also been reduced. Moreover, ACI plans to refinance its debt that will reduce its borrowings under its revolving credit facility.
ACI's acquisition of ICG makes it the second-largest coking coal producer. Given the expected upside potential of met coke, ACI's long-term growth prospects are attractive. Its 3-5 year projected EPS growth rate is 11.8%.
Disclosure: I have no positions in any stocks mentioned, and no plans to initiate any positions within the next 72 hours.