Let me pose one, should be obvious, question: If a company needs a bailout how can they be AAA? Just wundrin.


Monday's rally proves one thing; bulls have cash, are nervous and itching to spend it. Is the bailout for the two monoline insurance companies just a band aid? Many very smart people believe so, thinking this deal just buys time. Nevertheless traders are all over themselves with enthusiasm that these companies' problems are now over.

Besides as Todd Harrison noted so well yesterday regarding the major brokers: "...they all close their quarters on Friday. It makes sense that they would want to cement resolution so they can mark their positions accordingly." You see, the big brokers are supposedly going to lend money to a company that is insuring their own positions. Get it?

Breadth and volume were excellent with most coming in after the AMBAC (ABK) news.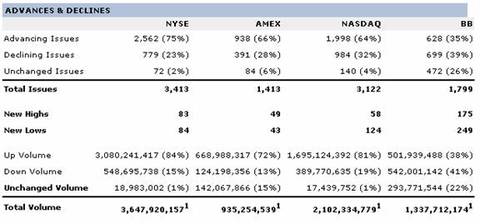 Go to page 2 >>