In the past when discussing My Mad Method, I've shown my entire watchlist, my entire portfolio, or more recently, a list that combines both. I've also offered up a look at a variety of telecom stocks as a group. Today I'm going to focus on just two companies, head to head, and venture forth into new territory: Toy Land!
Both Hasbro, Inc (NASDAQ:HAS) and Mattel, Inc (NASDAQ:MAT) are household names when it comes to toys and board games. Hasbro has titles such as Transformers, G.I. Joe and board game heavyweights Milton Bradley and Parker Brothers in its stable, while Mattel has the perennial favorites Barbie and Hot Wheels, plus other notables such as UNO and Apples to Apples. Both toy manufacturers vie for Hollywood's attention, with one or the other of them quickly offering up merchandise based on current action movies to the consuming public.
To quickly review, My Mad Method, or MMM, uses 15 financial metrics to rank different companies against each other in either my watchlist or my portfolio, or a combination of both. Each company is ranked on each metric against the other companies in the list, where #1 is best and the highest rank number is worst, and then those rankings are averaged into an aggregate number, which in turn is ranked in order to determine which company is #1 out of the bunch. I've also recently introduced the idea of weighting one or more metrics to give greater credence to those metrics based on what I'm looking for out of a list of stocks to choose from at any given time. In today's analysis, all of the metrics have been evenly balanced against each other. For the purposes of this pairing, I've used my current watchlist, which only consists of 18 stocks at the moment.
After updating the MMM spreadsheet with current numbers for all 15 metrics, HAS ends up with a final Rank of 8 out of 18, just above the midpoint, while MAT finishes nearly last in 17th place. However, looking at both companies' recent prices over the last 12 months, MAT has clearly outperformed not only HAS, but the S&P500 (NYSEARCA:SPY) as a whole. Their My Mad Method Rankings, therefore, seem counter-intuitive. Is My Mad Method broken? I don't think so. Let's look at some more information.
Hasbro vs. Mattel Chart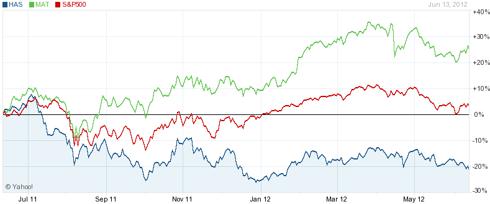 (Click to enlarge.)
Over the past year, MAT has certainly outperformed HAS in terms of equity growth. However, one of the things I use MMM to look for in a stock is not how well the price has done, but rather where its current price is relative to its 30 year average compound annual growth rate, or CAGR. If a stock's current price is below its average CAGR, then theoretically if the company's business model, products and management are still sound, its price should adjust up over time to approach its average CAGR. Likewise, if a stock's current price is above its average CAGR, we can expect that, all things being relatively the same, its price will adjust down towards its average CAGR over time.
Hasbro's 30-Year Average CAGR

(Click to enlarge.)
Mattel's 30-Year Average CAGR

(Click to enlarge.)
Looking at these charts, both companies' current prices are very close to their average CAGR, although HAS's is slightly below and MAT's is slightly above.
To look at them another way, I use what I call the 52 Week Delta Ratio, where "Delta" refers to the "difference" between where a stock's current price is relative to its 52 week high and 52 week low. I then apply a "reading" to that Ratio to visually highlight whether the stock's current price is closer to its 52 week high or its 52 week low, and how close it is. Finally, I check the average of each stock's 52 week high and low against its current price to see where that falls.

One of the things that I'm looking for in a stock to add to my portfolio is a company that is fundamentally sound, generates a stable and growing dividend, and is currently beaten down in price somewhat despite still being a great company. HAS and MAT both have low dividend payout ratios at 44% and 46% respectively, and both have similar prices and yields, although HAS is slightly higher in both. Checking their 5 year record of dividend growth, HAS comes in at 17.2% while MAT's is only 6.2%, about a third of Hasbro's record of growing their dividend. In fact, according to David Fish's CCC list of Dividend Champions, Contenders and Challengers, HAS has raised its dividend each of the past 8 years, while the best information I could find for MAT indicates that it only has a streak of increasing its dividend for three years or less.
Looking at their current prices, HAS is well below its 52 week average while MAT is a well above its 52 week average, and the Delta Ratio Reading makes it pretty clear that HAS is beyond "Buy!" and has gone into "Holy Cow!" territory. Both companies have P/E Ratios below my target of 15, with HAS coming in at 12.6 and MAT just making the cut at 14.8, based on recent data.
HAS slid from a high of $46.01 in early July, 2011, down to $31.99 in early October, 2011, and has been bouncing around between about $38 and $32 since then. There's some concern about the emerging technology of 3D printing potentially impacting toymakers' sales in the 5 to 10 year timeframe when 3D printers could become more common. On the plus side, there's positive outlook in the nearer term for HAS with regard to merchandise based on the Disney (NYSE:DIS) smash hit movie The Avengers, and even rumors of a new Furbie toy hitting the market for this year's holiday season. If you'll recall, Furbie was a huge hit during the 1998 and 1999 holiday shopping frenzies.
Meanwhile, MAT is too close to its 52 week high for my tastes, as I tend to go for the underdog in matchups like this.
For a final check, I looked at my combined list of 44 stocks from both my portfolio and my watchlist in My Mad Method. When I applied a 40% weighting to the dividend-related metrics Yield, Payout Ratio and 5 Year Dividend Growth, HAS jumped up from 19th place into the 5th ranked slot, while MAT only managed to go from 37th to 23rd place.
If I had to choose between either of these two stocks to add to my portfolio, I'm inclined to pick Hasbro over Mattel based on this data.
These two companies are the heavyweights of the toy biz, both with great franchises. Kids will always want new toys, and new families like to grow their own stash of board games to play on family night or with other couples. I'm no expert on consumer goods, but I think both of these toymakers will do well in good and even OK times, and will still survive during worse economic downturns.
I'm going to keep watching both of these stocks, and if my CRUS shares get called away after the close on Friday, June 15th, I might just initiate a small position in HAS with a portion of those proceeds. I'll keep you posted…
Disclosure: I have no positions in any stocks mentioned, but may initiate a long position in HAS over the next 72 hours.
Additional disclosure: I am not a professional investment advisor or financial analyst; I'm just a guy who likes to crunch numbers and can make an Excel spreadsheet do pretty much whatever I want it to do, and I'm doing my best to manage my own portfolio. This article is in no way an endorsement of any of the stocks discussed in it, and as always, you need to do your own research and due diligence before you decide to trade any securities or other products.