Can you name the one company that, for the past five years, has steadily increased its revenue YoY, earnings per share, dividends and per share book value, yet its share price has gone literally nowhere?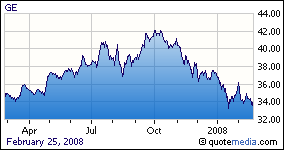 That company, of course is General Electric (NYSE:GE) – the mega-conglomerate with a market cap of $335 billion. As if these reasons were not good enough to love GE, consider that GE's current 3.7% dividend yield is roughly equal to the interest on the richest savings accounts. You'll also be happy to know that in today's volatile market GE is relatively safe, sporting a β of only .8, trading within about 10% of its 4-year low and at a P/E of about 15 - the very low end of its 10 year range.
This stock is obviously a great value, but what makes me think that now is the right time to buy it? Why didn't I buy it a month ago, when it first made its bottom? And how do I know that it will not dip any lower?
Of course, nobody knows the answer to that last question - anything can happen, but several bullish signs are pointing towards a recovery in GE's per share value.
GE stock is significantly oversold, indicative of a bottom
GE insiders have started buying shares in the open market
GE can borrow at decreasing costs, while most competitors have to pay more.
The writer's strike is finally over and NBC Universal can contribute an increasing share to GE's profitability
Expect GE's under-appreciated Healthcare segment to improve performance – there is pent-up demand.
GE will grow foreign revenue, especially in emerging markets – China Olympic Games projects are especially important
GE Energy has the technology and best products to fulfill the Oval Office's dreams for an oil independent future.
Actually, let me expand a bit on that last bullet point. Most people probably don't know this, but GE Energy has the most advanced design for a safe nuclear power plant and it is the only U.S.-based company that can build a nuclear power plant. It has already built four of these and is in the process of building three more. None of these plants are in the U.S.
In fact, there has not even been an application for a new U.S. nuclear power plant submitted in almost 30 years. But from the end of Q3 2007 through the end of this year, there will be close to 30 such applications filed. Under the Energy Policy Act of 2005, the industry is getting something like $12 billion in subsidies to build new plants. And they will be getting more in federal loan guarantees and risk insurance.
That new nuclear power plants will be built in this country is a near certainty. That GE will be the one entrusted to build them appears inevitable. Now, did I mention that a reactor can easily cost $90 billion to build and that the liability from accidents is limited by law?! Ok then, $90 Billion multiplied by 30 plants and we are talking real money.
Of course, I know that not all of these plants may get built and that GE will have to share these revenues with others and that the money will roll in very gradually and over an extended time period. But the sheer size of the GE growth potential here is absolutely mind-boggling. As large as GE is, it has revenues of less than $50 Billion a quarter and this one single product is destined to boost its revenue by more than 10% by conservative estimates (and that's only one of GE's leading edge energy products).
GE also has leading edge geothermal products – the way of the future for commercial heating in extreme climates, as well as leading edge wind turbines as well as a range of solar products. Granted that the current production solar panels are rather inefficient, capturing only 12% of available energy, but I still remember the 80s, my college days and the federal tax credit-inspired solar boom. Back then I was working at the nonprofit Boulder Energy Conservation Center, designing solar systems using similar looking panels, which were barely 1% efficient. If I was a gambling man, I would surely bet that within 10 years GE will produce panels that are so efficient that they can pay for themselves within 3 years for large commercial installations. Now I am dreaming…
So what's the bottom line? It's that I have a hard time imagining a scenario under which GE's long term earnings growth will be limited to 2% a year – a common expectation among most analysts. What I see is a value priced stock poised for long-term growth. In fact, I couldn't resist picking some up on Friday (02/22) at $33.34.
Disclosure: Long GE