Since I wrote "Coal Production Cut Bullish For Coal Stocks", I kept tracking the EIA weekly coal production reports. Yesterday, natural gas (NYSEARCA:UNG) saw the strongest rally in weeks. Few people noticed that coal also rallied. I have seen data that was telling me something I have waited for: The US coal sector rebound has arrived!
US Coal Production Curtailment is Ending
The latest weekly coal production showed strong growth:
Click to enlarge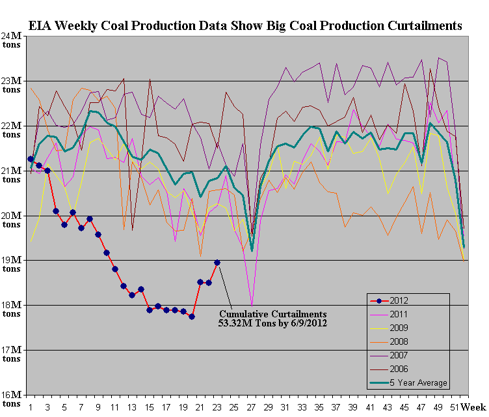 U.S. coal producers stopped curtailing productions since about three weeks ago. Not only this, but coal production was increased aggressively. I was surprised. I thought that production would remain low for sometime before moving up slowly. Production levels remained below 18M tons/week for six weeks before, so why did production move up so suddenly in the past three weeks? And what does this tell us?
Last week, I noticed the production up-tick. But I found that the production boosts occurred only in four western states:
In the last two weeks, the production interestingly ticked up a bit. I examined the numbers and found that the increase concentrated in four western states: Wyoming (+0.5M); New Mexico (+0.23M); Montana (+0.14M) and Colorado (+0.1M). I think the increase might be due to increased exports to Asia.
This week, it seems that coal production increased in more states. Here are the ten states with the highest production gains:
| State | Production Gain in Tons | Gain% |
| --- | --- | --- |
| West Virginia | 109,567 | 4.58% |
| Kentucky | 85,472 | 4.58% |
| Wyoming | 76,064 | 1.13% |
| Colorado | 65,053 | 11.76% |
| Pennsylvania | 48,077 | 4.58% |
| New Mexico | 42,442 | 8.33% |
| Indiana | 29,692 | 4.58% |
| Illinois | 29,081 | 4.58% |
| Ohio | 23,358 | 4.58% |
| Virginia | 16,781 | 4.58% |
I have explained earlier that the coal sector is cyclic, with quick turnaround cycles. When the demand is temporarily weak, producers promptly cut production, and coal prices recover soon.
I spent time to try to obtain more recent data on the supply and demand of coal and natural gas (or NG). In doing so, I noticed positive developments in coal that other people may have failed to notice. For example, the coal stockpile likely dropped to only 189M tons as of May of 2012, based on my calculation.
Coal producers curtail coal productions temporary to boost coal prices and to reduce costs and strengthen their balance sheets. Coal prices remain low, even though they went up a bit lately: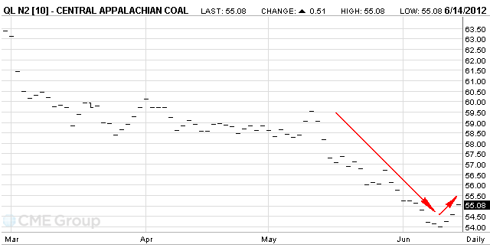 Why did coal producers begin to boost production again, and so rapidly? They cut productions to rebalance supply and demand. So unless there is indication that they have achieved the objective to rebalance supply and demand, no coal company would be in a hurry to resume production. Maybe coal producers learned something positive that the outsiders did not know?
Coal producers must have better and more recent supply/demand information. If a Chinese trader wanted to buy American coal, he would not call Mark Anthony for help. He would just call the CEO of Patriot Coal (PCX). The CEO would not tell me, either, although I advocated for PCX against everyone who would claim that PCX is going bankrupt soon.
People can speculate on why coal producers suddenly boosted productions. Looking at the coal price chart, I think we have seen the bottom. The coal producers probably saw the bottom a few weeks ahead of us.
We do know that US coal exports in March was up significantly. There were reports that US coal exports skyrocketed. We have to wait to see more recent U.S. coal export figures.
Given the strong rebound of coal productions, I am convinced that a coal rally has begun, and that PCX has little chance of bankruptcy. I continue to recommend these great U.S. coal stocks:
James River Coal Company (JRCC)
Patriot Coal [PCX]
Arch Coal Inc. (ACI)
Cloud Peak Energy (NYSE:CLD)
Alpha Natural Resources (ANR)
Consol Energy (NYSE:CNX)
Black Hills Corp. (NYSE:BKH)
Walter Energy (NYSE:WLT)
Westmoreland Coal (NASDAQ:WLB)
Peabody Energy (NYSE:BTU)
Nacco Industries (NYSE:NC)
Alliance Resource Partners LP (NASDAQ:ARLP)
Market Vectors Coal ETF (NYSEARCA:KOL)
The coal sector has seen some miserable times of late. But like Paulo Santos once said, a time like this is the time to separate the men from the mice.
Disclosure: I am long JRCC, PCX, ACI, ANR, BTU.