Gasoline futures (NYMEX: RBOB) look likely to jump quickly in price if gasoline outages hit the US in the next 0 to 15 weeks. There seems a 75% chance of gasoline outages. Gasoline futures are currently in the $2.70 range. Wholesale gasoline prices exceeded $4.25 during the gasoline supply shock of September 2008.
The charts from June 13, 2012 TWIP Report indicate gasoline imports are falling behind last year's levels by about .3 mb/d (bottom left graph). This shortfall looks likely to continue as EU refineries deal with bankruptcy, declining value of the Euro and EU debt issues.
Top center graph indicates supplies are falling below those of last year.
The top right graph illustrates inventories are falling below the lowest levels in the last 5 years. The downward pointing blue nipples are a drop in inventory from the September 2008 gasoline outages that hit the US Southeast. As noted in this July 2008 article, inventory issues were similar.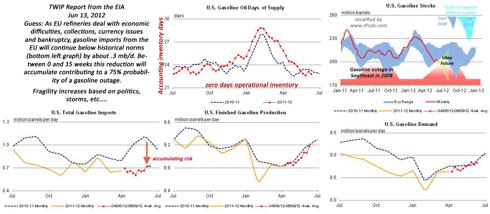 An inventory draw of 15 million barrels resulted during panic buying in the Southeast in Sept 2008. Drivers shifting from mostly empty to mostly full gas tanks pulled inventory that amplified and lengthened the period of the genuine shortage caused by storms in Sept 2008.
An inventory draw of 30 million barrels lasting 3 months seems likely if panic buying sets in on the US East Coast. The current low price of gasoline futures seems likely to double if import shortfalls continue and result in gasoline supply shock.
Disclosure: I have no positions in any stocks mentioned, and no plans to initiate any positions within the next 72 hours.