I wrote part I of 2 Pharmaceutical Companies Trading Below Net Cash on May 21st and part II on May 30th. There was more insider buying in Myrexis (NASDAQ:MYRX), after my first and second articles, by Jason Aryeh. Jason Aryeh was appointed a member of the Myrexis Board of Directors on October 19, 2011. Mr. Aryeh is the founder and managing general partner of JALAA Equities, LP, a private hedge fund focused on the biotechnology and specialty pharmaceutical sector. JALAA Equities did buy 14,153 additional shares of Myrexis on May 30th and 1,116 shares on June 7th. JALAA Equities currently holds 537,220 shares of Myrexis.
Biostar Pharmaceuticals (NASDAQ:BSPM) is a China based, vertically integrated developer, manufacturer and marketer of pharmaceutical and health supplement products for a variety of diseases and conditions. Biostar has net cash of $21 million as of March 31st 2012. The company has 9.4 million shares outstanding. That creates total cash of $2.23 per share.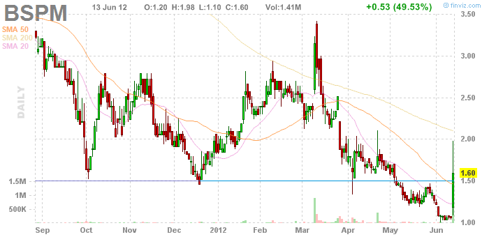 Biostar Pharmaceuticals announced on June 13th that it signed a Letter of Intent (LOI) with The Fourth Military Medical University (FMMU) to jointly conduct Phases I to III clinical trials for Viacom Pine II Cream (Viacom) drug. The LOI has been submitted to China's military authorities for approval.
Viacom is a prescription drug developed by the First Affiliated Hospital of Dermatology of FMMU specifically for the needs of China's military and will be used to treat skin diseases such as bacterial and fungal infections, dermatitis and eczema. Viacom has passed all standard tests related to quality, stability, toxicology and efficiency. Phases I to III clinical trials must be conducted for a period of three years prior to receiving final approval from military authorities to start production.
FMMU is one of China's most prestigious military medical universities and research centers and its primary purpose is to advance China's military medicine. In January 2012, Biostar was one of nine PRC pharmaceutical companies selected to cooperate with FMMU in the fields of research and product development.
Ronghua Wang, Biostar's Chief Executive Officer and Chairman, commented:
Following the initial clinical research, Viacom has demonstrated encouraging results for the treatment of several skin diseases such as bacterial and fungal infections, dermatitis and eczema which are common among members of the PRC armed forces. Additionally, these types of skin diseases affect a large portion of China's population and, if not treated properly, could result in severe health complications. Once Viacom receives approval from the military authorities to be sold in military hospitals, we will apply to receive SFDA's approval to sell it in health care centers and hospitals all over the country.
I wrote more about Biostar at my latest article on May 15th.
Pacific Biosciences (NASDAQ:PACB) has commercialized a platform for single molecule, real-time detection of biological events. The company's initial focus is on the DNA sequencing market where Pacific Biosciences has developed and introduced a third generation sequencing platform.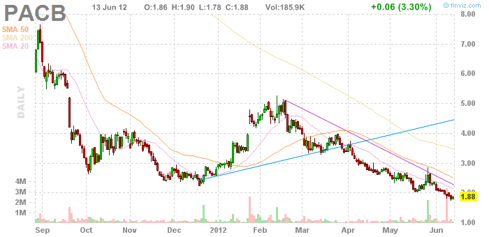 I see at least 5 reasons to buy the stock currently
1. The stock is trading below net cash
The company's cash and investments at March 31, 2012 totaled $161.3 million compared with $177.4 million at December 31, 2011. The company had 55.2 million shares outstanding at March 31st. This creates net cash of $2.92 per share. Net loss for the first quarter was $27.6 million compared to the $22.8 million net loss recognized during the fourth quarter of 2011.
2. The company has spent over $300 million developing its platform
The company states at its latest quarterly sec filings:
Since our inception we have financed our operations primarily through the issuance of convertible preferred stock and the issuance of common stock through our initial public offering resulting in $575.0 million in net proceeds.
This makes Pacific Biosciences a potential takeover target for a company that wants to enter the specific sector by buying existing technology rather than start from the scratch.
3. Worldwide next generation sequencing market expected to top $3 billion in 2017
The market for sequencing products is large and is expected to grow significantly. According to a study performed by Frost & Sullivan, a global market research and consulting firm, the worldwide next generation sequencing market, which encompasses sales of second generation and third generation sequencing products, is expected to grow from $746 million in 2010 to $3 billion in 2017.
Historically, improvements in tools have driven growth in demand. We believe the emergence of third generation sequencing products, including our products, along with improvements in existing second generation products, will contribute to and comprise an important facet of this growth.
There are a number of emerging markets for sequencing-based tests, including molecular diagnostics, which represent significant potential opportunities for the company's products. For example, the market for sequence-based molecular diagnostics is estimated to be $1.6 billion in 2014 according to Scientia Advisors, a life sciences consulting firm.
4. Roche made a $6.8 billion bid on Illumina in March
On January 27, 2012, Roche (OTCQX:RHHBY) commenced a tender offer to acquire all outstanding shares of Illumina (NASDAQ:ILMN) for $44.50 per share in cash and increased its offer on March 29, 2012, to $51.00 per share in cash for an aggregate of approximately $6.8 billion on a fully diluted basis. This deal would have valued Illumina at about 5 times its 2012 estimated revenue. If we value Pacific Biosciences with the same logic at 5 times $50 million in 2012 revenues. This would create an enterprise value of $250 million and give a $8 price target for Pacific Biosciences.
Roche has no plans to warm up its play for Illumina after its takeover bid for the U.S. gene sequencing firm failed, and will pursue smaller takeovers instead,
Chief Executive Severin Schwan said in an interview on Sunday June 10th.
5. A Insider was willing to buy the company at $5.7 last summer
Michael Hunkapiller became President & CEO of Pacific Biosciences in 2012. He is Chairman of PacBio's Board of Directors, and has served on the Board since 2005. Michael purchased 100,000 shares at $5.77 share price on August 2011.
Conclusion
I believe the current share prices in Biostar Pharmaceutical and Pacific Biosciences present a good entry point for investors.
Biostar Pharmaceuticals has seen a surge in volume on June 13th, with the press release. I believe the net cash level of $2.23 is a good near-term target for the shares.
Pacific Biosciences had its highest trading volume this year on Friday June 8th. The main risk in this stock is that there will not be any buyout and the company continues to make losses for at least couple more years.