To assess inflation, you don't have to rely upon flawed government numbers, like CPI or PPI. All you need to do is look to the markets and see that oil, copper, platinum, wheat, and gold are breaking to new highs almost every day. Inflation is ever present, and despite the recent bounce in equity prices, at some point these inflationary pressures are likely to take a bite out of equity prices.
I avoid the government inflation noise and create my own inflation indicator from the price trends in crude oil, gold, and yields on the 10 year Treasury bond. I let the markets tell the story. With gold and crude oil surging this past week and with yields starting to move higher, inflation pressures are mounting, and typically, this a strong headwind for higher equity prices.
The Indicator
My inflation indicator is shown in figure 1 below, a weekly chart of the S&P 500 (NYSEARCA:SPY) [click both images to enlarge].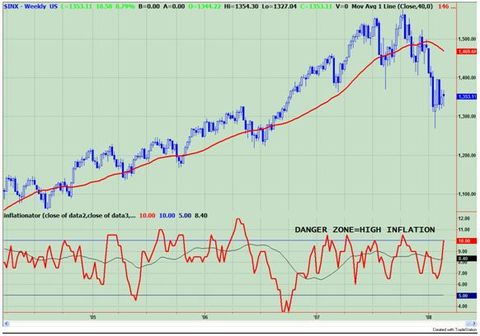 The indicator is constructed by looking at the strength and quality of the price trends in gold, crude oil and yields on the 10 year Treasury bond. To assess the trend, I look at the current price relative to past pivot points and trend lines formed by those pivot points. For example, a breakout over two pivot points would constitute a higher trending market.
The Study
Now let's return to figure 1 and our inflation indicator. We can see that the current value is in the danger zone indicating high levels of inflation, and the question then becomes: what does this mean for equity prices?
So let's design a study where we buy the S&P 500 when the indicator reaches the danger zone, and we will sell our position when the indicator moves out of the danger zone. Very simple.
Since 1984, there have been 49 unique instances where the indicator has been in the high inflation or danger zone. If you were so smart to only buy the S&P500 during these periods, such a strategy would yield a negative 307 S&P 500 points with 47% of your trades being winners. The equity curve for this strategy is shown in figure 2, and it should be obvious that being in the market when inflation is high (as defined by the indicator) is not a good strategy. Since 1984, there really is no single period where there is an edge to being in stocks when the trends in gold, crude oil, and Treasury yields are strong.
Or to spin another way: strength in gold and crude oil and higher Treasury yields really does make a difference for equity prices.
The bottom line is this: high inflation, as determined by this indicator, is a significant head wind for higher equity prices. Although I remain bullish on equities as investor sentiment is bearish, I must recognize that the inflation genie is out of the bottle, and this will likely limit the sustainability of any price advance.