Jabil Circuit, Inc. (NYSE:JBL), together with its subsidiaries, provides electronic manufacturing services and solutions worldwide. The company offers electronics and mechanical design, production, product management, and after-market services to companies in the aerospace, automotive, computing, consumer, defense, industrial, instrumentation, medical, networking, peripherals, solar, storage, and telecommunications industries.
It is scheduled to report its Q3 2012 results on June 19, 2012, after the market closes.
Recent EPS Actuals vs. Estimates
The company has met or beaten analysts' estimates in the last four quarters. In the last quarter it reported $0.58 EPS, meeting analyst estimates.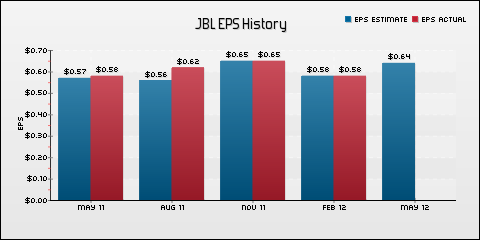 The consensus EPS is $0.64 based on 11 analysts' estimates, up from $0.58 a year ago. Revenue estimates are $4.29B, up from $4.23B a year ago. The median target price by analysts for the stock is $30.00.
Average recommendation: Overweight
Source: Marketwatch
Analyst Upgrades and Downgrades
On March 14, 2012, RBC Capital Mkts initiated Outperform rating for the company.
On March 5, 2012, the company was downgraded from Strong Buy to Buy at Needham.
On February 9, 2012, UBS initiated Buy rating for the company.
Key Metrics
Market Cap: 3.85B
52-week trading range: 13.94 - 27.40
Trailing P/E: 9.37
Forward P/E: 6.21
Price/Sales: 0.23
Price/Book: 2.00
PEG Ratio: 0.59
Total Debt: 1.39B
Annual dividend yield: 1.60%
Return on Equity: 22.57%
Return on Assets: 5.80%
Latest Developments
On March 20, 2012, Jabil Circuit, Inc. announced that for the third quarter of 2012, it expects net revenue to range from $4.2- $4.4 billion, core operating income to range from $185- $205 million, core earnings per share to range from $0.60 to $0.70 per diluted share (EPS) and GAAP earnings per share are expected to be in a range from $0.49-$0.59 per diluted share.
Competitors
Jabil Circuit Inc. operates in Printed Circuit Boards industry. The company could be compared to Benchmark Electronics Inc. (NYSE:BHE), Celestica Inc. (NYSE:CLS), Plexus Corp. (NASDAQ:PLXS), and Sanmina-SCI Corp. (NASDAQ:SANM). Below is the table comparison of the most important ratios between these companies and the industry.
Below is the comparison between the price changes for one year period for these companies.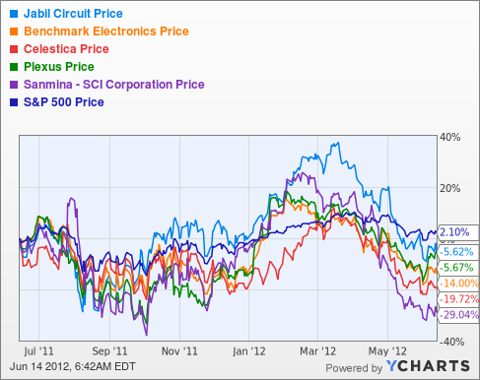 Competitors' Latest Development
Technical Insight
Disclosure: I have no positions in any stocks mentioned, and no plans to initiate any positions within the next 72 hours.