In spite of "egregious" demands from copyright holders for higher royalties on music played on commercial radio stations, Genuity Capital Markets analyst Carl Bayard says broadcasters Astral Media [ACM.A/TSX] and Corus Entertainment (CJR) are still "quality defensive growth stories" and arguably, "two of the top blue chip names in Canadian Media."
Last Friday, the Copyright Board of Canada issued a decision setting royalties that radio stations must pay to the Society of Composers and Music Publishers of Canada (SOCAN) and to the Neighboring Rights Collective of Canada (NRCC) for their use of music between 2003 and 2007. That decision essentially maintains rates that were set in October 2005. But the rights holders are now proposing increases for 2008 that would take the fees radio stations are charged up to C$200-million annually, compared to C$74-million in 2007.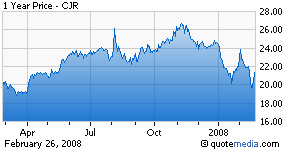 Given that it will take time for the Copyright Board to deal with the collectives' new demands, Mr. Bayard says it is "far too early" to determine whether broadcasters such as Astral and Corus will face significantly steeper radio royalties in future.
Yet, the uncertainty over future royalties has created an opportunity for investors to pick up Astral or Corus shares, both of which declined in advance of the Copyright Board's decision. The shares of both companies are now trading at around 14 times Mr. Bayard's earnings estimates for 2009. He points out that a large portion of Astral's and Corus's business is in specialty and Pay TV, segments that are still exhibiting strong growth. He has buy recommendations on both stocks, giving Astral a target of C$51 and Corus a target of C$27.50