A Malibu is faster than a Lamborghini. Bet the house. Or in today's environment, bet your house from 2006. The Lamborghini Gallardo goes from 0-60 in 3.95 seconds. The Chevrolet Malibu does it in 6.5 seconds. Still, the Malibu is faster. But I am not talking about mph. I am talking about shopping activity and Chevrolet has seen the Malibu go from 67,921 new vehicle prospects in October to 236,011 in December. That is an increase of 247%, becoming the number 1 shopped mid-size car three months in a row, including January. This is the first time a domestic mid-size has held the number 1 spot for three consecutive months – ever.
Last month my colleague – Powder Puff Ninny – shared that the Malibu may just be the chosen one in breaking through to import buyers of the Honda Accord and Toyota Camry. Well, before we get too far down the road let's take a look at the quality of new vehicle prospects that Malibu is attracting. In other words, how serious are they about actually purchasing a Malibu and how does it compare to the Asian juggernauts?
Compete tracks monthly new vehicle prospects, and since the Malibu launch the results have been a proverbial hockey stick.
But, what types of new vehicle prospects are we talking about?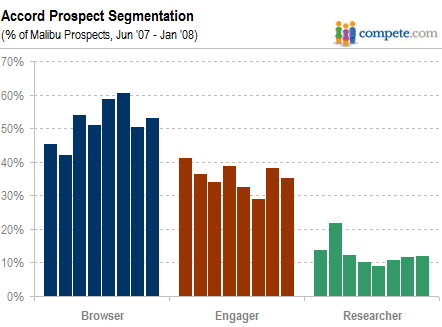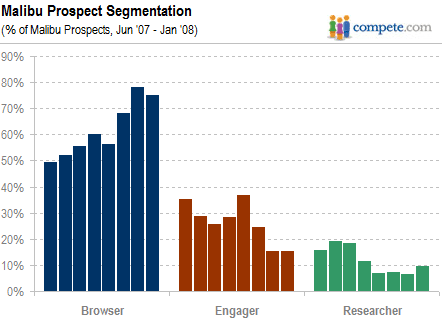 Since its launch, Malibu has attracted more browsers. Accord attracted browsers early in its launch and over time, by year-end, they have become more engaged. Overall, Accord has attracted more engaged new vehicle prospects than Malibu.
Is this bad? No. It does suggest, however, that the folks at GM have figured out how to entice consumers to consider the Malibu. The next step, and one that has proven difficult in the past, is to convince consumers to buy the Malibu. Only time will tell as we track this over the upcoming months. The one thing we do know for certain is you can tell all your friends that a Malibu is faster than a Lamborghini – and own a new house.