Record silver prices have investors looking for values. We recently initiated coverage on Alexco Resource Corp. (AMEX: AXU), which we consider to be a very interesting exploration company and emerging silver producer. Alexco, due to its environmental remediation and closure expertise, now owns 100% of the historic Keno Hill silver district in the Yukon. The district has past production of more than 217 million ounces of silver (5.37 million tons) with average grades of 40.52 ounces per ton silver, 5.62% lead, 3.14% zinc, which Alexco management believes place it in the top 1% or 2% of today's global silver producers, and makes it the second-largest historical silver producer in Canada.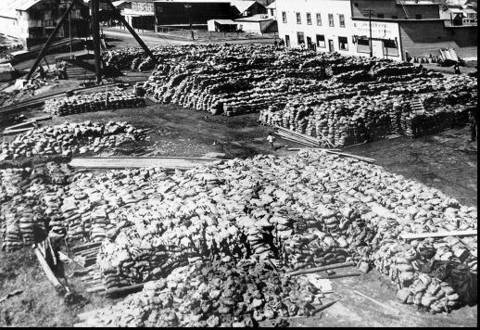 Concentrate Ready for Shipment
Source: Yukon Archives
In addition to developing additional silver resources in the large Keno Hill silver district, Alexco has long-term contracts with the government in the Yukon and Canada for environmental cleanup of the district. More important than this multi-million dollar long-term source of revenue, Alexco is held harmless for all prior liability from past mining activities. Also, having taken over a substantial historical database of the consolidated district for completing reclamation, this information is useful to accelerate permitting and advancing exploration. While most of the production at Keno Hill took place following consolidation, little exploration has been completed with a district wide orientation, or at a depth below earlier underground workings to a depth of only 200 to 300 meters.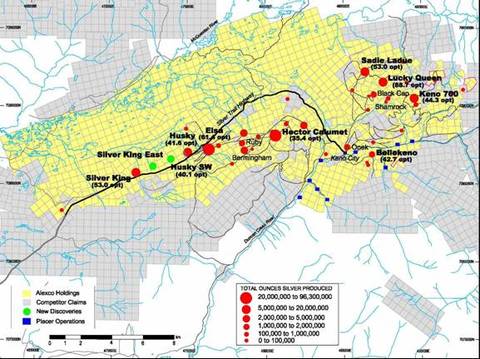 Keno Hill Silver District, Past Production
Source: Alexco
Alexco's other properties were acquired when NovaGold Resources Inc. (AMEX: NG) spun out assets about the time it consolidated Galore Creek. NovaGold retains a solid working relationship with Alexco, maintaining an ownership interest of about 18%, and provides significant exploration support. While the priority for Alexco is to advance the Bellekeno and Onek deposits to production (because these projects were in production when the district closed the mines in the late 1980s and are the most advanced), other areas within the district have produced remarkable drill results. Exploration in the district has yielded very high grades of silver, in some instances with drill intervals over 1,000 opt silver, with significant grades of zinc or lead.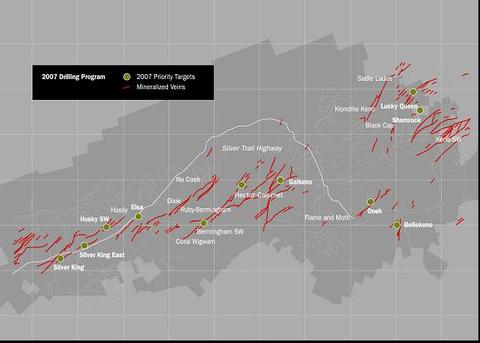 Keno Hill Silver District, Veins Trending to Northeast
Source: Alexco
The dominant southwest to northeast structure of mineralized veins throughout the district causes us to believe that Alexco may enjoy good success exploring areas below the overburden of the valley floors. Prior mining generally tracked veins until halted by faulting. Accordingly, rather than taking Alexco and NovaGold's comprehensive approach to the district, historic exploration consisted only for the purpose of proving out a resource for the next couple years production. Upon acquiring the district, Alexco inherited a historic (non-compliant) resource that after shutdown contained a million tonnes grading 31.5 opt silver, with 3% lead and 2.2% zinc in nine deposits. In less than two years Alexco has established a NI 43-101 compliant resource of over 38.5 million silver equivalent ounces at the historic Bellekeno mine.
Alexco is close to receiving permission to commence rehabilitation of historic workings at Bellekeno and complete new underground accesses and rehabilitation of the former mine. This will allow Alexco to more economically and effectively drill the resource year-round. This also provides the potential for an increase in the resource with potential revenues from bulk samples taken for metallurgical purposes. Considering Alexco's unique ownership position at Keno Hill, it is possible that they will be in good position to place a modest but highly profitable mine into operation in late 2009. We consider management's plan of placing an additional mine in production every other year to be possible and probably conservative.
The high-grades of silver, zinc and lead in the district, covering an area of about twenty by ten miles should be of interest to investors. This should be even more interesting considering that the district has not yet undergone a comprehensive exploration review with modern techniques with the caliber of NovaGold's accomplished exploration team. The combination of these factors, when combined with the potential of accelerating development by collapsing the environmental risk and permitting schedule, may create an additional dimension of value. Management has taken a careful approach in developing the district to avoid excessive dilution that may reduce existing shareholder's positions. While a case could be made for growing the project to a larger size or at a faster rate, the high grades of the district and management's long-term outlook and responsibility at Keno Hill lead us to believe that they should have a long and solid future regardless of record metal prices.
Alexco's environmental business should not be dismissed relative to the highly prospective characteristics of the Keno Hill silver district. Their management team and important and valuable patents are attractive for solving groundwater issues in and outside the mining industry. These patents and expertise provide potential business opportunities for acquiring other interesting projects otherwise "locked up" due to existing environmental issues. This environmental competency places Alexco in a unique problem solving capacity for the industry as well as for its business development. Critics of the combined businesses of exploration and development with its unique environmental prowess need look no farther than the successful advancement of Keno Hill.
Disclosure: The author is long AXU and NG. An affiliate of the author's employer provides corporate advisory services to AXU and NG