A few years back, as a consultant, I was asked by GTX (NASDAQ:GTXI) to take a look at their unreleased Phase 2 ACAPODENE (toremifene citrate 80 mg) data and to make some recommendations and predictions for Phase 3. I remember being very bullish on the prospects for this therapy and finding very little for the company to worry about. They seemed appropriately restrained in their own optimism, so I wasn't too concerned about them under-powering Phase 3 by assuming too much efficacy.
As it turns out, Phase 2 basically told the same story that GTx is now reporting from their top-line Phase 3 results that tested the drug in men with prostate cancer who'd undergone androgen deprivation therapy [ADT].
Toremifene, you might know, is a SERM, like its kissing chemical cousin tamoxifen. For years, the drug–marketed by Orion (ONH) as Fareston – at lower doses has been used to treatment hormone-responsive postmenopausal breast cancer patients, as its antiestrogenic activity inhibits estrogen-driven cancer cell growth.
Now, Toremifene's estrogen-like effects in bone and on lipid metabolism, which were always suspected of being a bit stronger than those of Tamoxifen, are being exploited in men to inhibit excessive bone resorption and correct the dyslipidemia caused by ADT. The data released by GTx suggest that the drug worked quite well in both respects, with a modest (~2x) early increase in the risk of VTE, a known risk of SERMs in women. Data on hot flashes are pending, but you can expect to hear of an increased risk of hot flashes as well; I'm guessing 4x over placebo for the first year, with few med discontinuations due to them. No news on stroke risk, which is good news.
This is potentially a very inspiring story for those of us who still feel positive about the value of this industry. Were high-dose Toremifene re purposed by a large company, we'd soon be reading criticisms about anti consumer life cycle management strategies and a persistent lack of innovation alongside the news of its clinical success (you know, to balance out any good feelings industry proponents might be having).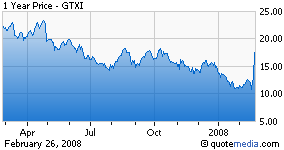 But that's what is so great about this situation. We won't have to hear these criticisms alongside the good news, because GTx is a small company, largely backed by one guy (JR Hyde, of AutoZone (NYSE:AZO) notoriety) with deep pockets, who believed in his people (most notably Mitch Steiner and Marc Hanover) and their ability to bring this drug along without the help from big pharma. That was gutsy, some might say crazy, but I think most Americans will appreciate the story.
That GTx are likely to have found an important new therapy without the need for medicinal chemistry to create something brand new is a beautiful example of how innovations should be judged by the value they offer and not by the mechanisms through which ideas become reality. Should ACAPODENE make it to the market, it will be a triumph of ingenuity and entrepreneurial spirit. We need more stories like this. I'm sure patients with serious illness would agree.
I'll update this story when we see further data and learn of regulatory progress. I anticipate priority review at FDA.
Disclosures: As indicated, I received consulting revenue from GTx several years ago; none since then. I own no stock in their company.