If you missed the bottom in natural gas, now is your second chance.
After setting a brutal multi-year low due to massive oversupply and highly pessimistic future expectations, natural gas has likely bottomed and is setting up for an historic recovery. Not only does it represent a low-risk, highly-depressed investment that will likely outperform both gold (NYSEARCA:GLD) and oil (NYSEARCA:USO), but the less polluting, domestic natural gas could even triple in price over the next few years. Natural gas may be the buy of the decade.
Notice the horrific 80% drop from the 2008 peak: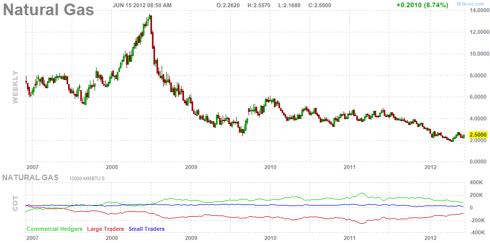 In late March I told readers and investors to take a look at natural gas as a highly profitable opportunity (see: How I Made Over 900% On Natural Gas, And How You Can Do It). Now, almost three months later, I am even more convinced that natural gas will gain traction as a popular investment, as it recovers and even soars due to decreasing supplies, increasing demand, and the search for a cheap alternative energy source.
5 Reasons Natural Gas Will Recover
Massive Over-Supply Factored In
Natural gas prices plummeted to such a great extent over the past few years because new technologies of natural gas extraction led to tremendous increases in supplies. Hydraulic fracturing, known as "fracking," brought about rapid growth in natural gas production and resulted in record levels of natural gas supplies. All this meant one thing - much lower prices.
But natural gas prices at $2 are not sustainable. Extremely low prices make it unprofitable for producers to extract natural gas. If producers can't produce it at a price above their break-even point, they simply stop producing. And that is exactly what has happened - producers are decreasing their involvement until prices become more favorable. While oil supplies have risen considerably this year, with the number of rigs soaring since 2009, natural gas supplies are now on the decline with rig counts consistently falling. In fact, the number of oil rigs reached 1372 - an all-time high - while the percentage of rigs drilling for natural gas, just above 30 percent, is at an all-time low. As investors begin to realize that the supply glut is nearing an end, natural gas prices will rebound. Most people think natural gas supplies will only continue to rise, but they fail to notice that extreme record-level supplies are now on the decline due to falling rig counts, a slowdown in production, and increasing demand.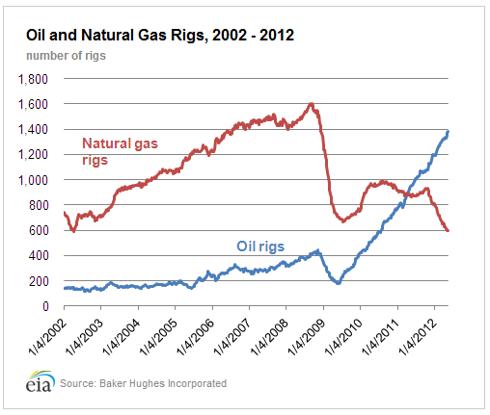 It appears that investors are beginning to realize that the over-supply is now factored in, and that decreasing supplies make natural gas a buy:
Natural gas (UNG +15%) futures soared to their largest one-day percentage gain in nearly three years after data showed a smaller than expected build in inventories.

-Seeking Alpha, Market Currents
2. Increased Demand and Usage
Lower prices have been very damaging to natural gas producers and investors, but now provide a huge benefit for the environment and for reducing our dependence on oil and coal. The rock-bottom prices in natural gas, and the fact that it is a cleaner energy source than coal and oil, have encouraged a number of companies to shift over to natural gas facilities. These companies, involved in electricity, utilities, chemicals, steel, aluminum and fertilizers can increase their profits by using the cheaper natural gas as their energy source. Their increased use and demand will lead to higher prices.
Furthermore, as rising oil prices have hurt consumers and businesses at the gas pump, many have looked to natural gas as the alternative fuel. With over 10 million trucks in the U.S. consuming 35 million gallons of diesel a year, a shift to natural gas could be extremely cost-efficient. With the gap between natural gas and diesel prices wider than ever, trucks (and cars) powered by natural gas are increasingly popular for company fleets.
3. Prices Much Higher Outside U.S.
Investors in the U.S. have essentially given up on natural gas, but most fail to realize that natural gas prices are much higher in Europe and Asia. Prices in the U.S. are near $2 due to our massive supplies, but countries outside of the U.S. are seeing $10+ natural gas. The reason for the enormous disparity in prices is due to the lack of a global trading market in natural gas, and the difficulty or near impossibility of shipping it. However, we're now seeing a major shift under way that will allow natural gas to be transported and can be expected to bring prices up significantly - liquefied natural gas, or LNG.
Exporting LNG makes a lot of sense. It is an abundant, cheap, and domestic energy source for the U.S. Many, including billionaire investor T. Boone Pickens, support natural gas as the United States' way of being energy self-sufficient and reclaiming our economic power. Moreover, companies like Chevron (NYSE:CVX), Royal Dutch Shell (NYSE:RDS.A), Exxon Mobil (NYSE:XOM), British Petroleum (NYSE:BP), Sempra Energy (NYSE:SRE), Dominion Resources (NYSE:D), Cheniere Energy (NYSEMKT:LNG), Total (NYSE:TOT), and others are ramping up to build multi-billion dollar pipelines and LNG plants that will enable mass-transportation of natural gas around the world - from India to Pakistan to Japan to China to Azerbaijan to Malaysia to Australia to Afghanistan to Mozambique, and all around the world. The easy transport of natural gas to countries that are currently seeing soaring prices will absolutely bring prices up for natural gas in the U.S. This will help the U.S. balance of trade and its economic strength, but will also bring prices up - making it a great investment.
4. Capitulation Selling
When everyone gives up, it's time to get in. In the case of natural gas, we saw major capitulation by nearly all investors over the past few months. Extreme pessimism has been signaled by negative-outlook headlines and a short-term dip under $2. However, there is no bigger sign of capitulation than the news that John Arnold, the biggest natural gas hedge fund manager, quit and closed up shop. Arnold, who is only 38, founded the Centaurus Fund after big time success trading energy at Enron. His fund, which earned him $3 billion, just wasn't profitable anymore with natural gas prices plummeting for consecutive years. It is understandable that Arnold had trouble earning returns for investors, but his decision to quit and close the fund at such a pivotal time in natural gas's history likely marks the bottom. Just as UK Exchequer Gordon Brown made a terrible decision to offload the UK's gold at the worst possible time - 1999 (before the huge bull market) - so too, John Arnold's decision to close the fund may have come right at the worst time, and likely signaled the bottom. Seeing that the "king of natural" gas quit, it's time for me to take his place and invest.
Capitulation was also not limited to John Arnold and his fund. Even billionaire investor, T. Boone Pickens, who is known as one of the biggest natural gas bulls, showed signs of defeat and capitulation when he told Yahoo Finance's "Breakout" not to expect natural gas prices to spike anytime soon. Though he has since publicly said that the bottom is in for natural gas, his statement that natural gas prices wouldn't rise anytime soon was a sign of his capitulation - even though he's one of (if not the) most well-known natural gas bulls. When we hear that the biggest bulls give up and become very discouraged about future prospects, it is many times a sign of an upcoming reversal. Things are generally bleakest right before the turnaround.
Also contributing to the bottom in natural gas prices was the "Chesapeake Fiasco." Chesapeake (NYSE:CHK) not only had financial issues involving debt and falling asset prices, but Aubrey McClendon, the CEO, was involved in some ethically questionable practices - running a $200M hedge fund that traded alongside CHK's activities. Though large hedge funds sold large positions in Chesapeake in Q1, showing that CHK was already losing investor interest before the fiasco, the panic that ensued turned into a "washout" - where the last sellers got out of their positions and created a strong bottom for Chesapeake, but even more so for natural gas.
5. Smart Money Getting In
After seeing plummeting prices, massive over-supply, increasing demand, and capitulation, investors look to the "smart money" to see if the time is ripe for investing. Yes, natural gas prices took a giant beating and showed signs of a bounce or a recovery; but it could have been an investment trap if big investors didn't start buying as well.
Luckily, the bulls have begun to appear in the natural gas space. Other than T. Boone Pickens' support of natural gas as the United States' energy source of the future and our path toward energy independence, a number of other analysts and big investors have expressed their interest. Following the sell-off in Chesapeake, Oppenheimer maintained its Outperform rating and price target, calling it a buying opportunity. Then, billionaire investor Carl Icahn announced that he had acquired a 7.56% stake in Chesapeake. Having a giant billionaire on their side, investors gained enough confidence to send the stock up over 20 percent from its bottom.
Another hedge fund manager, whom I completely agree with in this case, also came out and said that natural gas is a buy. Jeff Gundlach of DoubleLine said that an interesting trade would be to long natural gas/short Apple (NASDAQ:AAPL) at 100X leverage. Though he doesn't have have plans to do this trade himself, he's still a big natural gas bull now and shows that sentiment is turning positive. With the "smart money" now getting in, it's time for investors to pay attention and buy natural gas as well.
Conclusion
Natural gas is entering a prolonged bull market. We expect natural gas to outperform gold, oil , the stock market, and likely most other commodities over the next few years. If all goes well, natural gas could even become one of our main energy sources and spark heavy investment interest as supplies continue to decrease and demand surges. With the massive over-supply already factored in, a giant price discrepancy between U.S. natural gas and European/Asian natural gas, the search for cleaner alternative energy sources, capitulation by most investors, and smart money getting in - now is the time to buy. We have already seen a giant move of around 40 percent off of the lows. Now, after a pullback, natural gas prices are set to enter the next wave up in a multi-year rally.
We believe natural gas is the best low-risk investment and a good hedge against gold and oil prices. Risk management is still key, and investors who buy natural gas need to watch support levels and previous lows. For those who are looking to get involved, we recommend taking a look at natural gas ETFs (UNG, GAZ) or at specific companies - EXCO (NYSE:XCO), Chesapeake, Chevron, Exxon Mobil, Clean Energy Fuels (NASDAQ:CLNE), Cheniere Energy, EOG Resources (NYSE:EOG), or Devon Energy (NYSE:DVN).
Disclosure: I am long XCO, DVN, GAZ.
Additional disclosure: Long XCO, DVN, GAZ through call options.Chart Prophet Capital may initiate long positions in any of the stocks mentioned.