Investors are concerned if Apple (NASDAQ:AAPL) will be successful in maintaining its competitive advantage. The company has a history of introducing innovative products that can create a new market. Investors have given its smartphone business too much focus while ignoring the Mac segment. The stock trades like a pure play on the smartphone market. However, investors are missing the growth opportunity in its computer segment. Have a look at the following facts:
In 1Q2012, global computer shipments grew by 2% vs. 7% growth in Mac's shipments. In the U.S, computer shipments fell by 3.5% vs Mac's shipments declining by 25 bps only.
Apple increased its computer market share both in the US as well as globally. Mac's U.S market share of share of 7.8%, based on volumes, is viewed as insignificant. What analysts don't account is the dollar value of its market share. Its ASP is almost double to its peers in the computer market. Therefore, AAPL holds more than 15% of the computer market when looked from a dollar value's perspective.
AAPL has maintained a significant price premium, both in the smartphone and computer market, which deserves premium valuations too. The stock is trading at 10x its 2013 earnings. These cheap valuations are reflecting expectations on AAPL's inability to keep coming up with innovative and market friendly products. Investors are incorrectly discounting it's computer business. The New MacBook Pro will help investors ease such concerns. Its success will help investors understand that AAPL has the resources to keep charging higher ASPs for its innovative products. From a growth stock, it has now become a value stock and once market realizes the massive opportunity the New MacBook Pro holds, the stock can trade at 20-30x its future earnings.
Recommendation:
Buy AAPL as a value stock and get the returns of a growth stock. What AAPL did to the smartphone market, it can do the same to laptops with the new MacBook Pro with Retina Display.
The New MacBook Pro with Retina Display: A game changer for Apple?
In 1Q2012, global computer shipments surged by 1.9% YOY to 89 million units, contrary to popular expectations of a 1.2% decline. Europe, Middle East and Africa witnessed better than expected YoY growth of 6.7% because of a strong demand from corporate businesses, as a large number of organizations executed the shift to Windows 7. On the other hand, computer shipments in Asia Pacific fell by 2% YoY as the demand from China and India slowed. In the future, the major demand for computers is expected to come from emerging economies.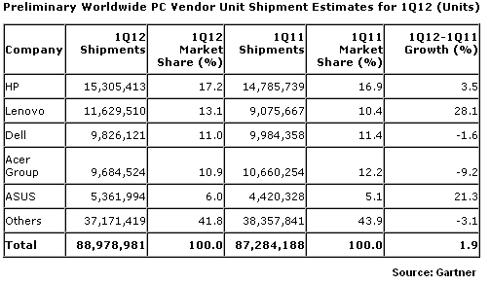 In today's highly competitive environment, companies which offer a diverse range of products, focus on vertical integration, and approach to a broader consumer base, such as Apple, are more lucrative. HP retained its global computer market leadership in 1Q2012 with 15.305 million unit shipped, with its global market share growing to 17.2% in 1Q2012 from 16.9% in 1Q2011. However, Apple was able to post even better computer volume shipment growth as Global Mac shipments grew by 6.84% YoY in 1Q2012. As a result, Apple's global computer market share rose to 4.51% from 4.31%. Mac segment contributed 12.94% of revenues in Apple's last earning quarter. It is worth mentioning that Apple is able to penetrate in the global computer market despite weak demand in the global computer demand.
| | | | |
| --- | --- | --- | --- |
|   | 1Q2012 | 1Q2011 | YOY Growth |
| Apple Global Mac Shipments | 4,017,000 | 3,760,000 | 6.84% |
| Global Computer Shipments | 88,978,981 | 87,284,188 | 1.94% |
| Apple Global Computer Share | 4.51% | 4.31% | 4.80% |
|   |   |   |   |
| Apple USA Shipments | 1,214,000 | 1,217,000 | -0.25% |
| Total USA Computer Shipments | 15,520,000 | 16,090,581 | -3.55% |
| Apple USA Computer Share | 7.82% | 7.56% | 3.42% |
It is interesting to note that Apple is able to improve its global competitive position despite offering only a premium range of products. It shows the strong and further improving competitive positioning of the company.
Apple offers a range of personal computing premium products including Mac Desktops and MacBook laptops running Apple's own Macintosh operating system. Currently, the most famous MacBook computers of the company are MacBook Air and MacBook Pro. The company is known for superior design aesthetics, premium quality and high performance products.
Recently, the company accounted a refresh for its MacBook line of computers at WWDC'12. Included in the event, was the launch of a brand new MacBook Pro with Retina Display. We are going to see if the new MacBook Pro with Retina Display can be the catalyst of rapid growth in Mac computers for Apple.
The new MacBook Pro with Retina Display is 25% thinner than previous MacBooks, features a retina display with pixel density of 220 PPI, Intel's latest ivy bridge processors, SSD drive up to 768 GB, Thunderbolt and USB 3.0 ports.
According to the technology media, the notebook features the most beautiful and highest resolution screen ever installed in a laptop. In addition, the screen is reported to be absolutely gorgeous with a sharp and clear text. Furthermore, Apple has polished the screen with wider viewing angles, deep blacks and a high contrast. Furthermore, rigorous performance testing has confirmed that Apple's latest MacBook Pro with Retina Display is blazingly fast compared to previous MacBook Pro models, and standard high performance industry notebooks. According to popular technology blog Engadget, Samsung 9 Series could be considered the best contender available for the new MacBook Pro with retina display, but the new MacBook Pro still blows past the best performing Non-Apple notebook (Samsung 9 Series) by a wide margin in terms of performance, display and features.

Engadget, in MacBook Pro with Retina Display review, noted, "Is this a laptop that's creating its own new product category? Not exactly! This is a laptop that stands poised to kill an existing one, one that Apple has dominated. The new Pro is good enough to make the old Pro (even the updated version) look and feel obsolete. It pushes and redefines the category, raising the bar higher than even its brethren can jump".
So can we say that Apple has produced the world's best performing laptop? We are glad to say, YES! The new MacBook Pro with Retina Display is amazingly the best computing machine ever produced on this planet.
Through the new MacBook Pro with Retina Display, we believe Apple has taken notebooks to a new level of innovation and technological advancement. It looks like the wheel of innovation has not stopped spinning for Apple, and the Cupertino based tech giant is expected to continue its domination in the technological world. We expect the new MacBook Pro with Retina Display to be extremely popular among consumers and, as a result, expect Apple's computer market share to increase. We are expected the Mac Segment of the company to perform very well in coming months with significant improvement in margins from high sales of this new pricey premium product. We do not foresee a negative effect of upcoming Windows 8 launch on Mac Sales because of Apple's strong brand equity among consumers.
Premium ASPs deserve premium valuations. Have a look at the table below:
| | | | |
| --- | --- | --- | --- |
|   | 2009 | 2010 | 2011 |
| Apple Smartphone ASPs ($) | 598 | 611 | 629 |
| Smartphone ASPs ($) | 332 | 319 | 331 |
| Apple Smartphone ASP Premium | 80.12% | 91.54% | 90.03% |
|   |   |   |   |
| Apple's Mac ASPs ($) | 1,312 | 1,279 | 1,289 |
| Global Computer Average ASP ($) | 710 | 679 | 671 |
| Apple Mac ASP Premium | 84.79% | 88.37% | 92.10% |
Disclosure: I have no positions in any stocks mentioned, and no plans to initiate any positions within the next 72 hours.