If you are pursuing a strategy of investing in dividend growth stocks, you are likely faring fairly well this quarter. Standard & Poors publishes the returns of its "Dividend Aristocrats" index, and it is down just 0.4% in Q2, substantially better than the S&P 500's -4.2% total return. For the year, it is up 7.75%, slightly behind the overall S&P 500's 7.86% return. For those not familiar with this index, it consists of Large-Cap companies which have increased their dividends for at least the past 25 years.
I don't think that all conservative dividend payers have fared so well, so I ran a quick screen on all of the stocks in the Russell 3000 for the following:
Dividend yield > 2%
At least 5 consecutive annual increases
At least 10% 5-year compound dividend growth
There are 83 companies that meet these criteria. Strangely, the average YTD price return is just 1.8%, with the weakness due to an average 5% price decline in Q2.
As someone who believes in mean reversion, I thought it might make sense to look at some of the weaker names for potential investment ideas. Here are all of the names that have lagged the S&P 500 by more than 10% so far in 2012: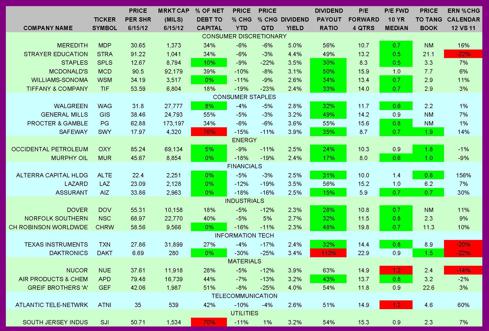 I sorted the data,which was generated by Baseline, by economic sector, with 9 of the 10 sectors represented (no Healthcare). Additional diversity is evident in the range of market caps, with two Small-Caps, many Mid-Caps and Large-Caps and just one Mega-Cap, Procter & Gamble (NYSE:PG).
I highlighted in green all of the net-debt-to-capital ratios below 15%, and there are many. Low net debt provides support to the future dividend. On the other hand, two companies have relatively high ratios, which I noted in red.
Another indicator for the potential to maintain or grow the dividend is the payout ratio, and I highlighted all of the companies paying out less than 50% of EPS (most). There was one company paying out more than 100%, which I marked in red.
Most of the stocks have market or below-market PEs. I included a column that has the current forward PE divided by the 10-year median. I highlighted in green the many stocks that are trading at 80% or less and in red the two that are 120% or more of the median.
In the second-to-last column, I included price-to-tangible book. Note that several of the stocks, marked in green, trade at 2X or less, with a few in the Finance and Energy sectors below. This is an additional valuation measure that can potentially help gauge downside risk. Finally, note that I marked in red the four companies who are experiencing large earnings declines in 2012.
In the Consumer Discretionary sector, I have a few observations. First, Staples (NASDAQ:SPLS) sure looks cheap by any measure. It sits just above multi-year lows set last fall. It trades at 4.6X EV/EBITDA, the lowest level in its history, perhaps being dragged down by weak peers. McDonald's (NYSE:MCD) has pulled back from rich and overbought levels and now seems reasonable. Finally, I really like Williams-Sonoma (NYSE:WSM) and added it this quarter to my Conservative Growth/Balanced model portfolio. The company has a primarily domestic focus, which seems good in an environment concerned about international growth. Unlike many other plays on household formation growth, WSM hasn't rallied. I have always found this company to be one of the best multi-channel retailers, and I expect stronger growth in the future.
Walgreen (WAG) has had a tough time since digging its heels in against PBM Express Scripts (NASDAQ:ESRX). The tough comparisons will last through the end of the calendar year, creating the illusion of slowing growth beyond this one-time event. I had hoped that they might resolve their differences, but that is no longer likely. The company has a very strong balance sheet and is likely to continue boosting the dividend. In the meantime, with an EV/EBITDA of just 6X, it stands out relative to other large domestic companies.
Energy companies have had a really tough quarter, but they have started to rally over the past two weeks. These two, Occidental Petroleum (NYSE:OXY) and Murphy Oil (NYSE:MUR), have strong balance sheets, low payout ratios, low PE ratios and reasonably low P/TB ratios. I like some of the other names in the sector too, though they aren't underperforming the market as much.
I am not too familiar with any of the Financials that made the cut. Alterra Capital (NASDAQ:ALTE) is a Bermuda-based reinsurance company. It always seems to trade inexpensively. Assurant (NYSE:AIZ) sells health insurance into primarily the individual market - perhaps there is some fear regarding the pending Supreme Court decision. This one looks interestingly cheap.
The three Industrials seem interesting, especially C.H. Robinson (NASDAQ:CHRW), which may seem expensive at 20PE but is at the lowest valuation since 1998. On an EV/EBITDA basis, it trades at 12.6X. It, along with the other two, is forecast to grow earnings double-digit next year too. If the correction that began in early April is over, these could snap back nicely.
Texas Instruments (NYSE:TXN) is on my watchlist, and it has pulled back to important support. I have traded it against Intel (NASDAQ:INTC) in my Conservative Growth/Balanced Model over time, and I am currently out. I think that many investors didn't care for the National Semi acquisition price, but I actually think it was a good strategic fit though not well-timed. I used to follow Daktronics (NASDAQ:DAKT) more closely. I actually visited the company in South Dakota two years ago and left feeling like their digital billboard and stadium screen business had mixed fundamentals: Reasonable demand but too much supply. The stock has been hammered, but I would be careful with the name.
The Materials companies, like the Industrials, are hostage to cyclical concerns. I had the opportunity to meet with management of Greif Brothers (NYSE:GEF) earlier this year and found the story to be very interesting. Given the concerns about the economy, it makes sense that the stock has been hammered this quarter (down 25%), as they have been very aggressive on the M&A front.
I don't really know Atlantic Tele Network (NASDAQ:ATNI). According to its SEC filings, it provides wireless service to rural U.S. markets as well as in Aruba, Bermuda, Turks & Caicos and US Virgin Islands as well as Guyana and wireline services to Guyana and New England and New York. The U.S. accounts for the bulk of operating income.
Finally, South Jersey Industries (NYSE:SJI) is a gas utility with substantial non-regulated activities. The stock pulled back in Q1 amid a weak Utility tape but also fading hope for a sale of its Marcellus shale properties. This is a very high quality utility that can likely grow above the industry - they target 6-7% EPS growth.
The purpose of this exercise was to identify potential opportunities among conservative growth stocks with shareholder-friendly dividend policies. These names are all down more than 3% so far in 2012. In many cases, the declines are due to some cyclical exposure or company-specific factors. Additionally, there may be a market-cap issue here, as only three stocks had market caps in excess of $50 billion. Last week's huge rebound among Mega-Cap dividend payers could signal more investor interest for stocks, in which case many of these could benefit in the coming weeks.
Disclosure: I have no positions in any stocks mentioned, and no plans to initiate any positions within the next 72 hours.
Additional disclosure: WAG and WMS are in one or more models at InvestByModel.com