Actionable Items:
CEF Weekly Review: On average, the 13 closed-end fund ((NYSEMKT:CEF)) types registered a share price decrease of 0.3% for the week ending 6/15/12. The high-low spread (average percentage price change difference between the highest and lowest fund types) registered this week was +2.6% versus +3.1% the previous week.
The PowerShares CEF Income Composite (NYSEARCA:PCEF), an ETF that invests in taxable income CEFs, was off 0.5% for the week. PCEF is now up 2.3% YTD on price appreciation alone. Currently, PCEF's trailing twelve months' yield is 8.4%.
CEF Weekly Fund Type Performance: Given the volatile nature of this week's capital markets, there was an odd line-up of fund type performance. This may reflect performance logged earlier in the week when the equity markets were under pressure. Additionally, mid-month is typically a time when CEFs go ex-dividend and since June represents a month for both monthly and quarterly distributions, CEFs share prices may reflect this post ex-dividend "mark down".
Despite the 1.3% advance of the S&P 500, both GenEqFnds and SpecEqFnds put in negative performances. This is despite the fact that WrldEqFnds was this week's leader with an average share price advance of 0.9%. WrldEqFnds were driven by strong advances in funds concentrating on Asia. The Thai CEFs (Thai Fund (NYSE:TTF) and Thai Capital Fund (NYSEMKT:TF-OLD)) and the Russian CEFs (Morgan Stanley Eastern Europe (NYSE:RNE) and Central Europe and Russia Fund (NYSE:CEE)) put in strong performances. The SpecEqFnds were held back by the performance of real estate, energy and natural resources.
This week investors bailed out of NatlMuniBndFnds and HiYldBndFnds, down on average 1.7% and 1.4%, respectively. According to Lipper, high-yield bond funds and ETFs climbed out of a recent capital depression this past week after being walloped by outflows of cash each of the last 4 weeks. This week, junk bond funds took back $568 million after dropping almost $3.0 billion the week before.
On average the CEF share prices were under pressure relative to their NAVs with the average negative PrcNAVSprd of 0.5%. The largest such PrcNAVSprd was NatlMuniBndFnds which registered a 1.6% negative spread with prices dropping 1.7% versus NAVs down 0.2% (rounding). Again this may reflect most of the muni stocks going ex-dividend in the middle of the month.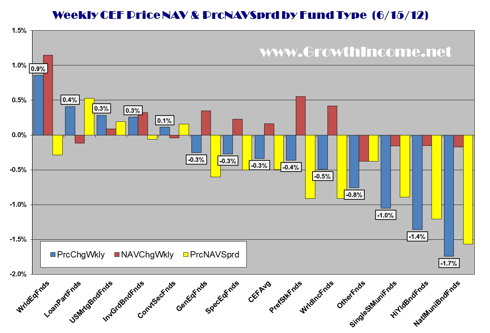 Weekly CEF Winners and Losers: One of the CEFs with the greatest positive PrcNAVSprd* for the week was Transamerica Income Shares . TAI's share price advanced 4.4% while it's NAV per share increased 0.2% generating a positive PrcNAVSprd of 4.2%. TAI's shares price advance 1.9% of average volume.
TAI invests in fixed-income debt securities. Its total net assets are $157 million and uses $17.1 million in derivatives to leverage its portfolio. It trades a at a 3% premium with an annualized monthly distribution yield of 12.1%. In April TAI doubled its monthly distribution to $0.23 per share. This distribution yield calculation is based on annualizing its new distribution rate. Previously, its monthly distributions ranged between $0.12 and $0.125 per share. Utilizing the average monthly distribution, such average annualized distribution yield would be closer to 6.5%.
One of the CEF(s) with the greatest negative PrcNAVSprd for the week was Dreyfus Strategic Municipals . LEO share price declined 5.6% while its NAV decreased 0.3% generating a negative PrcNAVSprd of 4.2%. LEO trades at a premium of 1.5% and its nominal annualized distribution is 6.5%, but on a taxable equivalent basis it yield is closer to 10.0%
Its total net assets are $765.1 million and support a high level of leverage at 35.9% both through its auction rate preferred shares at $233.5 million and derivative positions. LEO has maintained a fairly constant monthly distribution rate of $0.049 per share and has another $0.1483 per share banked in undistributed net investment income. The stock experienced a surge in volume on Wednesday, Thursday and Friday. Average daily volume was 73.6% of its 3 month average daily volume of 106,185 shares. The stock price dropped 4.0% from Tuesday to Friday.
CEF Focus Stock(s) for the Week: Picking a stock in front of a major global event such as the Greek elections is a fool's errand. So, depending on the sentiment coming out of the weekend, a positive response may bode well for WrldEqFnds. This week it appeared that Morgan Stanley China "A" Shares lagged the other Chinese CEFs. CAF share price was up a modest 0.9% while its NAV was 3.4%. The two other China CEFs was up on average of 2.7% with NAVs up comparably.
Port in a Storm: If things turn ugly, one might prefer a high-yield muni CEF like a Pioneer Muni High Yield Income Advantage whose nominal annualized month distribution is 7.8% and on an after-tax equivalent basis is 12.0%. While the CEF trades at a 10.9% premium and sports high leverage, it could be a safe port temporarily during a perfect storm.
The CEF focus stock section of this article is to "highlight" stocks of interest that may deserve further study.
Last Week's Focus Stock(s): Given the volatile nature of the markets' we've been providing investors with both a focus stock for the week and a contrarian pick as events can radically change over the week.
Last week's focus stock was Gabelli Global Utility & Income Trust . GLU trades at an annualized 6.1% monthly yield and at a 1.2% discount to NAV. The stock was up 1.4% for the week including the $0.10 distribution that went "ex" on Wednesday. Our contrarian call was ASA Gold and Precious Metals which was up 1.8% during the same period.
---
[*] All things being equal, price and NAV should move in tandem. A price movement greater than the NAV generates a positive PrcNAVSprd and may be interpreted as negative on a near-term basis and indicate that the stock is overvalued relative to its NAV which in theory is the stock's intrinsic value. The opposite would be true for a negative PrcNAVSprd.
Disclosure: I am long PCEF, CEE, ASA. I own a diversified portfolio of CEFs and ETFs and am long stocks in the CEFBig10™ and CEFMuni10™.) The first is a balanced equity-income portfolio (CEFBig10™) and the second a tax-exempt income portfolio (CEFMuni10™).