Even in today's very tight preferred stock market, there are currently 66 preferred stocks with an investment grade rating trading on U.S. stock exchanges for a market price below their $25 per share par value. While not as many as usual, 66 investment grade preferred stocks selling for less than $25 is still a lot to pick from and they are offering one of the strongest returns available, an average annual dividend yield of 6.56%.
Rating and market price are usually at the top of the list of considerations for most preferred stock investors, at least as an initial screen. The sweet spot, of course, is an investment grade rating (as opposed to speculative grade) available for a market price that is below par ($25 is the most common and is used here).
This Preferred Stock Market SnapshotTM chart reveals how the U.S. market for preferred stocks is currently treating the trade-off between risk (as reflected by the Moody's rating) and market price[1]. The four quadrants separate the preferred stock market along the primary criteria that most preferred stock investors are looking for: investment versus speculative grade and those trading below versus above $25 per share (closing June 11, 2012).
Each diamond is a U.S.-traded preferred stock or Exchange Traded Debt Security[2].
images)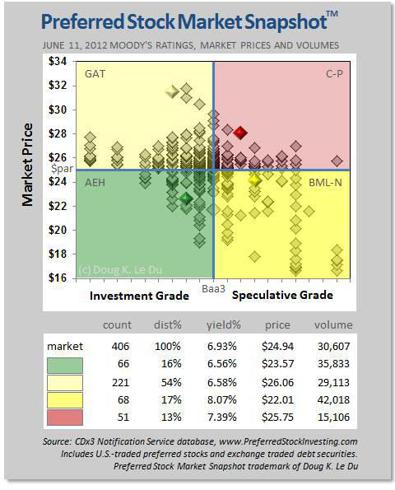 A preferred stock example is highlighted in each of the four quadrants: GAT from Southern Company (NYSE:SO), C-P from Citigroup (NYSE:C), AEH from AEGON N.V (NYSE:AEG) and BML-N from Bank of America (NYSE:BAC).
We can learn many things from the Preferred Stock Market SnapshotTM chart, starting with the sweet spot - the investment grade alternatives that are available for less than their $25 par value (green, bottom-left quadrant).
Looking at the data summary under the chart, these 66 offerings have an average dividend yield of 6.56% and are available for an average market price of $23.57. But averages can be deceiving; you can see on the chart how the preferred stocks in this quadrant become more densely grouped closer to the $25 line near the bull's-eye. That tells us that while buyers can find investment grade alternatives below $25, there are substantially more investment grade choices between $24 and $25.
Demand for Investment Grade Preferreds Is Disproportionately High
Usually the distribution of preferred stocks over these four quadrants is much more even. But look at the number of investment grade preferred stocks that the market has priced above $25 (light yellow, top-left quadrant) - 221 of them representing 54% of the total.
There are two primary drivers behind these high prices. First, to take advantage of today's low rates, many widely held preferred stock issues have recently been redeemed by their issuing companies (the companies have been issuing new preferreds at today's lower rate and using the proceeds to call the older, more expensive issues). This large number of calls has created a surge of newly cash-rich preferred stock investors, turning them into buyers simultaneously, pushing up prices.
Second, investors fleeing European assets in favor of safer U.S. securities has put additional upward price pressure on investment grade preferred stocks.
These two events, happening simultaneously, have pushed the average market price of the preferred stocks in this quadrant all the way up to $26.06, more than $1.00 over par.
Yield-seeking buyers have even resorted to bidding up the price of speculative grade preferreds (red, upper-right quadrant). These risk takers are paying an average price of $25.75 for these 51 speculative grade issues.
Plenty of Liquidity for Individual Investors
The Preferred Stock Market SnapshotTM also tells us something about the liquidity of the current market. Check out the average volume of shares per preferred stock that traded on June 11, 2012. Remember that the variance is huge here with some issues trading over 100,000 shares on that day while other issues traded just a couple of thousand shares. But even so, the average volume per preferred stock issue indicates plenty of liquidity in today's preferred stock marketplace.
Market Favors Sellers, But Still Room for Buyers
Counting both investment grade and speculative grade preferred stocks, 67% of today's choices are selling for a market price above their $25 par value. This is a market that currently favors sellers.
But knowing that there are 66 investment grade alternatives available below $25 with adequate liquidity is good news for buyers. While this year's large number of redemptions and eurozone turmoil have reduced the number of sub-$25 choices, there is still plenty of room for risk averse buyers in today's preferred stock marketplace.
Footnotes:
[1] Source for all preferred stock data in this article: CDx3 Notification Service database, Preferred Stock Investing, Fourth Edition, see PreferredStockInvesting.com. Disclaimer: The CDx3 Notification Service is my preferred stock email alert and research newsletter service including data for all preferred stocks and Exchange Traded Debt Securities traded on U.S. stock exchanges.
[2] Preferred stocks and Exchange Traded Debt Securities (which are very similar to, and often mistaken for, preferred stocks - see "Preferred Stock Investors: 'Exchange Traded Debt Securities' Offer Same Reward, Lower Risk") selected for this chart include those that:
- have a par value of $25.00;
- are currently trading on U.S. stock exchanges (excluding the Over-The-Counter exchange);
- are rated by Moody's Investors Service;
- do not have an announced redemption that is pending;
- are paying dividends (issues with deferred or suspended dividends were excluded);
- have a fixed dividend rate (preferreds with variable or adjustable dividend rates were excluded);
- had a non-zero trading volume on the day that the data was collected (June 11, 2012); and
- are not convertible to another type of security.
Disclosure: I have no positions in any stocks mentioned, and no plans to initiate any positions within the next 72 hours.