Following is a review of the U.S. Treasury yield curve for June 1, 2012 to June 15, 2012
June 1st to June 15th saw yields across the entire yield curve move higher. The short end of the curve had little movement, but the longer end of the curve saw yields move noticeably higher.
Change in Basis Points Chart: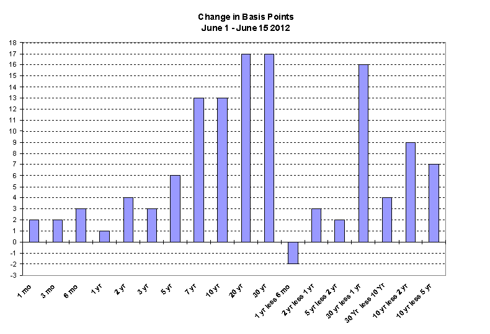 Yield Curve Chart: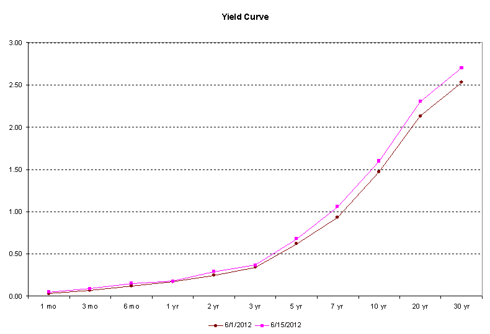 Charts source data: treasury.gov
The 10 year less 2 year spread increased 9 basis points, from 122bp to 131bp. (See a previous article on the yield curve: Review of Yield Curve Week Ending June 1.)
What is driving the fixed income market: Fear or fundamentals?
The fear trade: For some reason, the markets seem to be focused upon the election in Greece, (June 17th). It is somewhat surprising that a vote in a country of 11 million could hold the world's economic prospects in its hands. Did the near bankruptcy of New York City in the 1970's command this amount of fear?
With all the attention, the market and the media have made Greece into a powerful player. If it's fear over a Lehman Brothers-like fallout then it might be misplaced. The Lehman fallout was more about the government picking winners and losers than Lehman going belly up, in my opinion.
Some analysts have suggested that longer-term interest rates offer a negative real yield. However, the real yield is an unknown. Should deflation take hold, then what looks to be low nominal yield may turn into an attractive real yield.
The chart below shows deflation in PPI indexes and the falling rate of CPI increase. Using the PPI indexes, one could make the argument of sky-high real interest rates.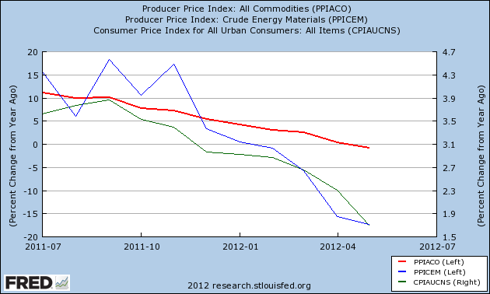 Should the market be concerned about deflation? The falling PPI indexes might give some to worry about deflation.
Outlook
We remain in the camp expecting interest rates to be flat-to-higher. Also expect a steeper yield curve. This should benefit STPP and TBT. However, should deflation take hold like in Japan, then yields might go far lower and stay at low levels that might surprise the most bullish of bulls.
A 25bp to 50bp shift higher, across the yield curve, might help reduce deflation fears and at the same time provide some relief to savers and boost economic growth. A steeper curve could help many financials. The downside to higher interest rates would be increased interest expense paid by the government. However, it might be the only message Congress will understand in attempting to reach agreement on spending and revenue.
Something to think about.
Growth requires spending. When was the last time a firm created prosperity without revenue growth? Speaking of spending, the House of Representatives has increased its spending over year ago levels, while the Senate and the Office of the President have reduced spending, according to the May 2012 Treasury statement.

TIPS holders may experience falling nominal interest payments, should deflation take hold. However, the "real" purchasing power should be stable.
Performance of selected ETFs/ETNs
TBT is the ProShares UltraShort 20+ Year Treasury and should benefit from increasing interest rates.

TLT is the iShares Barclays 20+ Year Treasury and should benefit from declining interest rates.

FLAT is the iPath U.S. Treasury Flattener and should benefit from a flattening of the 10y-2y yield curve.

STPP is the iPath U.S. Treasury Steepener and should benefit from a steepening of the 10yr-2yr yield curve.
Selected ETF / ETN Prices
FLAT
63.67 June 1

62.85 June 15

(0.82) $ Change

(1.29) % Change
STPP
34.56 June 1

35.36 June 15

0.80 $Change

2.31 %Change
TLT
130.36 June 1

126.40 June 15

(3.96) $ Change

(3.04) % Change
TBT
14.74 June 1

15.58 June 15

0.84 $ Change

5.70 % Change
Source: Yahoo Finance
Disclosure: I am long TBT.