Allon Therapeutic Inc. (OTC:NPCUF) shares jumped more than 40% yesterday. On Tuesday, the company said that a clinical trial of its drug AL-108 demonstrated a positive impact on memory function in patients with a cognitive impairment that's seen as a precursor to Alzheimer's disease.
Gordon MacAuley, president and CEO said:
It's a good day. It's very significant news that we have a drug that works in humans and we're going forward to prove it works for Alzheimer's.
He said the rise in share price will provide necessary resources in order to move to the next trial phase which he now expects to begin later this year.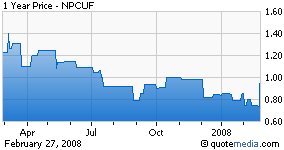 Analysts who cover Allon were also pleased, including David Dean of Cormark Securities, who raised his rating on the stock from "speculative buy" to "buy," and increased his price target on the company from C$2 to C$3.50.
This trial was designed to provide human proof-of-concept data for AL-108 in a patient who is very similar to early stage AD. With this data in hand, Allon is justified to head toward bigger and more comprehensive AD trials and we expect that it will also be able to sign a partnership under lucrative terms.
Canaccord Adams analyst Neil Maruoka also raised his price target, from C$1.90 to C$3.35 and maintain his "buy" rating. Based on the positive test results, he increased the probability of success for the drug from 22% to 34%.