Williams Companies (NYSE:WMB) has a plan to grow its dividend 125% from 2011 to 2014. It is already well on its way to achieving its goal. The dividend was $0.49 in 2010. It is expected to be $1.20 for FY2012, which is up 55% from WMB's $0.775 dividend for 2011. It will grow to $1.44 in 2013, and it will reach $1.74 in 2014. Cash flows from its subsidiaries are projected to account for most of this growth. WMB projects a $1.1B cash flow from Williams Partners LP (NYSE:WPZ) in 2012. It expects a $175 cash flow from Midstream Canada & Olefins, MC&O, in 2012. These figures are after taxes. These alone will provide 65% of Williams Companies' 2012 gross margin. The subsidiaries meanwhile are expecting to substantially grow their fee-based businesses over the next few years. The Williams Companies, with its Transco pipeline (which ranges from the Texas Gulf Coast to NYC), provides 60% of ConEd's existing peak-day. This is a good, steady, growing business.
This major pipeline, Transco, and others are well positioned for growth. As the populations in the areas served grow, the demand for both residential and commercial power will grow. The new unconventional shale fields are growing to meet this demand. They will provide WPZ with lots of growth opportunities. WPZ forecasts midpoint gross margin of $2.3B for 2012. It forecasts this will grow to midpoint gross margin of $3.0B in 2014. This is great growth for a pipeline company.
With the resumption of drilling in the Gulf of Mexico, WPZ expects its Gulf Coast revenue to increase 56% from 2011 to 2014. This includes such things as its Gulfstar Floating Production System. It already has agreements in place with Hess (NYSE:HES) and Chevron (NYSE:CVX) for Tubular Bells. This whole system is expected to be online in mid-2014, and it includes two 15-mile sub sea export pipelines. Further, WPZ feels it is set up to capture Mexico opportunities.
Some of WPZ's new opportunities are: 1) 4 GW of new power generation opportunities within 50 miles of WPZ's Gulfstream pipeline (Florida), which effectively connects the Transco pipeline to Florida; 2) 4.3 GW of potential new power generation within 50 miles of the Northwest pipeline (Oregon and Washington); and 3) 30 GW (5.1 Bcf/d) of potential incremental natural gas power generation within 50 miles of the Transco pipeline. WPZ, MC&O, and WMB itself also have substantial growth potential in the NGLs and olefins business. Propylene is one of the high growth areas. Williams is also the only company in the world extracting and fractionating olefin/NGL mixes from oil sands offgas.
There are some risks to the above estimates. WMB,WPZ and MC&O have very low hedges on the natural gas and NGLs they produce. Fortunately, much of Williams Companies and WPZ's earnings are fee based from pipelines which have long-term contracts. The average analysts' EPS estimates for both FY2012 and FY2013 have been revised downward only very slightly in the last 3 months, even though the price of natural gas has dropped dramatically. In fact, the extra demand for natural gas for power generation may have helped WMB in some ways. With approximately 65% - 70% of its income being fee-based (from pipelines), WMB should be able to navigate any economic downturns better than most other companies. Based on adjusted earnings (without the charges from discontinued operations) WMB is trading at a PE of 19.53. This is quite reasonable for a company growing its dividend at the rate WMB is, especially when WMB has an analysts' average next five years EPS growth estimate per annum of 17.93%.
The two year chart of WMB provides some technical direction for this trade.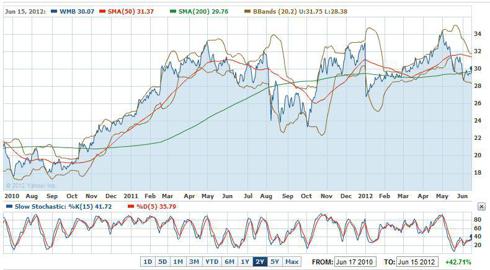 WMB ran up a lot in 2010-2011. Since then it has essentially been consolidating. The slow stochastic sub chart is still near oversold levels. The WMB price seems to be finding support at the 200-day SMA. The 50-day SMA is still far above the 200-day SMA. Given that the overall market has been down dramatically recently, WMB has held up well. With an expectation of its approximately 4% dividend growing substantially over the next 2-3 years, it should have good upside potential, especially with the 5 year EPS growth estimate per annum of 17.93%.
Even with a potentially very bad economy, WMB should be able to hold its own. When the economy improves, investors should see good stock price growth and a good dividend. Given the current uncertain economic environment, averaging in is a good strategy.
NOTE: The fundamental fiscal data not provided by WMB was taken from Yahoo Finance.
Good Luck Trading.
Disclosure: I have no positions in any stocks mentioned, but may initiate a long position in WMB over the next 72 hours.