Here are a few observations on MBIA (NYSE:MBI), now that its triple-A ratings have been reaffirmed. (Disclosure: I worked for MBIA in 1984-85.)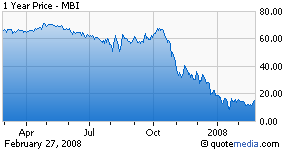 The financial guarantors' triple-A rating are a fiction and many investors recognize it and no longer have confidence in the rating agencies. It is inconsistent for MCO and S&P to rate the monolines triple-A and at the same time state that the outlook for their ratings is negative. A triple-A rating is just that; the strongest credit standing possible: they can't waffle on the outlook. If they do, then they are not triple-A. It's that simple. MCO and S&P are tacking on the negative outlook so they are covered in the event that there is another unforeseen blow-up in the coming months and more write offs are required. At that time, they can say to investors, "well we did alert you about the negative outlook in February."
The reaction of MBI's stock and bond prices to the reaffirmation of the triple-A rating has not been positive. So far, MBI (and Ambac (ABK)) have not traded up, as might have been expected. This only demonstrates, as mentioned above, that investors no longer have much confidence in MCO/S&P/Fitch to make independent, arms-length evaluations.
As regards its debt, MBI's CEO, Joseph Brown, stated on CNBC Tuesday afternoon that the market responded positively to the upgrade with it's $1 billion, 14 percent surplus notes issued in January, trading above par. If the market believed that MBI could return to business as usual, the surplus notes should be trading at a significant premium to the January 2013 call date. With Citibank (NYSE:C) five-year debt offered at 4.75 percent in the secondary market, where should MBI's surplus notes trade? At 14 percent, the market is saying they are still junk, notwithstanding their triple-A rating by Moody's.
Another reason why MBI's surplus note's price has not jumped is the question whether the July 15, 2008 coupon--$70 million-- will be paid. Eric Dinello, the New York State Superintendent of Insurance, must approve the July interest payment. If MBI's business prospects have not improved by then, a case can be made that the Insurance Commissioner will be hard put to authorize the July interest payment (and will be criticized if he does so by policy holders, who will want the insurance subsidiary to boost its reserves by the $70 million).
It is indeed ironic that the very thing that was one of the primary contributors to the subprime mortgage/CDO debacle—the rating agencies working together with the banks to structure deals so they achieve the coveted triple-A rating—is being repeated again with ABK. Evidently, the banks, private investors and the rating agencies are now working together on a deal to strengthen ABK's finances so its triple-A can be confirmed. An article (about the split up/recapitalization) in the February 25, 2008 Financial Times said it all:
"It is highly unusual for ratings agencies to be part of a transaction and there are numerous procedural issues that have to be worked through as they usually do not assign ratings until something is completed," said a person involved in the deal.
With MBI and ABK not writing any new business for the past few months, other bond insurers have moved in to fill the vacuum, in particular Berkshire Hathaway's (NYSE:BRK.A) Assurance Corp, which according to press reports, has insured some 100 issues to date in the month of February. Similarly, existing insurers (with no CDO exposure) such as FSA, has insured over 2,200 muni issues and Assured Guaranty backed over 650.
If MBI and ABK's business prospects do not improve, they could lose their dominant position, resulting in a three-tiered insured market. First, will be BRKA (with Warren Buffet's name and billions in capital behind it). Second will be FSA and Assured Guaranty (NYSE:AGO) (and over time, others), and last will be ABK and MBI.
Finally, the real test for the big monolines' prospects will depend on institutional investors whose portfolios include insured debt that has declined in value and who must answer to their clients for the losses. After the subprime mortgage/CDO debacle, are investors willing to buy debt insured by MBI and ABK, sacrificing yield for its ostensible triple-A protection, or will they be risk adverse? Do they have confidence in the rating agencies' assessment of the monolines? Has the full extent of the CDO exposure been quantified and what is the risk of litigation from the ABK split up? The jury—consisting of institutional investors, boards of directors, senior management, portfolio managers, analysts and others with fiduciary obligations —is still out. In the coming weeks and months as muni bond underwriters bring insured deals to the market, the answer will be known.
Disclosure: Author worked for MBIA in 1984-85. He has no positions in any of the above stocks.