While the job reports have been disappointing, the global and US economy is still heading towards full employment. Our growth days are still ahead of us and the market has failed to properly factor in the future given the tendency of negativity to overwhelm. This is particularly true for financials but also structurally true for consumer goods. Mattel (NASDAQ:MAT) offers an impressive dividend yield at an attractive price. Avon Products (NYSE:AVP) and Kraft Foods (KFT) are, in my view, expensive but still provide decent income investments.
Barbie-maker Mattel has an awesome brand and sizable dividend yield at 3.8%. The iconic company is led by equally solid management that understands what drives demand in an otherwise unpredictable industry. Toy purchases are well positioned to rise when median incomes gain, and I anticipate that to happen when business confidence is buoyed by full employment and a pro-growth executive replaces the current administration. Particularly in the area where Mattel is concerned, an Obama administration is likely to hold back value creation given its endorsement of substantial dividend and income tax hikes. By contrast, lower taxes on the corporate, dividend, and income levels will allow Mattel shareholders to enjoy the greatest gains.
Aside from the business and political environment, Mattel is well positioned fundamentally. First quarter results may have been disappointing, but 4Q11 and 2Q12 EPS were still a respective 5.9% and 43.8% ahead of consensus.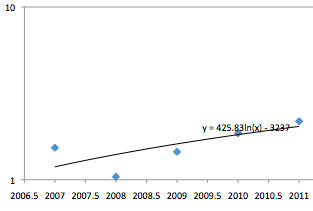 Source: Internal Research. Note: Mattel's EPS over the past 5 years.
If you take a logarithmic regression of Mattel's EPS over the last 5 years, you extrapolate 2016 EPS to be $3.09. The toy maker's EPS is expected to grow by 8.5% annually over the next five years, so my 2016 EPS estimate errs on the conservative side. In order to make any meaning out of this number, we need to take an exit multiple calculation that is appreciative of peer levels. Mattel trades at a PE multiple that is only 64% of its industry's. Taking a multiple of 18x and multiplying it by my 2016 EPS estimate yields a future stock value of $55.53 for a 16.6% margin of safety. This is a strong margin of safety in light of the 3.8% dividend yield, which, if re-investing back in the company, would yield strong wealth gains.
Free cash flow is also strong. Assuming just 9.1% growth over the next six years and 3% into perpetuity, consistent operating metrics, and an 8% discount rate, the stock has an intrinsic value of $45.06 based on future free cash flow. This intrinsic value is at a 39% premium to the current value.
Mattel isn't the only consumer good that has promise. Avon, specifically, is an interesting turnaround story. The firm has gone through a corporate bribery scandal and drastically underperformed expectations. In the last three quarters alone, the beauty purveyor missed earnings consensus by an average of 35.6% with each quarter getting worse and worse. This has set the bar and tone very low for value creation. The 5-year average PE multiple of the firm is 20.4x, and the company trades at 17.5x - historically low but not a bargain.
What is a bargain, however, is the company's dividend yield. It stands at an impressive 5.8%, and management is unlikely to slash it lest they face a shareholder rebellion. For a company that is near its 52-week low and nearly half of its 52-week high, I would be surprised if the combined dividend yield and annual stock return over the next three years averaged less than 9%.
Ditto for Kraft Foods . The iconic producer may trade at 19.4x, but it still offers a 3% dividend yield with nearly half the volatility of the broader market. And, unlike Avon, Kraft is led by top management that has delivered time and time again. The last five quarters, save 4Q11 (which was in-line), beat expectations by an average of 4.6%. Economists did not expect the poor job results, so these results are pretty solid. Strong execution, experienced management, and a top brand merit the firm trading at premium to peers.
Disclosure: I have no positions in any stocks mentioned, and no plans to initiate any positions within the next 72 hours.
Additional disclosure: We seek IR business from all of the firms in our coverage, but research covered in this note is independent and for prospective clients. The distributor of this research report, Gould Partners, manages Takeover Analyst and is not a licensed investment adviser or broker dealer.