Many of Yahoo! Inc.'s (YHOO) top shareholders may not want a higher offer from Microsoft Corp. (NASDAQ:MSFT), says Friedman, Billings, Ramsey & Co. analyst David Hilal in a Wednesday research report. "Given that many of YHOO's top shareholders are also significant MSFT shareholders, it is not that simple," he says, noting that 18 of Yahoo!'s top 25 shareholders also own more shares of Microsoft, which has offered $31 a share for Yahoo!. "In a way, they have conflicting interests."
Hilal predicts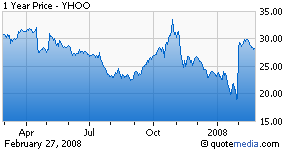 Microsoft will be successful in its bid to acquire Yahoo! and maintains his "outperform" rating and $40 price target on the software giant's shares, which in late-day trading was at $28.35.
"Yahoo! is kicking up the dirt to get the price up, but this is a Dow Jones (DJ)-News Corp. (NASDAQ:NWS) replay," Scott Wieler, founder of Baltimore's Signal Hill investment bank, tells Tech Confidential. "There is no other bidder."
"There's only one question," Wieler adds. "Is there anything Microsoft can do to get Jerry Yang to stand up, put his hand over his heart and say, 'This is good for everybody?' " - Mary Kathleen Flynn