We first heard about PECO Energy, a predecessor of Exelon (NYSE:EXC) from reading Chuck Carlson's Buying Stocks without a Broker. Carlson gave PECO a two star performance rating. He also gave a two star rating to Unicom, which later merged with PECO to create Exelon. Needless to say the merger of two lower-quality utility companies has resulted in one big overrated, under-achieving behemoth. From 2003 to 2006, Exelon wrote off $3B from its Boston Generating Assets business and its Commonwealth Edison utility business.
Exelon Corporation: As Exelon is the 3rd largest US based utility holding company as measured by market capitalization, we can see why it is one of the 15 members of the Dow Jones Utilities Index. Exelon acquired Constellation Energy Group in March 2012. Exelon's subsidiaries are as follows:
Commonwealth Edison, which serves Chicago and Northern Illinois
PECO Energy, which serves Philadelphia and Southeastern Pennsylvania.
Baltimore Gas and Electric, which serves Baltimore and Central Maryland
Exelon Generation, which owns and manages electric generating facilities, wholesale energy marketing operations and its competitive retail supply.
Exelon Generation is the largest subsidiary of Exelon, accounting for 58.5% of the company's Q1 2012 net revenue. Exelon Generation is also the most profitable division, generating over 47% of EXC's operating profits excluding corporate and shared services expenses. Q1 2012 EPS took a tumble to $.28 from $1.01 in Q1 2011, primarily due to $674M in non-recurring expenses on behalf of the Constellation Energy Group acquisition, which closed in the middle of March. Even if we add back those non-recurring expenses to EXC's pre-tax income, pre-tax income would have declined by 7.44% versus the comparable quarter last year. EXC also saw a $117M non-cash, non-recurring benefit from reassessments of deferred income taxes.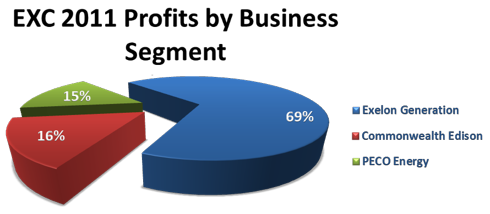 Source: Exelon's 2011 Annual Report
EXC's Revenue declined by 5.5%, largely due to lower market prices received for wholesale power generation and mild winter weather. The lower market prices received for wholesale power generation is due to the low prices on natural gas as a result of the hydraulic fracturing (fracking) boom. Lower natural gas prices have resulted in lower power prices for electricity producers, including nuclear operators like Exelon. We were disappointed that its nuclear generation business capacity factor declined by 1.2% in Q1 2012 versus Q1 2011. EXC's Generation business saw its Q1 adjusted net income decline by $188M or 38% due to higher maintenance and operating expenses and a sharp 26.6% decline in the net realized margin on electricity sales per mega-watt hour. EXC's utility businesses saw a slight decline in net income, as lower expenses were offset by lower revenues.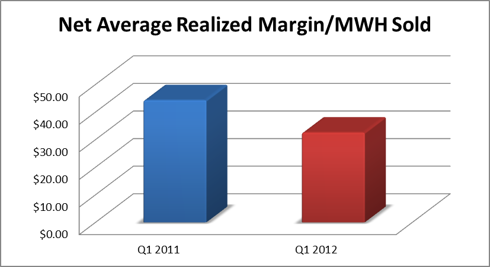 Source: Exelon Q1 Earnings Release
Renewable Energy Investments: On March 13, 2012, Exelon completed the purchase of Whitetail Wind Energy LLC, a 92-megawatt (MW) wind project to be constructed east of Laredo, Texas. The project has a 25-year power purchase agreement with Austin Energy for its entire output. Commercial operation is expected in late 2012. On April 5, 2012, Exelon and First Solar, Inc. (NASDAQ:FSLR) announced that the Antelope Valley Solar Ranch One project had received the first advance of a loan guaranteed by the U.S. Department of Energy's Loan Programs Office, finalizing Exelon's ownership of the project. First Solar is constructing the 230-MW photovoltaic power project in northern Los Angeles County and will operate and maintain the project for Exelon. As Exelon and First Solar previously announced, the first portion of the project is expected to come online in late 2012, with full operation planned for late 2013. The project has a 25-year power purchase agreement, approved by the California Public Utilities Commission, with Pacific Gas & Electric Company for the full output of the plant. We only hope that Exelon is involved in these projected to satisfy the 25% minimum for energies to be generated by "renewable energy" as mandated by the state of Illinois.
Exelon's stock reached a high of $92.13 on July 7th, 2008, at the height of the first oil and gas commodities speculative boom. Since then Exelon has seen a drastic decline in its stock, even taking into account its $2.10 annualized dividend, which has been frozen since November 2008. As we can see here, Exelon has drastically underperformed the S&P 500 and the S&P SPDR Utilities ETF (NYSEARCA:XLU) during this period of almost four years.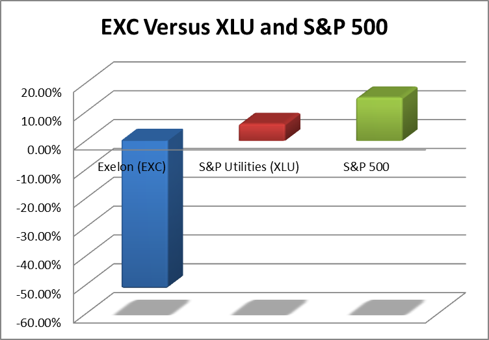 Source: Morningstar Direct (July 7th, 2008-June 8, 2012)
In conclusion, we believe that if one is looking for a high-quality utility to invest in, we don't recommend investing in Exelon . We believe that EXC is an overhyped, overrated, lumbering, inconsistent performer known primarily for its political connections and rent-seeking activities. At 5.61%, Exelon has the highest dividend yield of all utilities headquartered in the United States. Despite the high dividend yield on its shares, we can think of at least a dozen other utilities we would rather invest our money in instead of Exelon. In fact, we already analyzed two higher quality utilities within our dozen. Investors who own Exelon would be better off selling Exelon and redeploying it towards a higher quality utility. Exelon already wrote off $3B from its 2000 merger of Unicom's ComEd utility and PECO Energy. Now it issued nearly $7.4B in EXC stock to acquire Constellation Energy, which had to slash its dividend during the crisis and sell off its nuclear generation and operating business to EDF in order to stave off bankruptcy. Constellation's sale of CENG to EDF required the company to make over $362M in concessions to the Maryland Public Service Commission in order to gain the MPSC's approval to sell CENG to EDF. Exelon had to offer over $1B in concessions to acquire Constellation, which was the last Fortune 500 company to be headquartered in Baltimore. Here are the concessions Exelon had to give the MPSC in order to gain the approval to acquire Constellation:
Up to 300 megawatts in new power generation in Maryland within 10 years. That includes:
10 megawatts to 25 megawatts from poultry manure plant, the first in the state.
30 megawatts of solar in Baltimore and other municipalities east of Frederick.
125 megawatts fueled by wind farms and other renewable resources.
120 megawatts of natural gas generation.
$30 million for offshore wind development fund.
$10 million to Empower energy efficiency efforts.
$10 million to help electricity customers pay bills.
$50 million to support weatherization efforts for low- to moderate-income homes.
$112 million to support rate relief for BGE customers.
Exelon would not lay off any BGE workers for at least two years after the deal closed
Maryland Public Service Commission retains right to force Exelon to spin off BGE in certain circumstances.
Disclosure: I have no positions in any stocks mentioned, and no plans to initiate any positions within the next 72 hours.
Additional disclosure: Saibus Research has not received compensation directly or indirectly for expressing the recommendation in this report. Under no circumstances must this report be considered an offer to buy, sell, subscribe for or trade securities or other instruments.