In "Price Follows Value, Even With Apple (NASDAQ:AAPL)", I laid out the puzzlingly controversial thesis that valuation matters, even to growth stocks. Some people just don't understand that concept, but I think what happened to Google's (NASDAQ:GOOG) shares earlier this week further reinforces the notion that every business has an intrinsic value – it may be negative, but it exists.
GOOG was getting whacked earlier in the week off news that paid clicks were down 7% month-over-month and flat year-over-year. This is hardly the growth that analysts were looking for, and it is just functioning to add pain to an already weak stock. Google shares are more than 35% off its 52-week high, and is closing in on a 52-week low – which would be the first time the stock has traded at its 52-week low.
Three of the five Street analysts Eric Savitz has heard from have admitted earnings estimates for Google are too high – something Tom Lyons raised the alarms on in late November, more than $200 ago.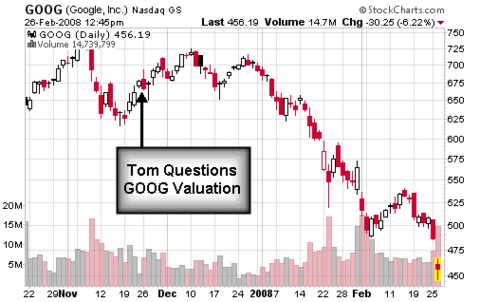 Working backward, he calculated that the market was pricing Google as being able to grow at 45% annually past 2010 – then he asked:
"Can Google continue to grow cash flow at a rate of 45% a year? It is possible but it will be extremely hard. Overall, if you buy into Google now you are betting that Google will be able to keep up its insane level of growth, and that isn't a high-probability bet no matter how good the underlying company may be."
In keeping with my thesis on Apple (AAPL), GOOG is another example of a stock that has a very compelling story and was in the right sector at the right time. Those factors combined to create a runaway freight train of momentum that brought the company's valuation far in excess of what it can reasonably be expected to be. The hot tech stocks were going up because they seemed to be immune to a slowing economy – but perception isn't always reality, and now that people are realizing Google, Apple, et al. are just as dependent on healthy spending as older, more typical firms, the valuation gap is being closed.
The current price of GOOG is obviously much more reasonable, and if I had to speculate, I would guess that the stock catches a bid here and finds a near-term bottom. Still, I don't see the huge upside that was seemingly so tangible in 2007 being there, and I think there is going to be a much more skeptical view of Google going forward. They aren't going to get a free pass much longer, if at all – and that makes me anticipate something close to range-bound trading, perhaps with that slightly upward bias, will persist for at least the next few weeks.
Disclosure: None