On June 5, 2012, Fastenal (NASDAQ:FAST) dropped 9.8% in response to its May sales report. This sharply negative reaction got my attention because Fastenal's industrial and construction supplies business should be highly sensitive to the health of the overall economy (in the past, I have used FAST's reports to get a read on economic conditions in non-residential construction). After reading through the sales report, I wondered whether the market was reacting to deteriorating trends: daily sales were up 13.1% year-over-year for the month but the 6.7% change in daily sales since January is well off 2011′s 14.4% pace. At the same time, total employee headcount increased 9.9% year-over-year since January. These numbers imply declining sales trends along with increasing (future?) margin pressures, a toxic combination. Regardless, none of this seemed to warrant a 10% one-day drop. I could not find any articles providing satisfactory answers, so I decided to dig deeper.
First of all, make no mistake, FAST is the kind of stock you want to own in a long-term portfolio. The stock has been on a general uptrend since the late 1980s. Patient investors buying on the dips have profited very well.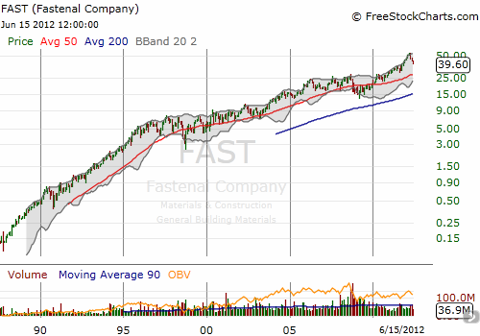 FAST has a very enviable multi-decade performance
Currently, the stock is definitely in trouble after several months of kicking the uptrend into a higher gear. The release of the May sales report gapped the stock down below its 200-day moving average (DMA), and it has yet to recover even with last week's rally in the general stock market. With the 50DMA declining, short-term price trends are working strongly against FAST. FAST is now down 27.5% from its all-time high and is down 9.2% for the year.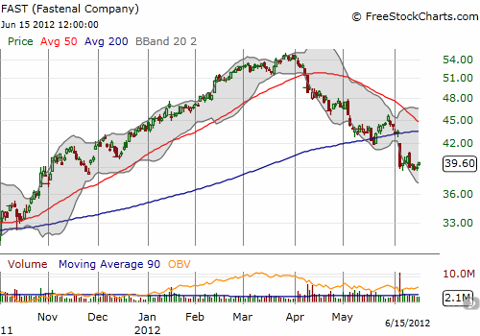 FAST is breaking down in the short-term
It turns out that the market has reacted poorly to FAST's last three reports including an earnings report. FAST's stock has closed in negative territory in reaction to the last FIVE quarterly earnings reports. Ironically, the mildest decline was the 1.5% drop in response to the April earnings release. The consistently negative responses to the earnings releases data were essentially telegraphing today's steady decline. For whatever reason, buyers chose to ignore the warning signs and even bought the stock in response to sales reports between earnings (until recently).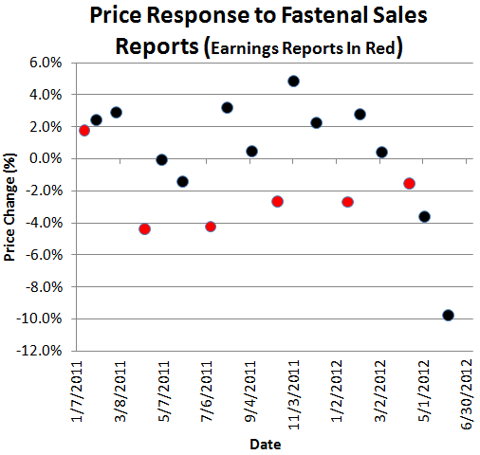 Price Response to Fastenal's Sales Reports Since January, 2011
Source: Report dates from Fastenal web site, stock prices from Yahoo!Finance
Moreover, fellow parts supplier W.W. Grainger, Inc. (NYSE:GWW) has fallen in sympathy with FAST. After a quick initial recovery from sympathetic selling in response to FAST's last sales report, GWW has fallen back down. The stock has a very similar pattern to FAST relative to the critical moving averages. In other words, GWW seems to be a confirming signal for FAST's weakness. GWW is also down for the year now.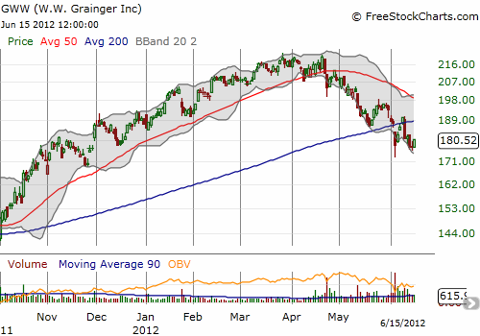 W.W. Grainger fails to sustain a comeback from its sympathetic trade with FAST's malaise
Source for charts: FreeStockCharts.com
FAST's valuation is also very high, especially for a stock with declining sales growth trends. Over the past ten years the market has generally been willing to pay high multiples for FAST, a common characteristic of high-quality companies. However, since 2011 FAST's valuation has increased to particularly rich levels. The current P/E of 30.9 is higher than the annual average for all years going back to 2005. The price/sales ratio of 4.0 is higher than the annual average from nine of the last ten years, only 2011 was higher. It is the same story with the price/book ratio of 7.6 (2005′s P/B ratio was 7.5). In other words, at these extremely high valuations, it takes little to ignite selling. FAST was, and likely still is, priced for perfection, and this is a tough standard to maintain given the rough macro-economic headwinds in the global economy. Indeed, FAST has likely been overdue for a correction. The red horizontal lines in the charts below represent current valuations.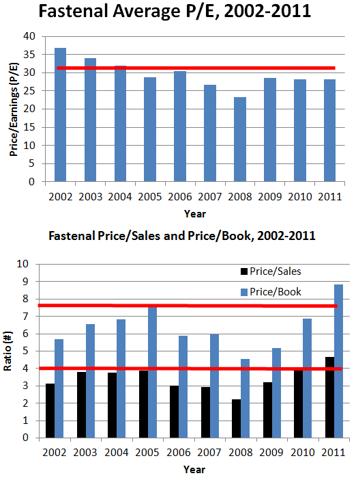 Comparison of FAST's current valuation with 10-year annual averages
Source: MSN Money Ten-Year Summary for FAST
FAST's drop has yet to attract the attention of short sellers. In fact, shorts have been pulling away from FAST since last October. The drive from there to a sequence of new all-time highs no doubt crushed a lot of bears and discouraged them from returning. By the time FAST's stock reached its last all-time high, shares short had fallen almost 50%. Shares short are now almost 2/3 lower from October's highs (5% of float).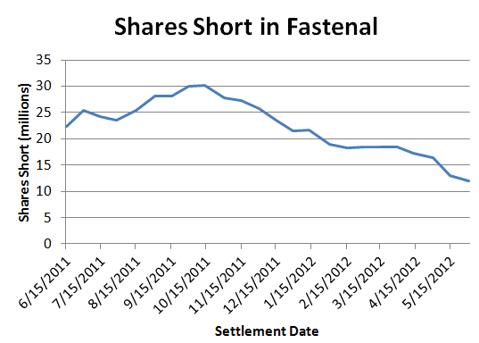 Shorts continue to flee from FAST
Source: NASDAQ short interest for FAST
So where does this all put FAST? In the short-term, I think it is very likely to lose more value as valuations get shaved closer to historical norms. If the stock rallies in the short-term, I suspect sellers will show up in the low 40s where the stock broke down from the May sales report. Resistance exists there from the declining 50DMA converging with the 200DMA. I am guessing that if the stock drops to around a 25 P/E it is a good buy for the long-term, assuming the P/S and P/B ratios also fall to more historically reasonable values as well. However, without a more robust economic recovery, I highly doubt FAST can make new all-time highs anytime soon. FAST is a broken stock (again, in the short-term) in need of a catalyst to reverse the momentum.
Be careful out there!
Disclosure: I have no positions in any stocks mentioned, and no plans to initiate any positions within the next 72 hours.