Lately, Apple (NASDAQ:AAPL) shares have been a snore. Apple's chart has flat-lined - in truly one of the dullest four-week periods in Apple's last ten years. Except for the brief dip to $530, Apple has seen low volatility. Simply put, we've entered the "Apple doldrums", a term I've coined for the yearly phenomenon when Apple goes nowhere for four to six months, frustrating long-term shareholders. It happens each and every year. We're in it. My goal: To steer you through it.
Click to enlarge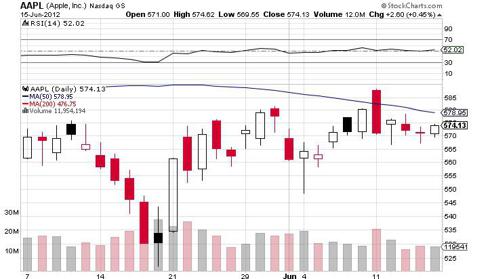 To date, I'm 2 out of 2 - catching the $530 low to the day and forecasting the tight trading range - all courtesy of fundamentals, news releases, technicals, analysts and historical cycles. Fellow SeekingAlpha contributor Kim Klaiman told you a great way to play this. His iron condor has been working - although a more profitable way is to just sell weekly far out-of-the-money puts and calls. You likely make 100% instead of 22% as the calls expire worthless.
Where Does The Chart Go From Here?
Does Apple shrug off its sluggish chart? Not yet.
First, the News
Just like May, June isn't giving investors much to get excited about. Sadly, the WWDC conference was just another boring Monday. The rumored iTV and miniPad didn't materialize (not a surprise) at the WWDC. Wonderful new products were announced - unfortunately, they won't move the needle. We need a new iPhone. Unfortunately, Tim Cook is keeping that under wraps.
The Technicals
The RSI (14) and MACD (12,26,9) look directionless. Shares are below the 50-Day-Moving Average creating a ceiling for the stock.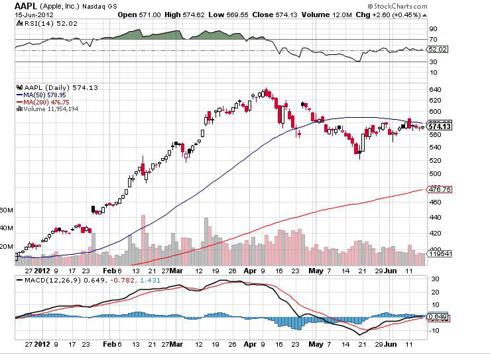 Which brings me to the sluggishness of earnings forecasts...
For all their lofty target prices, Apple analysts are getting stingy in their earnings estimates. Consensus predictions for 2012 have actually fallen this past month by 8 cents. The June quarter forecast has been raised all of 3 cents in the last 30 days, 77 cents in the last 90 days.

Courtesy of Yahoo.com
Compare that to forecasts given less than 2 months ago (see below). Then, analysts boosted estimates practically every day. Analysts raised March quarter $1.89 over 90 days. Those bullish forecasts helped take Apple to a short-lived $644 high.

Courtesy of Yahoo.com
Historical Cycles
Analysts have fallen prey to the Apple doldrums - the 4 to 6 month virtual siesta that repeatedly occurs each and every year for the past decade, a time when share price goes flat, declines, or stays in a tight trading range. Right now, we're in week 11.
The Fundamentals - Undervalued As Always
If Apple makes the 2012 consensus EPS figure, its PE will be 12 at current share price - a remarkably low PE for almost 70% earnings growth. More importantly, I expect Apple clobbers analyst forecasts. (The pros have forgotten to factor in 100% Asian growth or the iPad's powerful sales trajectory.)
Now that benchmark estimates have stalled, analysts have given Apple an easy $10.37 number to beat. Just how easy? The $10.37 estimate is 19% higher than Apple's own guidance. Not only has Apple has trounced its outlook for the over 25 quarters, it has done so by an average 38%. Only once in the last 6 years has Apple beaten its outlook by only 19% (June 2008). The chart below demonstrates the projected 19% for upcoming quarter would match the 6-year low.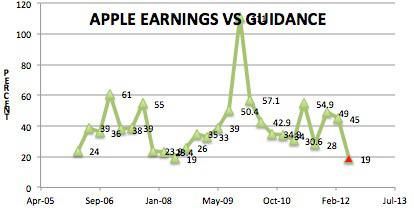 The best cure for the Apple doldrums: Kill analyst estimates. In the meantime, we're in the doldrums.
My Prediction
We're locked in a trading range for at least the next 2 weeks. The best play: selling puts and calls well out of the money.
Longer term: Lower estimates do make for sensational earnings beats. Apple has a great future. But first, investors need to row through the Apple doldrums. Selling out-of-the-money calls and puts helps ease the boredom.
Disclosure: I am long AAPL.
Disclaimer: The opinions in this document are for informational and educational purposes only and should not be construed as a recommendation to buy or sell the stocks mentioned. Past performance of the companies discussed may not continue and the companies may not achieve the earnings growth as predicted. The information in this document is believed to be accurate, but under no circumstances should a person act upon the information contained within. We do not recommend that anyone act upon any investment information without first consulting an investment advisor as to the suitability of such investments for his specific situation.