Disclaimer: The distributor of this research report, Gould Partners, is not a licensed investment adviser or broker dealer. We are a consultant to a third-party representing Opko and have five hundred dollars for past independent research. Investors are cautioned to perform their own due diligence as information contained within this report has been derived from public sources and cannot be guaranteed by us to be fully accurate. Always discuss investments with a licensed professional before making any financial decision. Statements made herein are often "forward-looking statements" as defined under Section 27A of the Securities Act of 1933, Section 21E of the Securities Act of 1934, and the Private Securities Litigation Reform Act of 1995. Since these statements are uncertain, actual results may be materially different from those expected.
With all of the overblown concerns surrounding patent cliffs, investors would be wise to not focus and the negativity and search healthcare firms with active pipelines. Vaccines also provide high returns given emerging market population growth, government backing, and increased concern for public health, among other factors. The diagnostics industry, which will be driven by a greying population, is yet another attractive industry. As the baby boomer generation hits retirement, demand will increase for innovative medical checkups. Merck (NYSE:MRK), OPKO (NYSEMKT:OPK), and Abbott Labs (NYSE:ABT) all capitalize on these positive secular trends.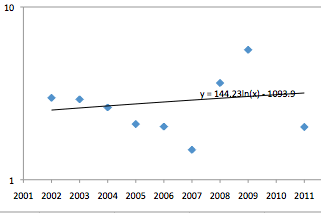 Source: Internal research. Note: Merck's EPS over the past 5 years.
Over the years, Merck shareholders have been in for a wild ride. EPS has ranged from $0.28 in 2010 to as high as $5.65 in the preceding year over the last decade. Earnings are anticipated to grow by 1.2% in 2012 and then fall by 2.6%. Despite this, the firm has still delivered better-than-expected for the last five quarters, except 2Q11 which was in-line with consensus.
If you take a logarithmic regression of EPS, you extrapolate 2016 EPS to be $3.53. This figure is quite conservative in light of $3.72 EPS being expected in 2013. For the sake of erring on the conservative side, we note that if the company earns only $3.53 and trades at a multiple of 17x, the future value of the stock is $59.97. Discounted backwards by a WACC of 8% yields a price target of $40.81--more or less in-line with the current valuation and consensus price target.
But over those five years, Merck will pay out a dividend yield of 4.3% annually with limited volatility at a beta of 0.6. Put differently, Merck is an ideal income investment. The reason why I say "ideal" is because the firm has several value drivers in vaccines. Past contributions have led to the prevention of measles and mumps to those that were once thought to be unpreventable, such as shingles and cervical cancer. Vaccines for STD-related conditions, Recombivax HB and Pedvax HIB, are particularly likely to generate high returns.
Israeli healthcare firm OPKO similarly has excellent opportunities in the vaccine and treatment markets. 12 out of the 18 ratings on the Street give the rising company a "strong buy" and none rate it less than a "hold". Rolapitant for chemotherapy induced nausea and vomiting (ie. "CINV") entered its Phase III trial and has already demonstrated impressive results. The American Society of Clinical Oncology ("ASCO") found in a double-blind study involving 454 subjects that those given 200mg of rolapitant had "significantly greater complete response rates (no emesis and no use of rescue medication)… to the placebo group". The ASCO went on to add that rolapitant 200mg "demonstrate[d] superior treatment effect vs. placebo". For a condition that effects a reported 90% of cancer patients, this treatment is groundbreaking. The point-of-care technology behind Claros is also groundbreaking, since it helps reduce cost by transitioning care from the laboratory to the bedside. Claros is a diagnostic device that samples blood with ease and safety. Opko's Alzheimer's diagnostic technology, the recent investment in an Israeli Hepatitis B vaccine manufacturer, and M&A expansion will further push the company towards its $8.25 price target.
Abbott has demonstrated impressive value creation through its own diagnostic technologies. The supercentenarian business decided to retain its medical device segment under the Abbott name while spinning off its more risky pharmaceutical business. In particular, divorcing struggling Humira from profitable lines in diagnostics has been well received, as evidenced by how Abbott is trading near its 52-week high. The last five quarters have been expectations, albeit slightly, and growth has been consistent. A conservative 2013 EPS at a 17x multiple and 8% discount rate would put the price target at $77.53. This offers more than a 20% margin of safety on top of a high 3.3% dividend yield. Accordingly, I also recommend investors open a long position in the iconic drug manufacturer.
Disclosure: I have no positions in any stocks mentioned, but may initiate a long position in ABT, OPK, MRK over the next 72 hours.