I like to pick underfollowed stocks that have huge demographic tides behind them. In November 2010 for instance I picked (on SeekingAlpha) Inhibitex (NASDAQ:INHX), a $180mm market cap company in the enormous $10 billion hepatitis C market. Nobody was looking at the stock. Except … Bristol Myers (NYSE:BMY). Who bought the company for $26 a share a few months ago. When I wrote about it the stock was at $2.
Look for small stocks that solve problems in enormous markets. With aging baby boomers there is no more enormous demographic trend than cancer. Cancer is a double-demographic trend. Once you have cancer and treat it, you are permanently a cancer patient. $22 billion a year is spent on continued monitoring and diagnostics of patients who have already cured cancer.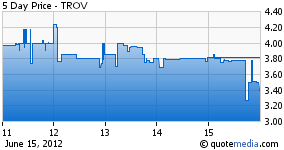 So I'm going to get right to it. Trovagene (NASDAQ:TROV) has all the pieces in place to get a good chunk of that $22 billion market.
First, Steve Jobs, the former CEO and founder of Apple (NASDAQ:AAPL). When he was diagnosed with early stage pancreatic cancer he decided to spend nine months pursuing alternatives to standard western medicine to see if he could find a cure. He didn't find one. And nine months later his cancer had advanced to the stage where he ultimately couldn't survive it. If he had been able to diagnose himself during those nine months he would've easily seen that the cancer was getting worse. He would have had surgery earlier. He'd probably be alive today.
Why didn't he then? I have no judgment on what he did. He had every right to look for alternatives. Because diagnostics involves a biopsy. A painful surgery where they remove cancerous cells in the area to see if they are continuing to mutate. As Walter Isaacson, Jobs biographer has stated, Jobs didn't want to "mutilate" his body more than he had to.
Here's where Trovagene comes in. First off, some basic facts:
A) The entire management team of Trovagene comes from Sequenom (NASDAQ:SQNM). Tony Schuh, the CEO of TROV, was the CEO of SQNM. SQNM has a $430 million market cap and uses invasive procedures to diagnose cancers.
TROV has a $44mm market cap and uses your urine in a cup to diagnose the same cancers. The CFO of Trovagene was the CFO of Sequenom. The CTO of Trovagene was the EVP of Genomics of Sequenom. You have to ask: why did all these people leave Sequenom to go to Trovagene?
B) The largest shareholder of Inhibitex was Gabrielle Cerrone. Cerrone is also one of the largest shareholders of Trovagene. That's how I found the stock. He is also on the board of Trovagene.
C) Trovagene has all the patents on diagnosing cancer through urine as opposed to biopsies or sampling large quantities of blood. Urine is the waste excreted from all your blood cells. A sample of urine sent to a lab (no physician required) is like taking a biopsy of your entire body. It's only in the last year that the technology of next generation genomic sequencing has become possible for this to happen. No other company can do this without licensing the technology from Trovagene. Which is why, my guess is, the management team of Sequenom decided not to use the older technology and, as a group, jumped ship to the newer and cheaper technology.
D) They have patents on tumor detection and monitoring, infectious diseases (they can detect HPV for instance, without the need of a pap smear or, in the case of men, without inserting a Q-tip up the urethra (OUCH!) )
E) They have patents on prenatal diagnostics. So without the heavily invasive diagnostics required now to definitively determine if a fetus has Downs, the mother can just use urine to see if a fetus has pre-natal diseases like Down syndrome.
F) I was following Cerrone after Inhibitex and saw he was a large shareholder in Trovagene and that also Trovagene had won back several patents from Sequenom and the management had moved over.
But I didn't want to recommend it. It was (at the time) pink sheet and I felt the company needed money. It looked like Cerrone was funding it out of his pocket. But the company has recently moved to the Nasdaq and raised $10mm plus the offering was oversubscribed and they raised another $500,000. This is not a company that needs full FDA trials (it's a test and not a drug) . At their current burn rate, $10mm keeps them in business for five years. However …
G) They just acquired a CLIA laboratory to start generating revenues off of their tests.
H) They just announced a program for detection of pancreatic cancer.
I) They just announced plans to do testing for high risk HPV carrier screening from urine. HPV causes, among other things, cervical cancer in women. But it's men who are carrying it. Men don't want to get tested (who wants a Q-tip up their penis?). Now men can get tested. How many men have HPV? According to Science News over half of men are carriers of HPV.
J) As I mentioned above, everyone who has ever had cancer can still be considered to be a cancer patient. They always have to be monitored. Now, for the first time, they don't need MRIs or mammograms, or invasive surgery to get monitored. Just a urine test will suffice.
K) I like looking at arbitrages (similar but weaker companies that have vastly higher market caps.) That's how I identified INHX before it went up 2000%. SQNM is one arbitrage here. Another is Exact Sciences (NASDAQ:EXAS). EXAS has one test for one cancer. As opposed to TROV's tests for many cancers. And the EXAS test requires you to use your stool as opposed to urine. (You decide which you would prefer to send through the mail). EXAS has a $600mm market cap compared to TROV's $44mm market cap.
L) Pancreatic cancer, in particular, is deadly over the tipping point. If Steve Jobs had this technology available to him when he was first diagnosed and decided to go for alternative treatments, he would have quickly seen that the alternative treatments were not working and his cancer was spreading. This would've saved his life. And this is not pie in the sky. From their announcement on pancreatic cancer: "Dr. Riccardo Dalla-Favera, Director of the Institute of Cancer Genetics at Columbia University Medical Center and a member of the Company's Scientific Advisory Board, comments: 'The ability to detect K-RAS mutations in urine holds the promise of a non-invasive method for the early detection of pancreatic cancer, which is currently not available to clinicians and patients.'"
I like investing and recommending stocks in huge markets that I think will change the world. The last two stocks I recommended were Vringo (VRNG) and Neonode (NASDAQ:NEON) which are, respectively, presenting serious challenges to Google (NASDAQ:GOOG) and Apple and the stocks are up significantly since I wrote about them. Trovagene is a $50mm company in a $20 billion+ market. I own shares for the long term and plan on buying more. At the very least I expect the market caps of SQNM ($431mm) and TROV (45mm) to switch.
But I actually think a much larger move will happen as everyone begins to monitor cancer through their urine instead of blood, stools, etc. Again, I think TROV should be a higher market cap company than both SQNM (whose patent portfolio for cancer detection was won by TROV and whose management team moved over to TROV) and EXAS (who only markets one test as opposed to many and has a much more disgusting method of diagnosing cancer) with $430mm market caps and $600mm market caps respectively as opposed to TROV's $44mm. The risk, of course, is that TROV is too small to be noticed, or that they don't hire the sales force to sell their tests. Or that demand overflows their CLIA lab. This risk is mitigated by their recent money raise which satisfies all of their needs for years and allows them to build the sales force required.
TROV just finished raising their money. They just moved to Nasdaq. They just reverse split. They just started getting decent volume. And they've just started announcing all the patents and tests that they have successfully developed and are ready to generate revenues on. I'm a buyer here and will buy more AFTER readers have a chance to read this article.
Disclosure: I am long Trovagene. I am planning on buying more TROV after this article is disseminated.